Books

Featured Books

design007 Magazine

Latest Issues

Current Issue

Odd Geometries

In this issue, we discuss some of the challenges, pitfalls and mitigations to consider when designing non-standard board geometries. We share strategies for designing odd-shaped PCBs, including manufacturing trade-offs and considerations required for different segments and perspectives.

Simplification

On the subject of simplification, our expert contributors explain how to design PCBs without making them complex and over-constrained—whatever the level of technology. In addition, we discuss the effect your decisions and tradeoffs have on design complexity.

The Standards of Design

Our expert contributors discuss how PCB designers can utilize standards to save time and money, not to mention frustration. We also spotlight the newly updated version of the IPC Checklist, a handy guide that illustrates which standards cover which topics, from front-end design through assembly.

Columns

Latest Columns

||| MENU
I-Connect007 Launches 'On the Line with...' Podcast with Series on Sustainability
May 12, 2023 | I-Connect007
Estimated reading time: 1 minute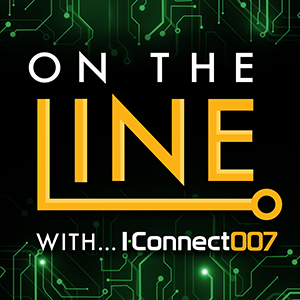 Expanding its avenues of content delivery, I-Connect007 is excited to announce the launch of our latest educational product, On the Line with..., available now on Spotify and coming soon on all major podcast platforms. In this podcast, we speak with industry experts to get the latest insights and perspectives on the most relevant topics in the electronics industry today.
The first series of On the Line with… features conversations on sustainability. Listeners can expect in-depth coverage as topic experts from Siemens explore the challenges and opportunities surrounding sustainability in manufacturing.
Join us for Episode 1, "Sustainability in PCB Design," as guests Patrick Hope and Pat McGoff discuss what sustainability means in the electronics manufacturing space. They'll set the agenda for the series and delve into key topics like design, validation, manufacturing, supply chain, and logistics.
The On the Line with... podcast series is the latest way I-Connect007 is committed to providing readers (and listeners) with a wide range of digital content and information to help them succeed in the industry. From magazines, books and newsletters to market reports and event coverage, we offer a variety of digital content to suit the needs of our reader community presented by the industry sector.
I-Connect007, part of IPC Publishing Group Inc., is the industry's longest-running media company and leading publisher of original, exclusive content for the global electronics industry. Our mission is to create original content to expand readers' knowledge to help them improve their businesses.
---
Suggested Items
12/08/2023 | TT Electronics
TT Electronics, a leading provider of global manufacturing solutions and engineered technologies, announced today that one of its Asia electronics manufacturing facilities has received approval from the Food and Drug Administration (FDA), through its premarket approval (PMA) supplement evaluation process, to manufacture Class IIa devices on behalf of global medical OEM customers.
12/07/2023 | VDL Groep
VDL Groep has strengthened its position in the high-quality electronics market. The industrial family business with its head office in Eindhoven has acquired Rena Electronica from Zundert.
12/05/2023 | HANZA
HANZA AB has signed an agreement to acquire all shares in Orbit One AB, a Swedish company that offers contract manufacturing of electronics and electromechanics. Orbit One has annual sales of approximately SEK 1.1 billion with an operating profit (EBITA) of approximately SEK 70 million.
12/05/2023 | IPC
Electronics industry sentiment improved during November with demand sentiment also taking a solid step up over the last 30 days per IPC's November 2023 Global Sentiment of the Electronics Supply Chain Report.
12/05/2023 | Robert Erickson and Lorena Villanueva, IPC
About 200 kilometers (125 miles) north of Mexico City lies Queretaro, an area rich in history, with stone streets and public squares, and which twice has been the country's capital. But it's also quickly becoming a global capital of electronics manufacturing, especially aeronautics, and was the location for the first IPC Day Mexico this past June.