Books

Featured Books

smt007 Magazine

Latest Issues

Current Issue

Chips Don't Float

In Europe and the U.S., legislation is under way to revitalize PCB fabrication and packaging. What is the status of this work, and how specifically does this change the industry landscape for EMS companies? What will help keep us afloat?

Flying High With Digital Twin

The opportunity to use manufacturing simulation as a test bed for job planning and process optimization brings continuous improvement into the modern age. This may be an all-or-nothing type of project, but it's worth the investment.

Artificial Intelligence

In this issue, we (and AI) explored how and when artificial intelligence plays a role in manufacturing today. Whether on the factory floor, or in the front office, AI applications are emerging and changing how we approach planning, processes and problem solving.

Columns

Latest Columns

||| MENU
Sanmina's Q2 Fiscal 2023 Financial Results
May 12, 2023 | PRNewswire
Estimated reading time: 2 minutes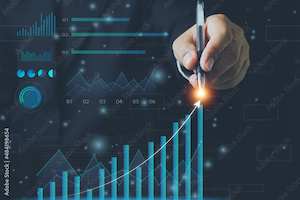 Sanmina Corporation, a leading integrated manufacturing solutions company, reported preliminary financial results for the fiscal second quarter ended April 1, 2023 and outlook for its fiscal third quarter ending July 1, 2023.
Second Quarter Fiscal 2023 Financial Highlights
Revenue: $2.32 billion
GAAP operating margin: 5.2% 
GAAP diluted EPS: $1.33
Non-GAAP(1) operating margin: 5.8%
Non-GAAP diluted EPS: $1.59
Additional Second Quarter Highlights
Cash flow from operations: $65 million
Ending cash and cash equivalents: $718 million 
Non-GAAP pre-tax ROIC: 33.9%
(1)Non-GAAP financial measures exclude charges or gains relating to: stock-based compensation expenses; restructuring costs (including employee severance costs, environmental investigation, remediation and related costs and other charges related to excess facilities and assets); acquisition and integration costs (consisting of costs associated with the acquisition and integration of acquired businesses into our operations); impairment charges for goodwill and other assets; amortization expense; and other unusual or infrequent items (e.g. charges or benefits associated with distressed customers, expenses, charges and recoveries relating to certain legal matters, gains and losses on sales of assets, deferred tax adjustments and discrete tax items). See Schedule 1 below for more information regarding our use of non-GAAP financial measures, including the economic substance behind each exclusion, the manner in which management uses non-GAAP measures to conduct and evaluate the business, the material limitations associated with using such measures and the manner in which management compensates for such limitations. A reconciliation of the non-GAAP financial information contained in this release to their most directly comparable GAAP measures is included in the financial statements furnished with this release.
"We delivered strong top and bottom line results for the second quarter reflecting continued improvement in the supply chain environment coupled with excellent operational execution by our team to support customer demand.  The team continues to demonstrate remarkable resilience in this dynamic market," stated Jure Sola, Chairman and Chief Executive Officer. "We are focused on the fundamentals and confident in our business model. Based on our results for the first half of the fiscal year and outlook for the third quarter, our fiscal 2023 is shaping up to be a healthy growth year."
Expanded Share Repurchase Program
Sanmina's Board of Directors has authorized the repurchase of up to an additional $200 million of Sanmina's common stock. The stock repurchase program has no expiration date. As of April 1, 2023 approximately $164 million remained available under a previously authorized program. The expansion of this program is consistent with Sanmina's capital allocation priorities. 
Third Quarter Fiscal 2023 Outlook
The following outlook is for the fiscal third quarter ending July 1, 2023. These statements are forward-looking and actual results may differ materially.
Revenue between $2.2 billion to $2.3 billion
GAAP diluted earnings per share between $1.29 to $1.39
Non-GAAP diluted earnings per share between $1.50 to $1.60
---
Suggested Items
09/25/2023 | Nanusens
The problem at the moment is that sensors are currently manufactured on a tiny sliver of silicon, or die, by a small number of specialist companies with each sensor type being produced on a dedicated production line so it is hard to ramp up production.
09/01/2023 | IPC
Though cost pressures continue to impact the electronics industry, product demand and inventories remain positive, leading to a healthy supply chain per IPC's August 2023 Global Sentiment of the Electronics Supply Chain Report.
08/01/2023 | IPC
Current conditions have receded with Shipments Index, Orders Index, and Capacity Utilization Index all weakening in July, but at the same time, the outlook for shipments, orders, and utilization all improved per IPC's July 2023 Global Sentiment of the Electronics Supply Chain Report.
07/21/2023 | NCAB
Net sales decreased 6% to SEK 1,057.5 million (1,122.0). Both net sales and order intake were negatively impacted by customers' inventory adjustments and lower prices. In USD, net sales decreased 12%. For comparable units, the decrease for net sales was 14% in SEK, and 19% in USD.
06/29/2023 | IPC
Per IPC's June 2023 Global Sentiment of the Electronics Supply Chain Report, cost pressures continue to recede and demand remains positive, with Orders Index rising to 107, the highest level in three months.