Books

Featured Books

smt007 Magazine

Latest Issues

Current Issue

Chips Don't Float

In Europe and the U.S., legislation is under way to revitalize PCB fabrication and packaging. What is the status of this work, and how specifically does this change the industry landscape for EMS companies? What will help keep us afloat?

Flying High With Digital Twin

The opportunity to use manufacturing simulation as a test bed for job planning and process optimization brings continuous improvement into the modern age. This may be an all-or-nothing type of project, but it's worth the investment.

Artificial Intelligence

In this issue, we (and AI) explored how and when artificial intelligence plays a role in manufacturing today. Whether on the factory floor, or in the front office, AI applications are emerging and changing how we approach planning, processes and problem solving.

Columns

Latest Columns

||| MENU
Latest I-007eBook from GEN3 Focuses on Process Control
May 25, 2023 | I-Connect007
Estimated reading time: Less than a minute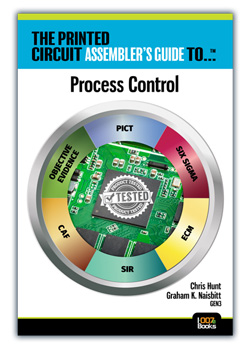 I-007eBooks is pleased to announce the release of the latest book in its The Printed Circuit Assembler's Guide to…™ series.
The Printed Circuit Assembler's Guide to...™ Process Control, brought to you by GEN3 Systems and I-007eBooks, tackles critical aspects related to process control and the role of the SEC test in maintaining and providing objective evidence.
Written by GEN3 topic experts Dr. Chris Hunt and Graham Naisbitt, this book covers everything from 'open' and 'closed' loop circulation, corrosion prevention and ECM avoidance, to SIR tests for process verification, equipment and solution choices, and more. Readers will gain valuable insight into optimizing their assembly operations.
According to peer reviewer Mike Cummings: "This book is not based on fear marketing, but rather is an honest appraisal of a difficult decision companies have to make toward their product service life, based on the product field data and established and proven test processes."
Download your free copy today here, as well as the first book in this two-part series, The Printed Circuit Assembler's Guide to…™ Process Validation.
We hope you enjoy The Printed Circuit Assembler's Guide to… Process Control. View our full library at I-007eBooks.com.
---
Suggested Items
09/25/2023 | NASA
The same facility that provided valuable testing for NASA missions to low-Earth orbit and the Moon is now helping the agency prepare to launch the first rocket from Mars.
09/25/2023 | CACI International Inc.
CACI International Inc announced that it successfully completed Optical Communication Terminal (OCT) Interoperability Testing (OIT) of its CrossBeam® OCT for the Space Development Agency's (SDA) Tranche 1 data relay and tracking network
09/22/2023 | Keysight Technologies, Inc.
Keysight Technologies, Inc. and Synopsys, Inc. are partnering to provide internet of things (IoT) device makers with a comprehensive cybersecurity assessment solution to ensure consumers are protected when devices are shipped to market. Under the arrangement, the Synopsys Defensics® fuzzing tool will be embedded as an option into the Keysight IoT Security Assessment solution. 
09/21/2023 | PRNewswire
Sharp Imaging and Information Company of America (Sharp) is announcing that it will be showing its new digital press technologies at the Printing United Expo, in Atlanta, Georgia from October 18 – 20, 2023.
09/21/2023 | Takaya
TEXMAC/Takaya, the pioneering developer of flying probe testing systems for assembled Printed Circuit Board Assemblies (PCBAs), announces the launch of FastTrack ODB++, the Takaya Program Generator, a Takaya-developed conversion software program that simplifies and streamlines communication between machines when generating APT testing programs.