Books

Featured Books

smt007 Magazine

Latest Issues

Current Issue

Chips Don't Float

In Europe and the U.S., legislation is under way to revitalize PCB fabrication and packaging. What is the status of this work, and how specifically does this change the industry landscape for EMS companies? What will help keep us afloat?

Flying High With Digital Twin

The opportunity to use manufacturing simulation as a test bed for job planning and process optimization brings continuous improvement into the modern age. This may be an all-or-nothing type of project, but it's worth the investment.

Artificial Intelligence

In this issue, we (and AI) explored how and when artificial intelligence plays a role in manufacturing today. Whether on the factory floor, or in the front office, AI applications are emerging and changing how we approach planning, processes and problem solving.

Columns

Latest Columns

||| MENU
Maria Dzionk Joins Mek as Operations Manager
June 6, 2023 | Mek (Marantz Electronics)
Estimated reading time: 1 minute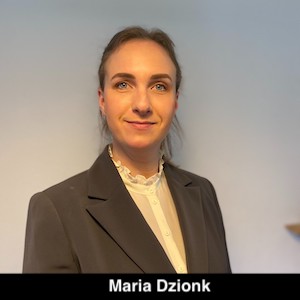 Mek (Marantz Electronics), a leading provider of Automatic Optical Inspection solutions, is pleased to announce the appointment of Maria Dzionk as the company's new Operations Manager.
The addition of Maria to the Mek team is a testament to Mek's ongoing commitment to delivering exceptional service and support to its valued customers. Maria brings a wealth of experience and expertise to the role, having worked in supply chain solutions for almost a decade. She has a proven track record of success in optimising processes and improving efficiency.
In her new role, Maria will be responsible for overseeing Mek's operations, including order administration processes, supply chain management, logistics, transport documentation & invoicing and will also play an active role in marketing. She will work closely with the Mek management team to ensure that operations are efficient, effective, and responsive to the needs of customers.
Maria holds a Postgraduate Degree in Finance Control from the University of Gdansk and has previously held positions at several prominent logistics companies. Most recently, she served as Returns Coordinator at GXO Logistics, Inc. where she was responsible for maintaining company processing standards across numerous product lines.
"We are thrilled to have Maria join our team as Operations Manager," said Henk Biemans CEO of Mek. "We were looking for someone with a combination of logistics, financial and marketing experience and Maria is the perfect fit. Her expertise in logistics and her track record of success will be invaluable as Mek continues to thrive. We are confident that she will help us to optimise our operations and enhance our ability to meet the needs of our customers."
"I am excited to join Mek and work with such a talented team," said Maria Dzionk. "I look forward to the dynamic working atmosphere in an international arena and applying my experience and skills to help the company achieve its goals to deliver the highest-quality products and services."
---
Suggested Items
09/20/2023 | Zentech Manufacturing
Zentech Manufacturing is pleased to announce that it has chosen Tim Facklam to be its Chief Operating Officer.
09/14/2023 | CONFIDEE
CONFIDEE, a leading PCB partner, proudly announces its recent achievement of AS9120 certification. This prestigious certification highlights the company's commitment to excellence, quality, and customer satisfaction, making it a preferred choice for all defence and aerospace needs.
09/13/2023 | TrendForce
TrendForce's latest research paints a vivid picture: Q2 saw the NAND Flash market still grappling with lackluster demand and being significantly outpaced by supply.
09/13/2023 | Lea Maurel, ICAPE Group
In today's interconnected and rapidly evolving business landscape, sourcing diversification has emerged as a crucial strategy for organizations aiming to stay competitive and thrive in a dynamic marketplace. The traditional approach of relying on a single source for procurement is being replaced by a more sophisticated and strategic mindset that emphasizes the advantages of exploring multiple procurement channels. This approach not only opens doors to a whole different network of suppliers, but also offers numerous benefits, such as navigating sales increases, ensuring smoother deliveries, and promoting innovation within the organization.
09/07/2023 | CalcuQuote
CalcuQuote is excited to announce an upcoming webinar in collaboration with Arrow Electronics, a global technology solutions and services provider.