Books

Featured Books

smt007 Magazine

Latest Issues

Current Issue

Chips Don't Float

In Europe and the U.S., legislation is under way to revitalize PCB fabrication and packaging. What is the status of this work, and how specifically does this change the industry landscape for EMS companies? What will help keep us afloat?

Flying High With Digital Twin

The opportunity to use manufacturing simulation as a test bed for job planning and process optimization brings continuous improvement into the modern age. This may be an all-or-nothing type of project, but it's worth the investment.

Artificial Intelligence

In this issue, we (and AI) explored how and when artificial intelligence plays a role in manufacturing today. Whether on the factory floor, or in the front office, AI applications are emerging and changing how we approach planning, processes and problem solving.

Columns

Latest Columns

||| MENU
Yamaha, Distributor ANS Elektronik Deliver Solutions for Advanced Manufacturing
June 6, 2023 | Yamaha Motor Robotics Holdings Co., Ltd.
Estimated reading time: 2 minutes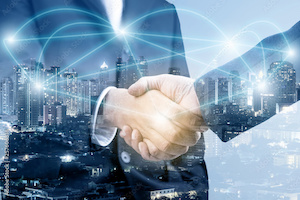 With the advanced YR series for surface-mount assembly, Yamaha Robotics SMT Section and distributor ANS-Answer Elektronik are expecting further success in their long-standing partnership serving the high-tech community in Germany, Austria, and Switzerland.
Electronics manufacturing in this region comprises OEMs and EMS businesses active in rapidly advancing, high-growth market sectors. They include automotive electrification - with its current focuses on automated driving and power electronics - advanced industrial controls and connectivity leveraging Industry 4.0 technologies, and the latest communication and networking infrastructure including 5G wireless.
"Our customers need accuracy and flexibility in their surface-mount assembly lines, with high speed, and the ability to handle all the latest component technologies and package geometries. They invest frequently to keep their capabilities at the cutting edge, and they need a fantastic return each time," explains Sebastian Glitsch, General Manager of ANS. "That's where we make the difference, with our ability to supply and support the best assembly and test equipment in the market. Our connection with Yamaha is a big part of that value proposition."
He goes on to highlight aspects that help present a persuasive offer for customers, including high placement performance in relation to mounter footprint that makes factories more space-efficient. "Also, there are many clever and time-saving features that automate tasks such as changing the printer stencil and loading component feeders. These minimise stoppages, whether production involves frequent changeovers or large batches. There are automated tools for generating placement and inspection programs, which help accelerate new product introductions."
In addition, Sebastian Glitsch points out that Yamaha frequently introduces new features that are attractive and accessible to customers. These include the YSUP 3D user interface, smart-factory software with the latest IIoT protocols for seamless IT/OT connectivity, and the all-new YR series machines that have arrived within the past year. "We can always offer a solution that meets present needs optimally and is also future-proof," he explains.
Yamaha's YSUP 3D board editor helps visualise board data and understand component placements.
Daisuke Yoshihara, Yamaha Sales General Manager, joined by Ulf Neyka, Yamaha Sales Manager for DACH region,  commented, "Our partnership with ANS-Answer Elektronik has made a significant contribution to our strong business performance in Europe. Their local knowledge and expertise have added value to the solutions we can offer, building on the high standards of performance and quality engineered into all Yamaha SMT equipment."
Founded in 1994, ANS-Answer Elektronik has grown with Yamaha's SMT business unit in Europe. Their connection began 26 years ago with the Yamaha iPulse generation of mounters and strengthened as Yamaha introduced the YS series of screen-printing, placement, and inspection machines and intelligent component handling systems. ANS has achieved notable successes with the 1 STOP SMART SOLUTION, which covers the entire SMT assembly sequence and includes unique and advanced software tools to maximise productivity and enable smart-factory management.
Now, with the new-generation YR series platforms ANS is looking forward to the possibilities the new machines bring with their increased capabilities and advanced features. They include the latest dual-lane machines that allow total flexibility to configure the two lanes indepdendently and ensure maximum performance unaffected by the settings of the other. "That's a market-first for dual-lane equipment," comments Sebastian Glitsch.
He concludes, "We are excited about the advantages the new YR series will deliver for our customers. This represents the start of a new chapter in our relationship with Yamaha that will lead to even greater success."
---
Suggested Items
09/19/2023 | Andy Shaughnessy, Design007
Rigid-flex assembly brings its own set of issues, but designers can do quite a bit to make things easier on their downstream brethren. We asked IPC instructor Kris Moyer to give us the lowdown on DFA for rigid-flex circuitry.
09/07/2023 | Emerald EMS
Emerald EMS, an innovative solutions provider, is pleased to announce plans to exhibit in Booth #3815 at MD&M Minneapolis, scheduled to take place Oct. 10-11, 2023, at the Minneapolis Convention Center in Minneapolis, MN.
09/06/2023 | Yamaha Robotics
Yamaha Robotics will display the latest-generation 1 STOP SMART SOLUTION at A3.323 at Productronica 2023, bringing together the complete set of new YR series printers, surface-mounters and inspection machines.
09/06/2023 | ViTrox
ViTrox, which aims to be the world's most trusted technology company, is excited to announce that we will be participating in SMTA International (SMTAi), at Hall B, Booth #1316 at the Minneapolis Convention Center, MN, USA. SMTAi, the Midwest's Largest Electronics Manufacturing Event, will take place on the 10th and 11th of October 2023.
08/29/2023 | MacDermid Alpha
MacDermid Alpha Electronic Solutions, a leader in integrated technologies and materials for the electronics industry, will present and showcase their advanced solutions for die, package, and die top-side attach at PCIM Asia, held at Shanghai New International Expo Center - SNIEC, 29 - 31 August 2023.