Books

Featured Books

pcb007 Magazine

Latest Issues

Current Issue

Finding Ultra

New demands on PCB fabrication, namely advanced packaging, ultra high density interconnect (UHDI), and new specialty materials, are converging, changing the landscape of our business. Is it time to start paying close attention to this convergence?

Developing a Strategy

A solid strategy is a critical part of success. This month, we asked some of the top industry leaders and business strategy "gurus" to share their thoughts on developing strategies.

Winning With TQM

In this issue, we explore how TQM has entered the DNA of continuous improvement disciplines, and the role leadership transformation plays in this. If you've ever competed against a TQM company, you understand their winning advantage.

Columns

Latest Columns

||| MENU
High Priority of Fire Protection at Peters
June 7, 2023 | Peters
Estimated reading time: 3 minutes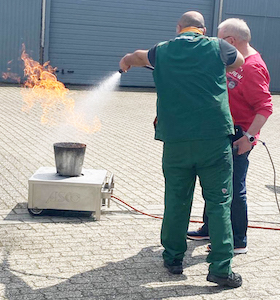 A good dozen employees have successfully completed their fire safety assistant training at Peters. "This training is not only important, but mandatory for every company - especially in the chemical industry," says plant manager Dr Thorsten Meyer. "Besides preventive fire protection, as a fire protection and evacuation helper, you take initial measures in an emergency, such as extinguishing fires, assigning escape routes and supporting the employer in fighting fires to the best of your ability," reports Helmut Schrangs, responsible trainer from the Krefeld-based company Hauser Sicherheitstechnik GmbH, at the beginning of the course. As a former fire-fighter, the technician who has undergone a vocational training for fire protection is a specialist in his field.
As a company of the chemical industry, Peters handles highly flammable substances, such as conformal coatings or solvents. Paper or plastic parts, too, can also quickly burst into flames. Tilman Sehlen, responsible for safety at work and environmen-tal protection, made sure in advance of the course that em-ployees from all departments such as warehouse, laboratory, production and administration, took part in the training. The one-day training that takes place on a voluntary basis, covers a theoretical and a practical part.
Outdoors in the Peters yard, the first practical topic is the hand-held fire extinguisher: What is in it? What are its functions? What is the weight of the steel bottle? How much does it extinguish in an emergency? How do I activate the nozzle in a flash? What about maintenance? "Some of us didn't realise beforehand that the common 6-kilo extinguisher is empty after only 12 seconds," says Jörg Staack after the fire-fighting exercise. "Of course, after 28 years of service, I know where most of the 120 fire extinguishers on the premises are located and how to activate them," says the lab employee.
The training course brought the technical employee and the team of helpers both knowledge and new insights. "When you see the pressure wave and heat that the explosion of a can of deodorant spray causes, you can well imagine what happens in an emergency and how important it is to intervene professionally," says Jörg Staack. The expert Helmut Schrangs from Hauser has staged such an explosion of a spray can for demonstration purposes. Evidently, the course to become a fire protection assistant is only an initiation that cannot be compared with the classical fire brigade vocational training. "But we have been made fit and feel prepared for emergencies," says Jörg Staack. Hans-Dieter Berger from the warehouse and Mustafa Tasdemirli from production see it the same way. They all have been trained now to be fire protection assistants at Peters.
Despite all precautions, it can quickly happen that a crate catches fire, for example," says Jörg Staack. In that case, courageous extinguishing from the red bottles with powder, foam, carbon dioxide or water is crucial to nip the source of the fire in the bud. "You also have to know that the use of extinguishing powder is completely harmless for the mucous membranes," the laboratory employee explains a finding from the course. All participants are proud to be operational fire protection assistants now. "This is an additional qualification that can also be useful in other areas of life," says production employee Mustafa Tasdemirli. The helpers' team repeats the one-day training at intervals of three to five years.
According to the workplace directive ASR 2.2, it is mandatory that at least 5 % of the workforce has been trained as fire protection assistants. With a good dozen, we have twice as many in our ranks, which also takes into account the increased risk from inks and solvents," reports plant manager Dr. Meyer. Training is of high priority at Peters. There are always enough employees interested in the training who care about safety. After all, it is a matter of safety on the large factory site at Hooghe Weg 13 in the Kempen industrial estate "Am Selder", having an operating area of 40,000 square metres - that's eight football grounds. "The principle of responsibility applies here. Everyone is called upon to contribute to serving operational safety. Based on this responsibility, we have never had any problems recruiting sufficient fire protection assistants," emphasises Peters CEO Ralf Schwartz. The CEO expressly underlines the commitment of the interested staff members and thanks them for their readiness. "If something should actually happen, we can absolutely rely on these troops before the fire brigade arrives. That gives us all a good feeling.
---
Suggested Items
09/06/2023 | ITW EAE
ITW EAE opens new Semiconductor Technology Center, located at 14th room, 6th Floor, No. 6, Zhongsi Road, Qianzhen District, Kaohsiung City, Taiwan.
08/30/2023 | Happy Holden, I-Connect007
Sensor technology is at the heart of any manufacturing data collection, especially for the digital stream—it all starts with sensors—but there is so much more. Sensors need connections to instruments, and some actions need predictions, the process is sensing, connection, and predicting. Sensing assumes sensors. Connecting can be any intelligent device that provides a program or signal conditioning and then makes that data available to the rest of the organization. Predicting is the difficult step.
08/24/2023 | IPC
IPC Day Romania: Build Electronics Better with Standards and Solutions, Conference Powered by Flex, which will be held on Sep 27, 2023 at 12:00pm and Sep 28, 2023 at 6:00pm EEST, will provide a unique opportunity to learn about the latest advancements in electronics manufacturing, participate in industry discussions, and network with a community of professionals dedicated to building electronics better.
08/23/2023 | Michelle Te, I-Connect007
With plants in Tijuana and Guadalajara, Mexico, that staff more than 3,000 employees, Benchmark Electronics has a continual need for training and certification to stay competitive. Through a unique partnership with IPC, the company was able to train nearly 100 operators and engineers through a pilot program that saved them money and elevated the knowledge base of their workforce. In this interview, Elizabeth Magana, a regional human resources director for Benchmark, Lorena Villanueva, IPC director of Mexico, and Carlos Plaza, IPC senior director of education development, detail the pilot program and how it serves as an example of training success in electronics manufacturing
08/21/2023 | John Watson -- Column: Elementary, Mr. Watson
According to the Federal Aviation Administration's flight time limitations and rest requirements, a commercial pilot is restricted to 36 flight hours in a week, 100 hours in 28 days, and 1,000 hours in any calendar year. But before these pilots even start flying the friendly skies, they spend considerable time in a flight simulator. In the same way, PCB design and circuit simulations provide the same advantages: a controlled, safe environment for testing a circuit without the considerable overhead of fabricating and assembling the PCB.