Books

Featured Books

pcb007 Magazine

Latest Issues

Current Issue

Finding Ultra

New demands on PCB fabrication, namely advanced packaging, ultra high density interconnect (UHDI), and new specialty materials, are converging, changing the landscape of our business. Is it time to start paying close attention to this convergence?

Developing a Strategy

A solid strategy is a critical part of success. This month, we asked some of the top industry leaders and business strategy "gurus" to share their thoughts on developing strategies.

Winning With TQM

In this issue, we explore how TQM has entered the DNA of continuous improvement disciplines, and the role leadership transformation plays in this. If you've ever competed against a TQM company, you understand their winning advantage.

Columns

Latest Columns

||| MENU
Isola Changing With the Times
June 29, 2023 | I-Connect007 Editorial Team
Estimated reading time: 14 minutes
Changing market conditions require changes in approach. I-Connect007's Barry Matties and Nolan Johnson speak with Isola's Travis Kelly, Sean Mirshafiei, and Kirk Thompson about Isola's recent responses to market conditions. In this interview, Kelly, Mirshafiei and Thompson outline recent changes to Isola senior leadership, optimizing manufacturing to meet the needs of the global market, and the strategic importance of advanced packaging to the global economy, and to the U.S., in particular.
Barry Matties: Travis, Isola recently announced some big changes within the company organization and its distribution. What changes did you make, what's driving those changes, and what should the industry be made aware of?
Travis Kelly: We've had many discussions here relative to the momentum with printed circuit boards in the U.S. and at Isola, as well as the Printed Circuit Board Association of America (PCBAA), and through our customers and suppliers. We've spent the last two years aligning to the shifting market, and there are many changes. 
As an international company, Isola works with customers and suppliers that decide where they want to be located. We make sure we have the right business partners to not only achieve but surpass those service levels our customers require. We want to be close enough to our supply base to ensure that we have a resilient and continuous supply chain. 
We all saw how vulnerable our supply chains could be in the microelectronics industry. So, over the past two years, we have worked on redefining what success should look like. With that, we've made several changes to better position Isola to achieve that success. 
First, we have partnered with TCT as our American distributor on the West Coast and mid-country. For the past 30 years, we have partnered with EMX, our distributor in Canada, and they will be moving their representation of Isola into the East Coast of the United States. 
Partnering with TCT is nice because the company has a large footprint in the U.S. and Asia. When you think about Isola, and how we operate by region, we can once again leverage that international footprint to provide a high level of service to all our customers that have both domestic and international operations. We're very excited about that.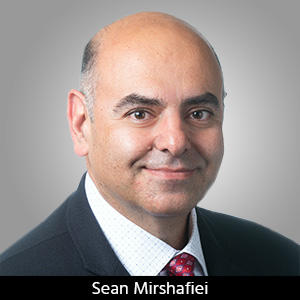 We also started looking at what's happening from a microelectronics standpoint. Obviously, because of the CHIPS Act, there has been a lot of focus from government and private industry over the past several years on chips. We fully endorse the CHIPS Act, but there's so much more to the microelectronics industry. So, we looked at how Isola plays an important role in ensuring that the U.S. has a resilient and secure supply chain. 
When you think about the laminate and prepreg that we make, there is a lot of complementary technology as it relates to certain core materials for substrates. We looked for a statured executive to fill our chief technology officer position-a technologist who understands the industry and can help us continue our successes on laminate and prepreg, as well as look for other opportunities in the microelectronics ecosystem. With that in mind, we hired Kirk Thompson, who has an extensive background in electronics materials.
Another change came with Sean Mirshafiei, who has been our chief sales and marketing officer for the past four years. During that time, we've grown revenue and market share exponentially, and we've done a really nice job keeping the brand equity in the marketplace. I have promoted Sean to the position of president of Isola. He will report directly to me and oversee the daily operations of Isola. I'm still 100% vested in Isola and will be a very big part of the overall company. Sean brings to the position what I lack in terms of technical expertise and overall industry dynamics. I know him very well and we will complement one another as we capitalize on the successes of Isola.
Finally, when we think about geopolitical issues, and customers moving from one region in Asia to the next, we closely examined how we could be flexible enough to direct some of our positions in Asia as well as reinvest in other regions. In Taiwan, we've had two large plants, and put a lot of money-over $20 million-into one Taoyuan facility there for new treating capability, clean rooms, and so forth. We will double down on that facility as we close our other facility in Yeng Mai. We will then reinvest in the U.S. to ensure our capability to produce high speed digital material. So, our high-speed digital material will be covered in Europe with our German facility, and in Asia by our Taiwan facility. Ultimately, we will be covered with treating in the U.S. with further investment into our Chandler, Arizona, facility. 
We see the momentum and will continue growing Isola to support all the customers, both domestically and internationally. We've spent the last two years methodically planning this out and now we're at the execution phase. 
Nolan Johnson: Regarding the distribution and organizational changes, does this suggest a change to the Isola business model? 
Kelly: You know, these are strategic choices and they have a clear impact on where we want to be over the next five years. We haven't made these moves lightly. Roughly two years ago, we developed a five-year plan and now we're executing that plan. It is a fundamental shift as we look ahead to an ever-changing world.
It's not just the U.S. looking at onshoring and reshoring either. Europe has something very similar to the U.S. CHIPS Act. Obviously, there's a lot happening in Asia, especially in China, relative to shoring up their supply chains and how they can be resilient domestically, with less reliance on the West. 
We're at an inflection point across numerous industries, not just in the microelectronics industry. When we saw this happening, we decided to put over $40 million of investment into our facility in Arizona. In addition, we've made personnel changes; obviously we're changing the go-to-market strategy by ensuring that not only do we have the right geographic footprint from an international perspective, but that we can scale up. When certain customers announce a move into Southeast Asia and such, we want to be flexible enough to serve all of them. That doesn't necessarily mean Isola needs brick and mortar, but we want partners with brick and mortar in those regions. This is an inflection point within Isola, and where we want to be over the next five to 10 years.
Matties: Obviously, this is a shift from what you've been doing for many years with the national distributor, Insulectro. What can the customers expect from this transition?
Sean Mirshafiei: Last week, we began setting up customer meetings to notifying them of our planned change in our go-to-market strategy in early September. Insulectro remains our exclusive distributor in the United States through Sept. 2. It's during this time that we will work with our customers so we will be ready to accept orders directly from our customers, through TCT, EMX, or Isola.
Kelly: It's important to emphasize that Insulectro has been a very good partner; we have 40 years of history with them. Both Isola and Insulectro have sub-teams meeting weekly to ensure a smooth transition. We're looking at the inventory levels to ensure customers will be serviced right up until the contract expires. 
Page 1 of 2