Books

Featured Books

pcb007 Magazine

Latest Issues

Current Issue

The Registration Sweet Spot

Registration is underrated and underappreciated. The key is to ensure proper registration from layer to layer across the entire printed circuit board. It's a holistic process requiring anticipation, prediction, precise attention at each step, and detailed data tracking and monitoring.

High-reliability Fabrication

In this month's issue, our expert contributors discuss the latest in technologies, trends, complexities and resources regarding high-reliability fabrication.

Finding Ultra

New demands on PCB fabrication, namely advanced packaging, ultra high density interconnect (UHDI), and new specialty materials, are converging, changing the landscape of our business. Is it time to start paying close attention to this convergence?

Columns

Latest Columns

||| MENU
I-Connect007 Editor's Choice: Five Must-Reads for the Week
August 11, 2023 | Nolan Johnson, I-Connect007
Estimated reading time: 2 minutes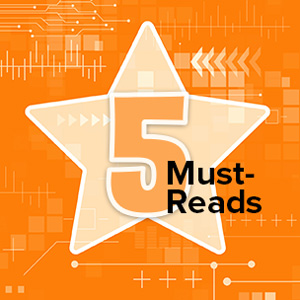 In 1971, David Bowie released his album "Hunky Dory." One obscure track (at the time, at least) on that album, "Changes," would slowly evolve into a Bowie signature piece, stutter and all. As time went on, his admonition for us all to "turn and face the strange" carried more and more weight in popular music and popular culture. Of course, a cover of "Changes" which was featured in the movie "Shrek 2" caused the song to peak again in 2004, 33 years after it was first released. Just a little reminder that change is a constant. 
I confess that I couldn't get the song's refrain out of my head as I compiled this week's top five must-reads. Not only is significant change apparent in this compendium, but I continue to see major shifts and changes in the news and stories we cover with our magazines and books as well. "Turn and face the strange," indeed. If you're not already a subscriber, now is a good time to become one.
This week's top five includes a change of leadership at TTM Technologies; sustainability initatives at BAE; a fundamental shift in manufacturing at a high-profile boutique EMS company in the Bay Area while another Bay Area EMS company adds to their certifications; and financial results from a global materials supplier. 
Enjoy what's left of the summer! 
TTM Technologies Announces the Retirement of its CFO and Appoints a CFO Successor 
Published August 4
TTM's Todd B. Schull announced his intention to step down as executive vice president and chief financial officer as of September 11, 2023, continuing on as a special advisor to CEO Thomas Edman until the end of the 2023 calendar year. Daniel L. Hoehle will succeed Schull. Read more about this change of leadership here. 
And Now, a Word About Sustainability With Colin Cupitt, BAE Systems 
Published August 9
This may be the most-read news item all week. IPC Community magazine (subscribe here) spoke with several members of IPC's Sustainability for Electronics Leadership Council about sustainability initiatives at their respective companies. BAE Systems' Colin Cupitt's interview certainly got everyone's attention. 
Network PCB Assumes Manufacturing Services from Tempo Automation 
Published August 8 
Tempo Automation is transferring manufacturing to San Jose-based Network PCB. From the press release, "Tempo Automation Holdings Inc. announced on August 4th that it has established a manufacturing outsource agreement with Network PCB, a PCB manufacturing and assembly company strategically located in San Jose, California. Tempo realize that this is an abrupt transition, but it was necessitated by unforeseen circumstances that were beyond Tempo's control." Check it out.
Green Circuits Achieves IPC Certification for J-STD-001 Space and Military Addendum 
Published August 7 
As stated in the article, "Green Circuits' successful attainment of the IPC J-STD-001 Space and Military Addendum certification represents a significant milestone for the company. This achievement further solidifies the company's position as a reliable and trusted partner for customers seeking high-reliability electronics manufacturing solutions." Read more about what this means for Green Circuits' service offerings here. 
DuPont Reports Second Quarter 2023 Results
Published August 4 
"We delivered second quarter revenue and operating EBITDA results ahead of our expectations with sequential revenue and earnings growth as well as margin improvement," said Ed Breen, DuPont Executive Chairman and Chief Executive Officer. 
---
Suggested Items
09/20/2023 | I-Connect007 Editorial Team
Panasonic's Darren Hitchcock spoke with the I-Connect007 Editorial Team on the complexities of moving toward ultra HDI manufacturing. As we learn in this conversation, the number of shifting constraints relative to traditional PCB fabrication is quite large and can sometimes conflict with each other.
09/19/2023 | Anaya Vardya -- Column: Standard of Excellence
In my last column, I discussed cutting-edge innovations in printed circuit board technology, focusing on innovative trends in ultra HDI, embedded passives and components, green PCBs, and advanced substrate materials. This month, I'm following up with the products these new PCB technologies are destined for. Why do we need all these new technologies?
09/18/2023 | ViTrox
ViTrox, which aims to be the world's most trusted technology company, is excited to announce that our trusted Sales Channel Partner (SCP) in Mexico, SMTo Engineering, S.A. de C.V., will be participating in SMTA Guadalajara Expo & Tech Forum. They will be exhibiting in Booth #911 from the 25th  to the 26th of October 2023,  at the Expo Guadalajara in Jalisco, Mexico.
09/18/2023 | Intel
Intel announced one of the industry's first glass substrates for next-generation advanced packaging, planned for the latter part of this decade.
09/18/2023 | Aidan Salvi -- Column: Facing the Future
I have been in and around circuit boards most of my life. I started 20 years ago in my family's PCB shop, leaving after a couple of years to start my own software company. About a year ago, I returned to the family business, and the first thing I noticed was that nothing had really changed. We were doing the same things in the same way as the day I left. After talking to several experts in the industry, I realized it was worse than that: The manufacturing of PCBs had not changed in 70 years.