Books

Featured Books

smt007 Magazine

Latest Issues

Current Issue

Economic Headwinds

This issue takes stock of the current economic outlook and how companies are using current conditions to move themselves through technological evolutions, workforce shifts, and financial changes. Even with these headwinds, there's forward progress to be made.

Attracting New Talent

To get different results in staffing, you must change how you define, promote and recruit your job opportunities. How do you become magnetic to high-quality early-career candidates?

Test and Inspection

Test and inspection methods are undergoing rapid change. In this issue, we consider the influence of AOI, AI, and human eyes. How exactly are these pieces of the puzzle changing the role of test and inspection?

Columns

Latest Columns

||| MENU
Maris Macijevskis Joins the Management of HansaMatrix
September 14, 2023 | HansaMatrix
Estimated reading time: Less than a minute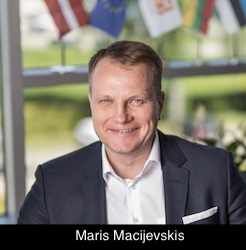 Maris Macijevskis is leaving his position as Finance Director and Member of the Board at Hansamatrix. He joined the company in 2017 and has played a significant role in developing financial and risk management directions of a Nasdaq-listed company, as well as management of investor relations.
Macijevskis last working day will be September 22 and Aleksis Orlovs, who once held the position of Council Member of HansaMatrix from June 2022 until May this year, will take his place. He has received higher education in business management at the Riga School of Business, as well as higher education at the University of Latvia. He has also previously worked for technology companies, moreover, he has held the positions of manager and finance manager for more than 15 years. Aleksis is described as a professional who prioritizes high-quality performance, operational ethics, and honesty.
---
Suggested Items
12/01/2023 | Epec Engineering Technologies
Precision Technology, Inc. (PTI) and Epec Engineered Technologies shared that they have joined together to give customers a greater range of high-quality printed circuit boards and other electronic products.
11/30/2023 | Indium Corporation
Indium Corporation is pleased to announce several key hires and promotions within its global Supply Chain Management team to ensure the efficient and timely delivery of materials for its customers. Markus Roas has joined the company as Business Unit Manage.
11/29/2023 | ESCATEC
The Board of Directors are delighted to announce a significant development in the leadership of the company, underscoring their commitment to its long-term stability.
11/30/2023 | Tom Kastner -- Column: Punching Out!
For sellers, the whole process is relatively simple: They may say it's not just about the money, but in truth, it is. Sellers also want a quick process, most of their money upfront, and a reasonable expectation that any deferred compensation will actually be paid. They're usually concerned that the buyer will take good care of their employees, customers, suppliers, and other stakeholders, and that the seller's responsibilities after closing, if any, be acceptable. But what do buyers expect? A lot.
11/23/2023 | TrendForce
This is all despite venture capital (VC) investments falling in 2023 compared to 2021 and 2022 due to rising interest rates, global recession, and currency fluctuations.