Books

Featured Books

pcb007 Magazine

Latest Issues

Current Issue

Finding Ultra

New demands on PCB fabrication, namely advanced packaging, ultra high density interconnect (UHDI), and new specialty materials, are converging, changing the landscape of our business. Is it time to start paying close attention to this convergence?

Developing a Strategy

A solid strategy is a critical part of success. This month, we asked some of the top industry leaders and business strategy "gurus" to share their thoughts on developing strategies.

Winning With TQM

In this issue, we explore how TQM has entered the DNA of continuous improvement disciplines, and the role leadership transformation plays in this. If you've ever competed against a TQM company, you understand their winning advantage.

Columns

Latest Columns

||| MENU
A Conversation with Gaby Waisman, Orbotech, Ltd.
December 9, 2014 | Barry Matties, I-Connect007
Estimated reading time: 16 minutes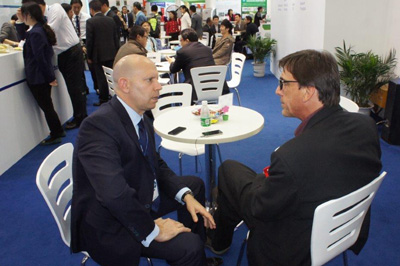 During the recent HKPCA and IPC Show, held in Shenzhen, China, I sat down with Gabby Waisman, President, Orbotech Pacific. We discussed the exciting electronics market in Asia, the market for Laser Direct Imaging (LDI), AOI and AOR. Gaby gives his futurecast for the market in 2015 and beyond.
007: Gaby, thanks for taking time to talk with us.
GW: Thank you very much for having me.
007: My pleasure. How's business been for Orbotech?
GW: Business has been good. We see a good year ahead in the Asia Pacific market in general with specific strengths in China and Taiwan. I would say it's not as strong of business as we expected in Korea or Southeast Asia but overall a good year for the PCB business in general.
007: Is Orbotech manufacturing anything in China?
GW: We are currently not manufacturing in China, although we do have some R&D here.
007: So LDI is still a hot topic?
GW: It is but actually I believe that we have a suite of products and that's probably what is giving us a competitive edge with the ability to offer a one-stop shop for customers that are looking for digital solutions. It's the AOIs, the repair tools, the digital printing inkjets, the LDIs, and we're offering new software packages to our customers this year. We are able to cover many of the market segments and I would say this is also contributing to our ability to become more resilient to fluctuations in demand from different segments. Our ability now is to cover anything from multilayer boards, obviously QDA, multilayer board HDI, to IC substrates and beyond. This is very important. Even within each product line we have diverse variations—for example our AOI, the Discovery, which is serving the three micron market and below compared to our newer products which offer solutions of up to five microns. This is again enabling us a breadth that allows us to sustain both the market variations as well as obviously cater to the customers' demands and requirements.
007: Orbotech has been in business for how many years now?
GW: 33 years, since 1981 or 1982.
007: So Orbotech must have the largest installation of AOIs than any other supplier by far I would think.
GW: Yes, both in AOIs and LDIs we enjoy the lion's share of the market. First of all I'd like to say we are very proud of our ability to have such a relationship and partnership with our customers. Our ability to succeed is really dependent not only on product performance but also the service side. I think I would definitely like to emphasize it's our priority to provide service all over China, in the southern part as well as the north and the east side, and definitely throughout the Asia Pacific area in general. Our resolve is to really be able to meet the customers wherever they are and provide a local service for the customers there. For us, this is really the backdrop of our strategy and the way we provide solutions not only on the product aspect but also on the service side—because eventually this is capital equipment that is being used for decades. So our only ability to verify that we can succeed and have this kind of translation into our market share is the ability to provide service wherever our customers are.
007: In China now we're seeing there's a big demand for automation, how do you fit into that scheme?
GW: That's an excellent question. Basically our machines are supporting automation and we've identified automation as a thing that's definitely going to happen. The increase in the wages and the cost of labor that is happening in China today and over the last few years, and probably in the immediate future, calls for higher productivity—that's essentially automation. Our products are catering to that both in terms of inline automation like side-by-side or roll-to-roll, and those trends are definitely something that we support with our machines.
007: Now one of the things that I thought was really ahead of its time was the AOR. How's that in the marketplace? Is it widely accepted or is it just almost a novel machine?
GW: I would say that we've seen the tipping point in which it became a mass market and widely adopted product about a year ago. I think that it was at that point the industry moved to a situation where two main trends defined the success of this product, which is now phenomenal. One was the need to increase the yield below 40-50 microns, in which it's almost impossible to repair manually. The second is the flex. Once the machine was able to provide a 10 micron solution and repair flex, those two trends basically made a success of this machine to become widely adopted in the market. Currently it's really a phenomenal success.
007: It took quite a while to find its tipping point it seemed.
Page 1 of 3
---
Suggested Items
09/20/2023 | PDR
PDR is set to showcase its cutting-edge IR-E3 Series of SMD/BGA IR rework systems, as well as its industry-leading X-ray solutions.
09/20/2023 | Hentec Industries/RPS Automation
Hentec Industries/RPS Automation, a leading manufacturer of selective soldering, component lead tinning and solderability test equipment, announces that it has added assembly and production staff members to its team to accommodate its recent increase in sales and order demand.
09/20/2023 | Austin American Technology (AAT)
Austin American Technology (AAT) is proud to announce its pivotal role as a key sponsor for the on-camera interviews conducted by Justin Cody Worden for What's New in Electronics (WNIE) at SMTA International 2023, October 10-11 in Minneapolis, MN.
09/19/2023 | Nolan Johnson -- Column: Nolan's Notes
When I stop to consider the dynamics in our industry at this moment, I keep coming back to the idea of "convergence." Aspects of our industry historically thought of as distinct and separate are blurring the lines and overlapping. As I look back on our coverage in the past five years, I see convergence taking place, moving like a glacier—slow and steady but with formidable force. In this issue of PCB007 Magazine, the three areas of convergence we consider are materials, advanced packaging, and UHDI.
09/19/2023 | TRI
Test Research, Inc. (TRI) will join the SMTA Guadalajara Expo 2023 to showcase our award-winning Inspection solutions for the SMT industry.