Books

Featured Books

pcb007 Magazine

Latest Issues

Current Issue

The Registration Sweet Spot

Registration is underrated and underappreciated. The key is to ensure proper registration from layer to layer across the entire printed circuit board. It's a holistic process requiring anticipation, prediction, precise attention at each step, and detailed data tracking and monitoring.

High-reliability Fabrication

In this month's issue, our expert contributors discuss the latest in technologies, trends, complexities and resources regarding high-reliability fabrication.

Finding Ultra

New demands on PCB fabrication, namely advanced packaging, ultra high density interconnect (UHDI), and new specialty materials, are converging, changing the landscape of our business. Is it time to start paying close attention to this convergence?

Columns

Latest Columns

||| MENU
A Conversation with Gaby Waisman, Orbotech, Ltd.
December 9, 2014 | Barry Matties, I-Connect007
Estimated reading time: 16 minutes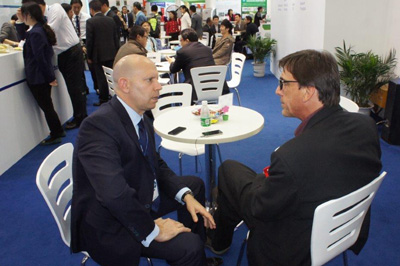 During the recent HKPCA and IPC Show, held in Shenzhen, China, I sat down with Gabby Waisman, President, Orbotech Pacific. We discussed the exciting electronics market in Asia, the market for Laser Direct Imaging (LDI), AOI and AOR. Gaby gives his futurecast for the market in 2015 and beyond.
007: Gaby, thanks for taking time to talk with us.
GW: Thank you very much for having me.
007: My pleasure. How's business been for Orbotech?
GW: Business has been good. We see a good year ahead in the Asia Pacific market in general with specific strengths in China and Taiwan. I would say it's not as strong of business as we expected in Korea or Southeast Asia but overall a good year for the PCB business in general.
007: Is Orbotech manufacturing anything in China?
GW: We are currently not manufacturing in China, although we do have some R&D here.
007: So LDI is still a hot topic?
GW: It is but actually I believe that we have a suite of products and that's probably what is giving us a competitive edge with the ability to offer a one-stop shop for customers that are looking for digital solutions. It's the AOIs, the repair tools, the digital printing inkjets, the LDIs, and we're offering new software packages to our customers this year. We are able to cover many of the market segments and I would say this is also contributing to our ability to become more resilient to fluctuations in demand from different segments. Our ability now is to cover anything from multilayer boards, obviously QDA, multilayer board HDI, to IC substrates and beyond. This is very important. Even within each product line we have diverse variations—for example our AOI, the Discovery, which is serving the three micron market and below compared to our newer products which offer solutions of up to five microns. This is again enabling us a breadth that allows us to sustain both the market variations as well as obviously cater to the customers' demands and requirements.
007: Orbotech has been in business for how many years now?
GW: 33 years, since 1981 or 1982.
007: So Orbotech must have the largest installation of AOIs than any other supplier by far I would think.
GW: Yes, both in AOIs and LDIs we enjoy the lion's share of the market. First of all I'd like to say we are very proud of our ability to have such a relationship and partnership with our customers. Our ability to succeed is really dependent not only on product performance but also the service side. I think I would definitely like to emphasize it's our priority to provide service all over China, in the southern part as well as the north and the east side, and definitely throughout the Asia Pacific area in general. Our resolve is to really be able to meet the customers wherever they are and provide a local service for the customers there. For us, this is really the backdrop of our strategy and the way we provide solutions not only on the product aspect but also on the service side—because eventually this is capital equipment that is being used for decades. So our only ability to verify that we can succeed and have this kind of translation into our market share is the ability to provide service wherever our customers are.
007: In China now we're seeing there's a big demand for automation, how do you fit into that scheme?
GW: That's an excellent question. Basically our machines are supporting automation and we've identified automation as a thing that's definitely going to happen. The increase in the wages and the cost of labor that is happening in China today and over the last few years, and probably in the immediate future, calls for higher productivity—that's essentially automation. Our products are catering to that both in terms of inline automation like side-by-side or roll-to-roll, and those trends are definitely something that we support with our machines.
007: Now one of the things that I thought was really ahead of its time was the AOR. How's that in the marketplace? Is it widely accepted or is it just almost a novel machine?
GW: I would say that we've seen the tipping point in which it became a mass market and widely adopted product about a year ago. I think that it was at that point the industry moved to a situation where two main trends defined the success of this product, which is now phenomenal. One was the need to increase the yield below 40-50 microns, in which it's almost impossible to repair manually. The second is the flex. Once the machine was able to provide a 10 micron solution and repair flex, those two trends basically made a success of this machine to become widely adopted in the market. Currently it's really a phenomenal success.
007: It took quite a while to find its tipping point it seemed.
Page 1 of 3
---
Suggested Items
12/05/2023 | American Standard Circuits
West Chicago, Illinois-based PCB fabricator American Standard Circuits will be exhibiting at this year's Annual Association of Old Crows International Symposium to be held from December 11 through the 13th in National Harbor, Maryland.
12/05/2023 | Mycronic
Mycronic AB has received an order for an SLX mask writer from a new customer in Asia. The order value is in the range of USD 5-7 million. Delivery of the system is planned for the first quarter of 2025.
12/05/2023 | Robert Erickson and Lorena Villanueva, IPC
About 200 kilometers (125 miles) north of Mexico City lies Queretaro, an area rich in history, with stone streets and public squares, and which twice has been the country's capital. But it's also quickly becoming a global capital of electronics manufacturing, especially aeronautics, and was the location for the first IPC Day Mexico this past June.
12/04/2023 | iNEMI
The third session in iNEMI's Counterfeit Components series which will be hold Thursday, December 7, 2023 / 11:00 a.m.—12:30 p.m. EST (US), will look at emerging technologies for detection and mitigation. We will also look at what is ahead for hardware security and review results of an industry survey regarding experiences with counterfeit components and strategies used to mitigate risk.
12/04/2023 | Siemens
Siemens AG, a leading technology company, and Intel Corporation, one of the world's largest semiconductor companies, have signed a memorandum of understanding (MoU) to collaborate on driving digitalization and sustainability of microelectronics manufacturing.