Books

Featured Books

smt007 Magazine

Latest Issues

Current Issue

Chips Don't Float

In Europe and the U.S., legislation is under way to revitalize PCB fabrication and packaging. What is the status of this work, and how specifically does this change the industry landscape for EMS companies? What will help keep us afloat?

Flying High With Digital Twin

The opportunity to use manufacturing simulation as a test bed for job planning and process optimization brings continuous improvement into the modern age. This may be an all-or-nothing type of project, but it's worth the investment.

Artificial Intelligence

In this issue, we (and AI) explored how and when artificial intelligence plays a role in manufacturing today. Whether on the factory floor, or in the front office, AI applications are emerging and changing how we approach planning, processes and problem solving.

Columns

Latest Columns

||| MENU
Risk and Mitigation for Tin Whiskers and Tin Pest
February 10, 2015 | Dr. Ronald C. Lasky, Indium Corp.
Estimated reading time: Less than a minute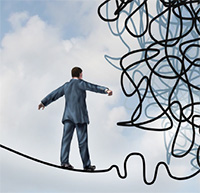 There is considerable and justifiable concern over the risks of tin whiskers. However, the same concern is not apparent regarding the dangers of tin pest. This paper will present an overview of both of these reliability concerns by reviewing what is known about the mechanisms and the occurrence of both phenomena.
Mitigation techniques will be discussed, and for tin whiskers, the discussion will focus on barriers between the tin and copper base metal, additions of bismuth to the tin, annealing of the tin, designs that minimize tin whisker failure risk, and over-coatings of the tin. For tin pest, the mitigation technique will be primarily adding bismuth or antimony to the tin.
The article will close with a semi-quantitative analysis of the effect of these mitigation strategies on tin pest and tin whisker risk.
 Editor's Note: This article originally appeared in the February 2015 issue of SMT Online Magazine