Books

Featured Books

design007 Magazine

Latest Issues

Current Issue

Rigid-flex: Designing in 3D

In this month's issue, our expert contributors share their best tips, tricks and techniques for designing rigid-flex circuits. If you're a rigid board designer considering moving into the 3D world of rigid-flex, this issue is just what the doctor ordered!

Simulation, Analysis, and AI

Getting today's designs "right the first time" is critical, especially with costly advanced PCBs. Simulation and analysis software tools can help you in the fight to eliminate respins. They're not magical, but they can predict the future of your design.

Advanced, Complex & Emerging Designs

This month, our contributors focus on designing PCBs with advanced, complex and emerging technologies. We investigate design strategies for boards that are on the cutting edge of technology, or crazily complex, or so new that designers are still writing the rules as they go.

Columns

Latest Columns

||| MENU
Cadence's Brad Griffin Digs Deep Into DDR
February 22, 2015 | Kelly Dack, I-Connect007
Estimated reading time: 12 minutes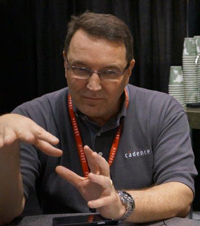 Guest Editor Kelly Dack stopped by the Cadence Design Systems booth at DesignCon 2015, where he sat down with Product Marketing Manager Brad Griffin to discuss Cadence's advanced PCB design and signal integrity tools, and the company's focus on DDR.
Kelly Dack: Brad, since you're the product marketing director for Cadence Design Systems, I'd like to ask a few questions about your DDR products. But first, please give us a brief overview of DDR.
Brad Griffin: I'd be happy to. One of the main things with a computer is that it has memory and you can store data in that memory—that's kind of what makes it a computing device. So they've been finding ways over the life of electronics to store and retrieve data faster out of memory. Somewhere around 2002, we came up with this idea of doubling the data rate in DDR memory, or double data rate memory. That was unique because basically, we clocked the data into the memory, both on the rising edge and on the falling edge of the clock. It was a clever way with the same sort of signaling to basically double the data rate speeds.
KD: Was there an organization involved? Was it standardized? 
BG: That's really good question. As of right now, there's a standard committee called JEDEC, and I'm going to assume they were in place back in the 2002 timeframe, but I'd have to go back and check. But obviously there's memory companies and they have to be able to plug-and-play with different controllers as they're driving the memory, so there's probably always been a standard they've been marching toward. That process used to be a lot simpler. You'd be transferring data at maybe 100 megabits per second. You would send the data, clock it in, and it wasn't nearly as complicated as it is now.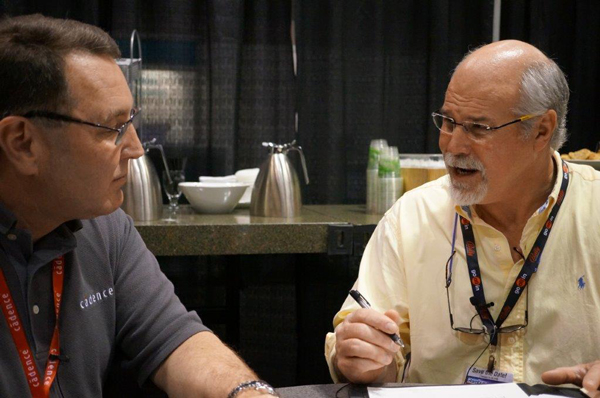 KD: So where has DDR come from, and where is it now?
BG: There was DDR2 and then DDR3, and probably 2015 is going to be the transition where most DDR3 designs go over to DDR4. Typically, this happens because the DDR4 memory will actually become less expensive than some of the DDR3 memory. 
KD: What does that mean as far as the technology from a power standpoint as well as a data standpoint?
BG: The main difference from a technology standpoint from DDR3 to DDR4 is the speed. It basically just gets faster. So any application you have in the computer that's run with DDR4 memory will make for a faster computer than one running with DDR3. One of the exciting things that has migrated probably over the last five to seven years is this new version of DDR called LPDDR, which stands for low power. That's been something primarily used in mobile devices because you certainly don't want your cell phone to run out of power in the middle of the day.
KD: With this reference to power, if I understand correctly, DDR came from a 2.5 V system and shrunk to 1.8 V and 1.5 V, and DDR4 is down at a little over 1 V. That seems really low already, so where will the LPDDR take us? 
BG: If you can believe it, the LPDDR4 specification only has a 300 mV swing, so it's really low. That means that for signal integrity and power integrity engineers, there's really very little margin left. We said there was very little margin left when it was 1.5 V, and now we're down to 300 mV; this very small swing of data means that your signals have to be clean and your power planes have to basically be stable. Because then you have to have a power/ground bounce associated with simultaneous switching signals. It's going to basically make it so that you're not going to meet the signal quality requirements that JEDEC puts in place for LPDDR4. So designs are getting really interesting. What we're excited about this year at DesignCon are the things we've been putting into our tools to enable designers to validate that they've done everything they need to do to meet the LPDDR4 requirements.
Page 1 of 3
---
Suggested Items
10/03/2023 | Indium Corporation
Indium Corporation, an international electronics materials refiner, smelter, manufacturer, and supplier, is proud to announce the acquisition of SAFI-Tech, a metal microcapsule technology innovator specializing in supercooling technology.
10/02/2023 | SEMI
Industry visionaries and experts will gather November 6-8 at the MEMS & Sensors Executive Congress (MSEC 2023) at the WIGWAM Resort in Phoenix, Arizona for insights into the latest trends and innovations in sensorization.
10/02/2023 | Indium Corporation
Indium Corporation Regional Product Manager Wisdom Qu will present at the iNEMI Workshop on Automotive Electronics on October 13, in Shenzhen, China.
10/02/2023 | ACN Newswire
This joint effort is expected to strengthen the supply of NANOWEB® films and accelerate the growth of the transparent conductive film industry, offering new applications for the automotive and consumer electronics sectors, such as transparent film antennas, transparent film heaters, and transparent film electromagnetic shielding.
09/29/2023 | Intel
Intel celebrated the arrival of its Intel 4 technology, which uses extreme ultraviolet (EUV) technology, and the first use of EUV in high-volume manufacturing (HVM) in Europe.