Books

Featured Books

pcb007 Magazine

Latest Issues

Current Issue

The Registration Sweet Spot

Registration is underrated and underappreciated. The key is to ensure proper registration from layer to layer across the entire printed circuit board. It's a holistic process requiring anticipation, prediction, precise attention at each step, and detailed data tracking and monitoring.

High-reliability Fabrication

In this month's issue, our expert contributors discuss the latest in technologies, trends, complexities and resources regarding high-reliability fabrication.

Finding Ultra

New demands on PCB fabrication, namely advanced packaging, ultra high density interconnect (UHDI), and new specialty materials, are converging, changing the landscape of our business. Is it time to start paying close attention to this convergence?

Columns

Latest Columns

||| MENU
Catching Up with Standard Printed Circuits' Bob Bormann
March 24, 2015 | Dan Beaulieu, D.B. Management Group
Estimated reading time: 7 minutes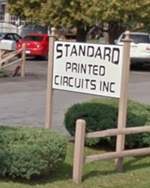 Standard Printed Circuits is located in the tiny town of Sherburne in Upstate New York which is equidistant from the cities of Syracuse, Utica and Binghamton where they do a lot of business. Founded over thirty years ago this company is one of the survivors, one of those companies whose performance, technology and string customer service ethics have allowed them to not only just survive but to thrive while being faced with the issues and challenges of the past three decades.
I had the opportunity to talk with company President Bob Bormann recently and discuss with him how he and his company have been able to make it all these years to become one the East Coast's printed circuit board leaders.
Here is that interview:
Dan: Hi Bob, Thanks for taking the time to talk with me today. I appreciate it.
Bob: No problem Dan I always like talking about my company.
Dan: So first of all tell me a little bit about your company - when it started, who started it and why, for example.
Bob: Sure. The company was started in Commack, Long Island in 1967 by Charles and Stephanie Anderson along with John Martin. They already owned Commack Industries which was building other electronic parts such as terminal boards and standoffs, those kinds of products. They felt that getting into PCBs would be synergistic to their business. At that time things were going great guns in the PCB industry so it felt like the time was right.
Dan: That makes sense. So the company started in Long Island; how did you end up here in Sherburne?
Bob: First of all, it is much easier to do business here than on Long Island and then there was the fact that much of the customer base that we had built up was located right here in upstate New York. Remember, Sherburne is located equidistant from Syracuse, Utica and Binghamton, so we're in a very good place to service our customers.
Dan: Have there been any challenges to being located here in upstate New York?
Bob: Surprisingly it has not been difficult.  We feel that is has been mainly advantageous. Most importantly, it has allowed us to attract and retain high quality employees, many of whom have remained with us for over 30 years.  We are located on a major highway with access to freight, UPS, and FedEx.  Our operating costs are much lower than other parts of the country due in part to the Rural Electrification Program in our town which affords us significantly lower electric rates. And as I said earlier, it is a good place to be in terms of our customers.
Dan: Speaking of customers, what kind of companies do you sell to?
Bob: High tech companies mostly. Over the years we have worked with a wide range of companies from telecom to aerospace, from IBM to GE. We also work with many of the universities, helping them with their new product development, including Rutgers, Cornell and the University of Missouri. We like working with these organizations on product development and R&D, as well as some of the more traditional products. Of course we also service a number of contract manufacturers as well.
Dan: And tell us about your technology, Bob.
Bob: We deal mostly in rigid boards from 2 to 10 layers, when it comes to FR4. We also work with a good amount of the RF Microwave materials; this is a growing market segment for us. Additionally we handle mixed dielectrics and of course polyimide products.
Dan: What technology do you feel is most needed right now in North America and why?
Bob: High density interconnect. The industry is headed towards HDI because smaller, faster, cheaper has driven most of the innovation in electronics.
Dan: Where do you rate SPCB in terms of technology?
Bob: On a scale of 1-10 (10 being the highest) we are an 8.
Dan: How about Quality? Where do you folks stand when it comes to Quality? What Qualifications do you have for example?
Bob: Dan, quality is what it is all about. Our company was founded on the premise of building the best Quality printed circuits on the market.  We have a number of registrations and qualifications including: ISO9001, AS9100, ITAR, UL Certified in FR4 and Polyimide.  AS9100 requires that we are audited every year to a very formal and comprehensive quality management program, which should communicate to our customers and potential customers that our products are manufactured to very high standards. This is especially important for companies in the Aerospace/Defense Industries.
Dan: So then what kind of companies do you feel you are best suited to serve?
Bob: Any companies who are doing new product development as well as specialty products. We also service the small to medium sized OEMs and of course the CEMs.
Dan: Okay that sounds very good. Now it's your turn to sell your company. Tell me, how is SPCB better than other companies? What makes you stand out?
Bob: We are an experienced RF/Microwave manufacturer since 1985.  We are very adept at working with advanced dielectric materials such as PTFE and ceramics. 
Dan: Hold on a minute, did you say "ceramics"? Do you build ceramic boards?
Bob: Yes actually fabricate boards with ceramic laminates. And we are very good at it. For example, we are regarded by Rogers as an experienced TMM fabricator and they will recommend us to OEMs requiring such a manufacturer.  We also are well versed with other PTFE laminates that utilize various ceramic dispersions for improved thermal conductivity. 
Dan: Great. Now tell me about some of the services you provide.
Bob:  Plasma Etching, sodium etching (PTFE), dicing, deep nickel/gold plating, thermal management and a wide variety of final finishes to satisfy RoHS requirements.
Dan: Bob, please tell me what you consider good service?
Bob:  Good communication with our customers throughout the entire process - from Engineering to Shipping. We like to keep them informed at all times about what is going on with their boards. We also of course want to make sure we give them the best boards money can buy. We strive to develop a strong relationship with our customers. Look, despite efforts to commoditize printed circuits, these products are becoming much more complex and require an interactive partnership between the supplier and customer. Sometimes the customer is not really sure of what he really needs and that's our opportunity to get in there with him acting as his PCB expert consultant and making sure we not only understand his needs but are able to meet or even exceed it as well.
Dan: Bob, let's head down memory lane a little bit. Tell me about starting and growing the company have there been any particular challenges that you've faced in the years since the company was started?
Bob: If I were to think about this, there have been three very challenging issues that we have faced over the years since current management bought the company in 1999. The first of course was the Dotcom bust of 2001. Then of course 9/11, and then the influx of offshore competition. These issues made it hard for anybody in the industry to survive.
Dan: There is no doubt about that. Where there were once over 1200 shops in this country there are now less than 250. It certainly has been a challenge to keep going. So now let's talk about today's market. First of all what markets are you in?
Bob: Telecommunications, Aerospace/Defense, Industrial Controls, and Instrumentation/Measurement. 
Dan: What are the challenges for competing in those markets?
Bob: Continued offshore competition including the proposed Trans Pacific Partnership.
Dan: Where do you see technology going in the future?
Bob: HDI, Opto-Electrical, Nano-Technology and perhaps graphene or stanene conductors. 
Dan: In order to stay at the top of the technology ladder you have to invest in the future. What are your plans for investments in the near future?
Bob: SPCB is currently making major purchases of new equipment and significant expenditures to upgrade our facilities.  We are targeting our imaging/wet process areas to enable us to achieve sub 2-mil lines and spaces, maintaining critical line width tolerances (controlled impedance), and obtaining front to back registration at +/- 1mil or less.  These improvements will put us at the forefront of leading RF/Microwave and high speed digital PCB manufacturers. 
Dan:  How does it help your customers?
Bob: Our improvements and capabilities will allow our customers to advance their designs to new levels of performance and reliability. 
Dan: Where do you want to be in five years?
Bob:  In five years we would like to increase our sales by 50%.  We hope to achieve this by attracting new business and always staying a year or two ahead of our customers' needs. 
Dan: And what technologies are you looking at?
Bob: HDI, Embedded Passives, and higher layer counts.
Dan: What equipment are you looking at this time?
Bob: Laser Drilling and Direct Imaging.
Dan: Are there any specs you are adding in the near future?
Bob: Yes we are going after our Mil-Spec Certification
Dan: Bob, once again thanks for taking the time to talk with me today I certainly appreciate it.
Bob: No problem Dan, anytime.
For more information about Standard Printed Circuits, Inc. go to www.standardpc.com.  See also Standard Printed Circuit's Showcase on The PCB List.
---
Suggested Items
11/29/2023 | TT Electronics
TT Electronics, a global provider of custom power solutions and engineered technologies, has announced that its Power and Control business has officially opened its new state-of-the-art research, development and manufacturing facility.
11/27/2023 | HyRel
HyRel Technologies, a global provider of quick turn semiconductor modification solutions, announces the achievement of International Traffic in Arms Regulations (ITAR) registration.
11/20/2023 | MIT
MIT's Department of Aeronautics and Astronautics (AeroAstro) recently hosted the 2023 Future Leaders in Aerospace Symposium, inviting women and underrepresented minorities in aerospace fields to campus for a two-day program.
11/14/2023 | NEO Tech
NEOTech, a leading provider of electronic manufacturing services (EMS), design engineering, and supply chain solutions in the high-tech industrial, medical device, and aerospace/defense markets, is thrilled to welcome James Doyle to the team as Chief Executive Officer of NEOTech's Aerospace & Defense division, effective immediately.
11/06/2023 | PRNewswire
Vuzix Corporation, a leading supplier of smart glasses and Augmented Reality (AR) technology and products, announced it has completed delivery against a follow-on order from a Tier-1 aerospace and defense contractors with which it has been working with.