Books

Featured Books

smt007 Magazine

Latest Issues

Current Issue

Chips Don't Float

In Europe and the U.S., legislation is under way to revitalize PCB fabrication and packaging. What is the status of this work, and how specifically does this change the industry landscape for EMS companies? What will help keep us afloat?

Flying High With Digital Twin

The opportunity to use manufacturing simulation as a test bed for job planning and process optimization brings continuous improvement into the modern age. This may be an all-or-nothing type of project, but it's worth the investment.

Artificial Intelligence

In this issue, we (and AI) explored how and when artificial intelligence plays a role in manufacturing today. Whether on the factory floor, or in the front office, AI applications are emerging and changing how we approach planning, processes and problem solving.

Columns

Latest Columns

||| MENU
How to Select a Pick-and-Place Machine, Part I
March 25, 2015 | Robert Voigt, DDM Novastar
Estimated reading time: 2 minutes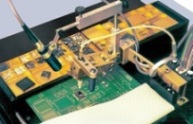 This is the second in a series of columns aimed at helping buyers analyze and select SMT equipment for PCB assembly. In this column, I'll cover manual and semiautomatic pick and place machines, for users interested in going from a couple boards a day to much higher production volumes, while a future column will cover more complex, fully automatic systems.
A pick-and-place machine is the second step in the paste, place, and reflow assembly operation. The place function follows the solderpaste function (stencil printer). The place operation selects and delivers a component over the board and drops it into position. The simplest form of pick-and-place operation is by hand; that is, manually picking a component from a bin and, with the aid of a pair of tweezers and a magnifying glass, positioning it on the board and completing the operation with a hand-held soldering iron.
This method works perfectly fine if you are only doing occasional boards. Other things to consider are the size of the components (big or small), which affect the time required to hand place and solder. Fine pitch components are another issue, where more precision and accuracy are required, and the human factor comes into play. The work then becomes more tedious and time-consuming.
Production Volume
Let's start by addressing production ranges for various types of machine-assisted manual systems. For purposes of comparison, since all circuit boards vary in size and complexity, we'll talk about volumes in terms of components per hour, or CPH. This will help you to decide what level of automation you'll need.
On the very low side of the scale—using a manual hand system—the only expense is the appropriate hand tools for non-machine assisted manual placement. At the high end of the spectrum, these machines are often modular or customized for high-speed unattended operation. Buyers in this market are likely looking more at ROI than initial cost.
Manual and Semi-automatic Systems
A manual pick-and-place system is desirable for small, growing operations that need to increase their hand-held production volumes incrementally while also improving quality, thus reducing rework or rejects; however, the accuracy of placement is still limited by the capability of the operator. Benefits of a machine-assisted manual system include:
• Less operator fatigue
• Fewer placement errors
• Better control
• Improved yield, less rework
A machine-assisted manual system can be equipped with features such as an X-Y indexing table with vacuum pickup head or pen; ergonomic fixturing to help relieve operator fatigue; and additional fixturing for q (rotation) and Z (height) positioning in addition to X and Y.
Editor's Note: This article originally appeared in the February issue of SMT Magazine.
---
Suggested Items
09/28/2023 | Nolan Johnson, I-Connect007
The practical question around CHIPS Act development and electronics assembly is, "Will this change how we do business?" Indium Corporation's Dr. Andy Mackie sat down with Nolan Johnson to share what he sees as emerging answers to that question from his perspective as an expert in electronics assembly and packaging, and as a participant in standards development through IPC, JEDEC, and SEMI.
09/27/2023 | Nihon Superior Co. Ltd.
Nihon Superior Co. Ltd. is pleased to announce that Keith Sweatman, the company's Senior Technical Advisor, will deliver a presentation titled "A Path to Ductile Low-Temperature Solders for Mass Production of Electronic Assemblies" at the upcoming SMTA International conference and exposition.
09/27/2023 | Hentec Industries/RPS Automation
Hentec Industries/RPS Automation, a leading manufacturer of selective soldering, lead tinning and solderability test equipment, is pleased to announce that Kyocera International has finalized the purchase of a Hentec/RPS Odyssey 1325 robotic hot solder dip component lead tinning machine. 
09/26/2023 | Conecsus Metals México
Conecsus Metals México, an innovative environmental technology and recycling company, will exhibit at the SMTA Foro Tecnico & Expo, Guadalajara, Jalisco, México, on Wednesday, October 25, 2023, beginning at 11:00 a.m.
09/21/2023 | Thermaltronics USA, Inc.
Thermaltronics USA, Inc., a globally acclaimed manufacturer of Precision Soldering Robots and innovative Curie point soldering systems, is excited to announce its participation in the highly anticipated SMTA Guadalajara Expo & Tech Forum, scheduled to take place from October 25-26, 2023.