Reading time ( words)
At IPC APEX EXPO 2015, held in San Diego, Calif. I had the opportunity to sit with Dr. Joan Vrtis to discuss the rapidly evolving wearables market, especially for medical, and the myriad questions that must be addressed. We also touched on Multek's contribution to the wearables industry and what it sees as the main challenges to putting their circuits into various applications.
Barry Matties: Good morning, Joan. Why don't you start by telling me a little bit about what's that like being chief technology officer at Multek. I understand it is a recent position. Congratulations!
Dr. Joan Vrtis: Thank you very much. Multek is an industry leader in printed circuit technology, and the wholly owned subsidiary of Flextronics. As the chief technology officer, I'm looking at the wearable technology and how we can put our printed circuits into applications. So for Multek, it's really the solutions of what we can offer on the printed circuit side, whether it's a rigid circuit, a flex circuit, a rigid-flex and even things that can stretch and bend. We must be prepared for the broad markets we serve, specifically in the wearables. That's currently where I've been putting most of my effort.
Matties: Wearables is a fast-moving market, isn't it?
Vrtis: Yes, it is.
Matties: What is the state of the market as you see it, currently?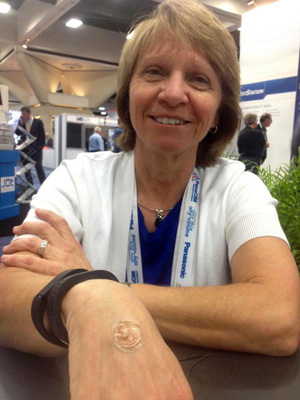 Vrtis: One of the things we've seen just recently is the expansion of the number of ideas as to what should be a wearable. How do we help translate these ideas to product and how do we market them? Some trends regarding wearables are in close proximity to the body, on the body and in the body. For example, the wristband type of technologies, such as activity band, watch, smart watch. Then there are the wearables on skin, which includes patch-like technologies used for authentication. Now, wearables ideas are growing, as inventors and companies look at putting electronics into a fabric. Can the button be used as the connection for the continuity of the circuit? Can the zipper be part of the solution to turn on and off the electronics if placed in a safety jacket? How do we integrate the components that go with that? We have to consider power, wireless, etc. And if you want something that's going to move—a gyroscope, or accelerometer—how do we put all of these components in and how do we select those components?
On the printed circuit side, historically we're used to circuit boards being like 2D structures, thus they would be flat, and then we would place the components on and go. But now we also have to take into account that they're going to bend and move. When it starts getting into the apparel side, do you make that cloth fabric your printed circuit substrate? Those are the things that people are coming to us with and saying, "Hey, can you guys do apparel?" But what does that mean? Are you going to wash it? There are a lot of questions to ask.
Matties: With the power technology in apparel and wearables, certainly washing must be a big issue.
Vrtis: Yes, it is a big issue, as is drying.
Matties: What's the craziest thing that someone has approached you with?
Vrtis: Let's see. I've had some very interesting requests for solutions with the printed circuit, but the craziest probably doesn't need to be recorded here.
Matties: That's okay; we can leave it to the imagination.
Vrtis: The important thing is that they needed all of the same components I have been talking about. They needed power and they needed some way to have this wireless to connect.
Matties: Let's talk about the market a little bit. What's the size of the market right now, the way you are seeing it?
Vrtis: Wow, it's in the billions! I've read eight billion is predicted in the next couple of years.
Matties: Where was that just a few years back?
Share
Suggested Items
03/16/2023 | Pete Starkey, I-Connect007
Widely believed to be the traditional Centre of England, Meriden was a popular venue for a gathering of the UK printed circuit community this month. They braved the forecast of heavy snow for the Institute of Circuit Technology's annual general meeting to learn about current developments and challenges in a thought-provoking technical seminar and to network with industry peers and contemporaries. Thankfully, the forecasted heavy snowfall did not reach Meriden until after the event; we only had a few flurries, although the weather caused considerable disruption elsewhere in the country.
02/28/2023 | Pete Starkey, I-Connect007
Day 2 of the EIPC Winter Conference at the Groupama Stadium in the Décines-Charpieu region of the Metropolis of Lyon in eastern France included a privileged visit to the Bugey Nuclear Power Plant for those who were registered and passed their security clearance. Such was the interest that the party was split into morning and afternoon groups. EIPC board member Martyn Gaudion, CEO of Polar Instruments, made a fine job of moderating Session 6 twice over.
02/27/2023 | Pete Starkey, I-Connect007
The EIPC Winter Conference returned to the Metropolis of Lyon in eastern France this month. In 2018, the venue was Villeurbanne in the Auvergne-Rhône-Alpes region. Five years later the setting was the Groupama Stadium in Décines-Charpieu, and leaders of the European printed circuit community gathered in expectation of a spectacular programme of 16 presentations, a visit to a nuclear power station, and an invaluable networking opportunity. They weren't disappointed.