Books

Featured Books

design007 Magazine

Latest Issues

Current Issue

Simplification

On the subject of simplification, our expert contributors explain how to design PCBs without making them complex and over-constrained—whatever the level of technology. In addition, we discuss the effect your decisions and tradeoffs have on design complexity.

The Standards of Design

Our expert contributors discuss how PCB designers can utilize standards to save time and money, not to mention frustration. We also spotlight the newly updated version of the IPC Checklist, a handy guide that illustrates which standards cover which topics, from front-end design through assembly.

Rigid-flex: Designing in 3D

In this month's issue, our expert contributors share their best tips, tricks and techniques for designing rigid-flex circuits. If you're a rigid board designer considering moving into the 3D world of rigid-flex, this issue is just what the doctor ordered!

Columns

Latest Columns

||| MENU
UTC Aerospace Systems' Lead PCB Designer Presents at Designer Day
April 7, 2015 | Kelly Dack, I-Connect007
Estimated reading time: 12 minutes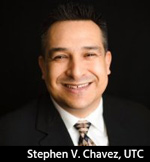 I  sat down with Stephen V. Chavez, lead electrical designer for UTC Aerospace Systems, at IPC APEX EXPO Designer Day, to discuss his presentation at the event. Chavez, who provides leadership to a global team of PCB designers, spoke on the importance of workplace communication with international teams.
Kelly Dack: Stephen, let's start by telling me a little about you and your company, and then about your part in Designer Day events.
Stephen Chavez: Thanks, Kelly. First, I am the lead PCB designer for UTC Aerospace Systems at our Electronics System Center [ESC] division in Phoenix, Arizona. We are an engineering center of excellence, and we service other service business units (SBUs) within the company, as well as our international teams. I lead teams in Phoenix, Arizona, and Bangalore, India.
I presented at Designer Day on the topic of successful leadership and communication of an international team and gave an overview of the day-to-day activities, how to be successful, what doesn't work, and what to be aware of.
Dack: About how many teams in India, and between the U.S. and India, are involved?
Chavez: At the division in India, which we call the Global Engineering Center India [GECI] there are about 800 employees. Of those employees, there is one large PCB team comprised of 18 PCB designers that I integrate with, as well as help lead, mentor and facilitate PCB design training. Any IPC knowledge that I gather and am able to share, I then pass on to all the team members, which may include not only PCB designers but electrical engineers and mechanical engineers as well.
Dack: Are these dedicated designers and are they UTC Aerospace Systems employees?
Chavez: Yes. All 18 PCB designers at that division are dedicated UTC Aerospace Systems designers and every one of them are all direct employees of UTC Aerospace Systems. When the opportunity arises and there is a surge or overload in required project support, we will bring in external company resources. When we do this, we use companies outside of UTC Aerospace Systems as contractors and on an as-needed basis.
Dack: Tell us how the teams work, and how the work is digested and acted upon. In other words, when the product requirements for a new board design come in, regardless of where the design originates, does it come to your location, and where are you based?
Chavez: Because not all SBUs within UTC Aerospace Systems have electrical design capability, or may not have enough engineering expertise/resources within their own SBUs to fulfill their external customer requirements/needs for a specific project, my division—ESC—is a division within our company that those SBUs can partner with to meet their customers' expectations and requirements. A combined proposal is created between those SBUs and ESC and submitted to the external customer.
Once a proposal has been approved and that SBU has been awarded that specific contract, work begins. I (ESC) will take action per the required SOW which includes the project's specific requirements, deliverables, and schedule. If the work is ITAR related, that work will remain in the states and be completed by ESC and/or a U.S. based division of UTC Aerospace Systems. If the work is not ITAR related, work will be allocated to the GECI as necessary, to meet the project's needs.
Typically, I meet with the respective ECAD technical lead at GECI to initiate a project kick-off meeting. He and I discuss the project details, to include milestones and overall project schedule as it relates to ECAD. As a team, we then allocate the required resource(s) as necessary to complete the required tasks. The project goes through our typical design cycle, which includes many back and forth hand-offs, handshakes and phase gate checks per our internal processes.
Since ESC is located in Phoenix, it is more than 12 hours behind GECI's time zone. This can prove to be a challenge at times, but actually we here at ESC see this as a huge advantage because this gives us literally the ability to truly work on a design around the clock, 24 hours a day. Combine this advantage with certain toolsets capabilities, and you're talking seriously shortened turnaround or design cycle time.
Dack: You had mentioned challenges. With so many people and such distances and time differences, tell us about the challenges and how you overcome them.
Chavez: The initial challenge was the time difference between Arizona and Bangalore. How are we going to communicate? How is the data going to flow? These were serious questions that had to be addressed up front. In reality, the twelve-and-a-half hour time zone difference was a blessing in disguise. It quickly had a positive effect because it allows ESC and GECI to essentially work around the clock as a team on any given design and at any given time. The way we attack a project as a team works very effectively and is very simple. We accommodate our India team's work schedule so that they're actually in the office when working on the project each day during their portion of the hand-off stages of the design process. When we hold meetings, WebExs or conference calls, or even video conferences, we do it during our evening time and from our homes here in Arizona, because the infrastructure in the U.S. can better handle it (phone, internet, etc.). This way, our team members in India are actually in the office where there's more dedicated, sustainable energy regarding the power blackouts that often occur there, which are a non-issue in the office. The phone infrastructure is better; conference rooms are readily available for teleconferencing or videoconferencing with the entire team.
Dack: Tell us about your team. You have a team organized onshore at your facility in Phoenix. You've already mentioned up to 800 resources at GECI, but tell us about the average engineer in Bangalore and the average designer. Give us a description. How does it work?Page 1 of 2
---
Suggested Items
11/29/2023 | TT Electronics
TT Electronics, a global provider of custom power solutions and engineered technologies, has announced that its Power and Control business has officially opened its new state-of-the-art research, development and manufacturing facility.
11/27/2023 | HyRel
HyRel Technologies, a global provider of quick turn semiconductor modification solutions, announces the achievement of International Traffic in Arms Regulations (ITAR) registration.
11/20/2023 | MIT
MIT's Department of Aeronautics and Astronautics (AeroAstro) recently hosted the 2023 Future Leaders in Aerospace Symposium, inviting women and underrepresented minorities in aerospace fields to campus for a two-day program.
11/14/2023 | NEO Tech
NEOTech, a leading provider of electronic manufacturing services (EMS), design engineering, and supply chain solutions in the high-tech industrial, medical device, and aerospace/defense markets, is thrilled to welcome James Doyle to the team as Chief Executive Officer of NEOTech's Aerospace & Defense division, effective immediately.
11/06/2023 | PRNewswire
Vuzix Corporation, a leading supplier of smart glasses and Augmented Reality (AR) technology and products, announced it has completed delivery against a follow-on order from a Tier-1 aerospace and defense contractors with which it has been working with.