Books

Featured Books

smt007 Magazine

Latest Issues

Current Issue

Chips Don't Float

In Europe and the U.S., legislation is under way to revitalize PCB fabrication and packaging. What is the status of this work, and how specifically does this change the industry landscape for EMS companies? What will help keep us afloat?

Flying High With Digital Twin

The opportunity to use manufacturing simulation as a test bed for job planning and process optimization brings continuous improvement into the modern age. This may be an all-or-nothing type of project, but it's worth the investment.

Artificial Intelligence

In this issue, we (and AI) explored how and when artificial intelligence plays a role in manufacturing today. Whether on the factory floor, or in the front office, AI applications are emerging and changing how we approach planning, processes and problem solving.

Columns

Latest Columns

||| MENU
Benefits of Soldering with Vacuum Profiles
April 8, 2015 | Helmut Oettl, Rehm Thermal Systems
Estimated reading time: 4 minutes

Requirements for void-free solder joints are continuously increasing in the field of electronics manufacturing (i.e., the reduction or elimination of cavities in the connection technology used between component connectors and connector pads). New challenges evolve on a daily basis due to the relentless introduction of new variants of so-called bottom-terminated components (BTCs), some of which are shown in Figure 1. Connector geometries alone are not decisive—numerous pitfalls are of greater significance. Incentives and several fundamentals will be elucidated in the following article.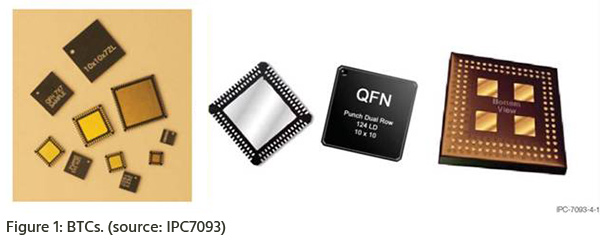 The formation of solder joints is PCB manufacturing, and thus their quality, is influenced by an unmanageably large number of parameters, which are becoming increasingly difficult to master and control. A voids workgroup prepared the overview of factors shown in Figure 2, which provides an initial insight into the complexity of the problem. However, it only includes two factors that can be taken advantage of shortly before production of the affected PCBs in order to reduce or eliminate the formation of voids. These are the stencil and the layout of the aperture on the one hand, and the use of vacuum technology during the soldering process itself on the other hand. Vacuum soldering can even be used during the production processes as a sort of fire brigade when a short-term increase in the number of voids occurs. Thus, nothing stands in the way of using standard processes and standard profiles for series production; it's possible to react flexibly to any fluctuation in the quality of purchased components, PCB surfaces and solder paste batches.
In addition to series production, PCBs can also be repaired in modern vacuum soldering systems like the CondensoX, in the event that excessively large voids have occurred during the initial soldering process in a conventional soldering system, which would otherwise have to be scrapped because they do not fulfill the criteria of the applicable IEC standards or IPC directives.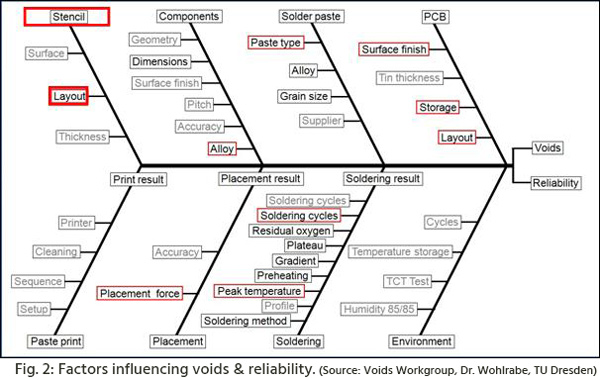 Vacuum is defined as follows in DIN 28400 (in agreement with ISO 3529-1):
"Vacuum is the state of a gas when the pressure of the gas, and thus the particle-number density, is lower within than it is outside of its container, or when the pressure of the gas is less than 300 mbar (i.e., lower than the smallest atmospheric pressure which occurs on the surface of the Earth.")Page 1 of 2
---
Suggested Items
09/29/2023 | Indium Corporation
Indium Corporation Regional Product Manager Wisdom Qu will present at the SMTA China South Technical Conference, held in conjunction with NEPCON Asia, on October 11 in Shenzhen, China.
09/28/2023 | Nolan Johnson, I-Connect007
The practical question around CHIPS Act development and electronics assembly is, "Will this change how we do business?" Indium Corporation's Dr. Andy Mackie sat down with Nolan Johnson to share what he sees as emerging answers to that question from his perspective as an expert in electronics assembly and packaging, and as a participant in standards development through IPC, JEDEC, and SEMI.
09/27/2023 | Nihon Superior Co. Ltd.
Nihon Superior Co. Ltd. is pleased to announce that Keith Sweatman, the company's Senior Technical Advisor, will deliver a presentation titled "A Path to Ductile Low-Temperature Solders for Mass Production of Electronic Assemblies" at the upcoming SMTA International conference and exposition.
09/27/2023 | Hentec Industries/RPS Automation
Hentec Industries/RPS Automation, a leading manufacturer of selective soldering, lead tinning and solderability test equipment, is pleased to announce that Kyocera International has finalized the purchase of a Hentec/RPS Odyssey 1325 robotic hot solder dip component lead tinning machine. 
09/26/2023 | Conecsus Metals México
Conecsus Metals México, an innovative environmental technology and recycling company, will exhibit at the SMTA Foro Tecnico & Expo, Guadalajara, Jalisco, México, on Wednesday, October 25, 2023, beginning at 11:00 a.m.