Books

Featured Books

smt007 Magazine

Latest Issues

Current Issue

Chips Don't Float

In Europe and the U.S., legislation is under way to revitalize PCB fabrication and packaging. What is the status of this work, and how specifically does this change the industry landscape for EMS companies? What will help keep us afloat?

Flying High With Digital Twin

The opportunity to use manufacturing simulation as a test bed for job planning and process optimization brings continuous improvement into the modern age. This may be an all-or-nothing type of project, but it's worth the investment.

Artificial Intelligence

In this issue, we (and AI) explored how and when artificial intelligence plays a role in manufacturing today. Whether on the factory floor, or in the front office, AI applications are emerging and changing how we approach planning, processes and problem solving.

Columns

Latest Columns

||| MENU
Are the Robots Taking Over?
April 13, 2015 | Barry Matties, I-Connect007
Estimated reading time: 15 minutes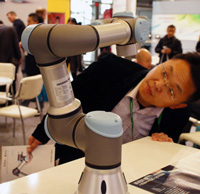 Some have a fear that robots are taking over, but the founders of Universal Robots have a different view. They have focused on producing a versatile robotic arm that frees humans from doing the repetitive tasks. Their journey has not been an easy one. From a startup with just a couple of employees their future was questionable at best, but they never gave up.
During the recent Productronica China show their booth caught my attention, as it was constantly filled with people interacting with table-mounted robotic arms.  Here's their story.
Barry Matties: Today I'm here with Esben Hallundbaek Ostergarrd, CTO and co-founder of Universal Robots. Please tell me about Universal Robots, Esben.
Esben Ostergarrd: We founded Universal Robots because we could see a need in the Danish industry, which was to make more flexible robots or make robot technology more flexible. Maybe it's not so surprising we saw this need especially in Denmark, because Denmark has a high salary level and it does not have an automotive industry. So the Danish industry is more varied and flexible, not high volume products and so on.
The existing robot technology at that time was not very well suited for the Danish industry, and we could see that there was a general global need for more flexible production and more flexible robots. That's when we decided to basically quit our jobs at the university and try to build these robots, and pursue our dream of making a reality the kind of robots that we could see the world needed.
We got a small amount of money from a Danish governmental fund and we quit our jobs and started building these robots. Then we spent three years in a basement trying to build the robots, and we actually managed to come up with some prototypes that were functioning and pretty good to start selling. Then we ran out of money. So we didn't have the volume needed to build up the production and a sales network. We were completely broke and our employees were not very happy not getting paid, so they started leaving the company.
Matties: How many employees did you have then?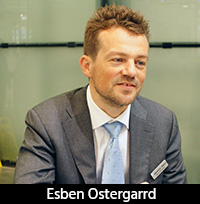 Ostergarrd: We had two at that time. There were two founders and two employees.
Matties: So when one left, you really felt it.
Ostergarrd: Exactly, and that's never good. On the other hand, we had a robot that we thought could really make a difference. So we really didn't want to give it up. We spent a month not getting paid and paying our employees from our own pockets, and there's a limit to how long you can do that, especially if you also have to buy parts to produce robots to sell robots. We had sold five robots and delivered two. We had gotten some parts we didn't pay for, but we didn't have parts enough to complete the remaining three that we already got the money for.
So our customers were not happy. Our sub-suppliers were very unhappy and they didn't want to give us more before we paid for the previous parts; the phone was ringing all the time with people wanting their money. We just told them that if they filed for bankruptcy for the company, then they would never get their money. That was the worst thing they could do. Their best chance was to hope that we'd somehow pull through.
Actually, more or less by coincidence, we got in contact with an investor that looked at our product and looked at us and said, "The product is good, but you need professional management in this company. Then we would want to invest in it." There was half a year of negotiation, but they basically ended up investing in the company and that was a good thing. They put in a professional manager who had sales experience and commercial experience. At the beginning of 2009 we started building up sales, focusing less on development and more on sales.
Since then we have been doubling the company return every year, and we have been growing a lot – first in Europe and then the U.S., and now we are a global company. In 2011 we started selling in Shanghai and made a subsidiary here; we also have offices in New York, India, Singapore and Barcelona, many offices in the world. So the company has really grown very fast.
Matties: So from two employees that were questionable in terms of staying there, how many employees do you have now?
Ostergarrd: We have 140 now.
Matties: Congratulations.
Ostergarrd: Thanks. We're still actually a pretty small company, but we have found that the kind of robot we make has had a very big impact on the way that the world looks at robots. We've actually managed to change a little bit of the perception of what a robot should be, and that's kind of an interesting journey. Even though we are a pretty small company, we have changed a lot of things. Also, we are a small core company. We have a lot of sub-suppliers that give us all the parts that we put in the robots and we have a lot of distributors and integrators that sell all the robots. So even though we are only around 140 people, we have a large throughput.
Matties: What markets do you focus on? Obviously, we're here in electronics, but are you in other markets?Page 1 of 3
---
Suggested Items
09/20/2023 | I-Connect007 Editorial Team
Panasonic's Darren Hitchcock spoke with the I-Connect007 Editorial Team on the complexities of moving toward ultra HDI manufacturing. As we learn in this conversation, the number of shifting constraints relative to traditional PCB fabrication is quite large and can sometimes conflict with each other.
09/19/2023 | Anaya Vardya -- Column: Standard of Excellence
In my last column, I discussed cutting-edge innovations in printed circuit board technology, focusing on innovative trends in ultra HDI, embedded passives and components, green PCBs, and advanced substrate materials. This month, I'm following up with the products these new PCB technologies are destined for. Why do we need all these new technologies?
09/18/2023 | ViTrox
ViTrox, which aims to be the world's most trusted technology company, is excited to announce that our trusted Sales Channel Partner (SCP) in Mexico, SMTo Engineering, S.A. de C.V., will be participating in SMTA Guadalajara Expo & Tech Forum. They will be exhibiting in Booth #911 from the 25th  to the 26th of October 2023,  at the Expo Guadalajara in Jalisco, Mexico.
09/18/2023 | Intel
Intel announced one of the industry's first glass substrates for next-generation advanced packaging, planned for the latter part of this decade.
09/18/2023 | Aidan Salvi -- Column: Facing the Future
I have been in and around circuit boards most of my life. I started 20 years ago in my family's PCB shop, leaving after a couple of years to start my own software company. About a year ago, I returned to the family business, and the first thing I noticed was that nothing had really changed. We were doing the same things in the same way as the day I left. After talking to several experts in the industry, I realized it was worse than that: The manufacturing of PCBs had not changed in 70 years.