Books

Featured Books

smt007 Magazine

Latest Issues

Current Issue

Chips Don't Float

In Europe and the U.S., legislation is under way to revitalize PCB fabrication and packaging. What is the status of this work, and how specifically does this change the industry landscape for EMS companies? What will help keep us afloat?

Flying High With Digital Twin

The opportunity to use manufacturing simulation as a test bed for job planning and process optimization brings continuous improvement into the modern age. This may be an all-or-nothing type of project, but it's worth the investment.

Artificial Intelligence

In this issue, we (and AI) explored how and when artificial intelligence plays a role in manufacturing today. Whether on the factory floor, or in the front office, AI applications are emerging and changing how we approach planning, processes and problem solving.

Columns

Latest Columns

||| MENU
Zentech: Expanding EMS Solutions and Supporting Innovation
April 29, 2015 | Barry Matties, I-Connect007
Estimated reading time: 21 minutes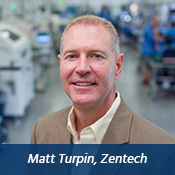 Zentech CEO and President Matt Turpin sat down with me recently for a wide-ranging discussion of the state of both domestic and global manufacturing. We also touched on a recent acquisition that will significantly expand their capabilities. Other topics covered were supply chain issues, automation, regulations, and the importance of STEM education in the U.S.
Barry Matties: Matt, thanks for joining me today. You've been the CEO and president of Zentech since 2006. What were you doing prior?
Matt Turpin: Prior to Zentech, I was with a large OEM, Spirent Communications, which acquired a company that I was with for a long time, Hekimian Laboratories. We made test equipment for the telecom, service assurance hardware, and software industries. I managed product development, marketing and the operations group with them. All told, I've been in manufacturing for more than 30 years.
Matties: I see that you are pretty active in your local government and are now on the IPC Government Relations steering committee for the national level, plus you are focused on some of the reshoring issues as well.
Turpin: I try to stay current. That's a really good way to be current and be around other like-minded people. Assuring peace is fascinating at the local and national level. Things have really changed during the last 10 years. It's interesting to watch how reshoring is evolving, both on the electronics side and outside of electronics, too. The economics have really changed over the years.
Matties: The interesting thing to me is the way that you are approaching manufacturing and the re-shoring effort. It looks like you are building the American workforce by region, beginning with your local neighborhood, where you are supporting local suppliers for sheet metal and all the other supply chain items that you need. This looks like an interesting model that could really bring infrastructure back into America, one neighborhood at time.
Turpin: I would agree, and add that this is particularly true with regard to how transportation costs play into it, both in terms of wallet costs and lead-time costs. Even though there is still a ton of manufacturing that moves offshore and is completed offshore, most of the innovation and product development activities are still taking place in the U.S. Unfortunately, a lot of those have migrated closer to the manufacturing in Asia, both for regional reasons and cost reasons, but the majority of it is still being done in the U.S.
Having a regional model with the ability to help these innovation centers execute on the design and assembly side of the printed circuit boards, plus a regional model where we can leverage quick tooling to the plastics, sheet metal design, cabling, and ancillary requirements, makes the whole development process faster and more efficient.
Matties: It also gives you a competitive advantage.
Turpin: Certainly it helps with what I refer to as the innovation center and the people doing the innovation. Most times it's the company, but sometimes the company is outsourcing the innovation effort to a larger design house, too. We come in by being close to that and helping them to succeed, both on cost and time-to-market. But you're right; if done correctly it does create a sticky relationship that is harder for them to go outside of, because they won't get the price and the lead-time support that they've come to enjoy.
Matties: I understand that you have recently made an acquisition. Are you ready to make some announcements about that or name names at this point?
Turpin: Yes, we are very excited to announce our acquisition of Colonial Assembly & Design (CA&D). They are well-embedded with the DOD, particularly the Navy, and also have an excellent portfolio of customers in the commercial aviation sector. Their DOD role is interesting (contrasted with Zentech's traditional contract manufacturing role) as CA&D has traditionally functioned as a prime contractor for electronics system design and manufacturing. We also pick up a very experienced, dedicated and talented workforce. From a capabilities standpoint, it significantly broadens our solutions offering by adding circuit design, mechanical engineering, cable and wire harness expertise, machining and a whole systems level approach to customer engagement. Zentech was recently recognized as the premiere contract manufacturing organization in Maryland, but our larger goal is to be the dominant player in our space in the entire mid-Atlantic region. So the acquisition of CA&D, located in Fredericksburg, Virginia is also strategic from a larger footprint and regional build-out perspective.
Matties: It looks like Zentech is doing about 45% in aerospace and defense and the rest is medical, communication, and so on. What sort of capacity or market are you targeting with this acquisition?
Turpin: The rationale for the acquisition has more to do with expanding our capabilities than it does with expanding into a specific industry segment. Currently, I think we're over 50% defense and aerospace. This particular acquisition is also heavy on the big defense and aerospace side and, like us, has a thriving commercial piece. When you have a blended model like that, it helps keep the overhead costs down on the defense side, making you more cost competitive on a lot of the defense programs because you are not just a pure defense play. You've got to keep your costs in check to compete on the commercial side as well. It's kind of a self-regulating model.
The main reason for this current acquisition is to expand our capabilities. Getting back to the previous conversation about helping these innovation centers succeed and get to market faster, we've done a really good job of supporting customers on the design side as well as on the manufacturing side. Where we want to expand our capabilities is being able to be faster on prototypes. We do prototyping now, but as you get more and more of your work on the prototype side, you really want to make sure you can stay ahead of the curve from a capacity standpoint. The best way to say it is that we want to be able to add quick-turn capacity, and we want it to be a more efficient delivery model.Page 1 of 4
---
Suggested Items
09/20/2023 | I-Connect007 Editorial Team
Panasonic's Darren Hitchcock spoke with the I-Connect007 Editorial Team on the complexities of moving toward ultra HDI manufacturing. As we learn in this conversation, the number of shifting constraints relative to traditional PCB fabrication is quite large and can sometimes conflict with each other.
09/19/2023 | Anaya Vardya -- Column: Standard of Excellence
In my last column, I discussed cutting-edge innovations in printed circuit board technology, focusing on innovative trends in ultra HDI, embedded passives and components, green PCBs, and advanced substrate materials. This month, I'm following up with the products these new PCB technologies are destined for. Why do we need all these new technologies?
09/18/2023 | ViTrox
ViTrox, which aims to be the world's most trusted technology company, is excited to announce that our trusted Sales Channel Partner (SCP) in Mexico, SMTo Engineering, S.A. de C.V., will be participating in SMTA Guadalajara Expo & Tech Forum. They will be exhibiting in Booth #911 from the 25th  to the 26th of October 2023,  at the Expo Guadalajara in Jalisco, Mexico.
09/18/2023 | Intel
Intel announced one of the industry's first glass substrates for next-generation advanced packaging, planned for the latter part of this decade.
09/18/2023 | Aidan Salvi -- Column: Facing the Future
I have been in and around circuit boards most of my life. I started 20 years ago in my family's PCB shop, leaving after a couple of years to start my own software company. About a year ago, I returned to the family business, and the first thing I noticed was that nothing had really changed. We were doing the same things in the same way as the day I left. After talking to several experts in the industry, I realized it was worse than that: The manufacturing of PCBs had not changed in 70 years.