Books

Featured Books

smt007 Magazine

Latest Issues

Current Issue

Chips Don't Float

In Europe and the U.S., legislation is under way to revitalize PCB fabrication and packaging. What is the status of this work, and how specifically does this change the industry landscape for EMS companies? What will help keep us afloat?

Flying High With Digital Twin

The opportunity to use manufacturing simulation as a test bed for job planning and process optimization brings continuous improvement into the modern age. This may be an all-or-nothing type of project, but it's worth the investment.

Artificial Intelligence

In this issue, we (and AI) explored how and when artificial intelligence plays a role in manufacturing today. Whether on the factory floor, or in the front office, AI applications are emerging and changing how we approach planning, processes and problem solving.

Columns

Latest Columns

||| MENU
Reliability Assessment of No-clean and Water-soluble Solder Pastes, Part II
May 6, 2015 | Emmanuelle Guéné and Steven Teh, Inventec Performance Chemicals
Estimated reading time: 2 minutes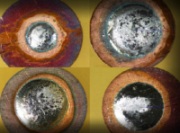 Note: Part 1 of this article published in the March 2014 issue of SMT Magazine, available here.
Twenty-five years ago, solder paste residues had to be cleaned after reflow due to their corrosive nature: two ways of cleaning were available, either with solvent or by using water, with or without detergent. Now, the assembly world is mainly no-clean: paste formulation is safer in terms of chemical reliability and process costs are reduced without cleaning. However, some applications (i.e., military, aerospace, high-frequency, and semiconductor) require a perfect elimination of the residue after reflow. Several options can achieve this result: a no-clean paste which allows residue to be removed with the most suitable cleaning method, or a paste designed to be cleaned, such as a water-soluble solder paste.
Water-soluble solder pastes generally show great wettability because of their strong activation but they are also known to have shorter stencil life and to be more sensitive to working conditions as temperature and humidity, compared to the no-clean pastes. Additionally, with the components stand-off getting smaller and smaller, washing residues with water only is more and more challenging due to its high surface tension: the addition of detergent becomes often necessary.
The purpose of this article is to highlight the differences between these two families of solder pastes to guide users in their choice. This will be achieved through the comparison of several recent water-soluble and no-clean formulations as far as reliability is concerned. First, the printing quality will be evaluated (viscosity, tack, cold slump, printing speed according to pressure, stencil life, idle time, printing consistency). Next, the reflow properties will be compared (hot slump, solderballing, reflow process window, wetting ability on different finishes).
Finally, the residue cleanability will be assessed. The IPC SIR will be also done to conclude the study. Both standardized tests and production tests will be used to evaluate the performance of these two kinds of solder pastes.
Introduction
Six lead-free pastes were extensively studied, three being water-soluble and three being no-clean. The first part of the study focused on printing performance. The pastes were characterized using standardized tests and internally developed tests: dynamic viscosity, tackiness, slump and solderballing. The influence of accelerated storage at elevated temperature, the influence of time and conditions between printing and reflow and the influence of continuous shear according to time were shown. The printing performances were also evaluated in a printer. Although the number of pastes studied was restricted, the water- soluble pastes generally yielded results below the no-clean pastes with more sensitivity to temperature and humidity, tendency to slump during preheat and narrower printing window. Water- soluble solder pastes must be stored, handled and used with more caution before reflow.
In the second part of the paper, the reflow properties will be compared: wettability, reflow process window, anti-graping properties. Finally the residue cleanability with water, then with water and detergents will be examined. The cleanliness will be assessed using visual inspection, ionic contamination and surface insulation resistance tests.
Editor's Note: This article originally appeared in the April issue of SMT Magazine.
---
Suggested Items
09/20/2023 | ULT AG
At this year's productronica, the world's leading trade show for electronics manufacturing, ULT will present a brand new extraction solution for solder fumes and vapor.
09/20/2023 | Hentec Industries/RPS Automation
Hentec Industries/RPS Automation, a leading manufacturer of selective soldering, component lead tinning and solderability test equipment, announces that it has added assembly and production staff members to its team to accommodate its recent increase in sales and order demand.
09/19/2023 | SMTA
SMTA is honored to announce Qais Qasaimeh, a graduate student at Auburn University, has been selected as the winner of the 2023 Charles Hutchins Educational Grant.
09/14/2023 | SHENMAO
SHENMAO America, Inc. is proud to introduce its latest innovation in response to the growing demand for ultra-thin packages in the electronics industry.
09/14/2023 | Peters
For Peters, the new Reflow 1.8. soldering machine from SEHO is an investment in the future. Like its predecessor, this machine is used in the laboratory for testing high-quality solder resists. Before the coatings are entrusted to the customers, Peters performs a thermal soldering simulation.