Books

Featured Books

design007 Magazine

Latest Issues

Current Issue

Rigid-flex: Designing in 3D

In this month's issue, our expert contributors share their best tips, tricks and techniques for designing rigid-flex circuits. If you're a rigid board designer considering moving into the 3D world of rigid-flex, this issue is just what the doctor ordered!

Simulation, Analysis, and AI

Getting today's designs "right the first time" is critical, especially with costly advanced PCBs. Simulation and analysis software tools can help you in the fight to eliminate respins. They're not magical, but they can predict the future of your design.

Advanced, Complex & Emerging Designs

This month, our contributors focus on designing PCBs with advanced, complex and emerging technologies. We investigate design strategies for boards that are on the cutting edge of technology, or crazily complex, or so new that designers are still writing the rules as they go.

Columns

Latest Columns

||| MENU
EchoStar's Les Beller Shares the PCB Design-to-Fab Process
May 10, 2015 | Barry Matties, I-Connect007
Estimated reading time: 15 minutes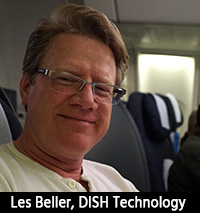 Recently, I had the opportunity to meet and interview Les Beller of EchoStar Technologies. Beller's career began in the early 1980s as a circuit board designer, eventually leading him to EchoStar, where he has managed the PWB design group and spent time as a PCB quality engineer. He is now a manufacturing process engineer specializing in DFx.
In this interview, Beller focuses on the many challenges circuit board designers face, strategies for bridging the gap between circuit design and fabrication, and the future of circuit designers.
Barry Matties: Les, tell us about your history in the circuit board industry. How did you get started?
Les Beller: I began by hand-drafting schematics and then went into tape and Mylar. That was in 1982 or so, when I was 18. That led into AutoCAD-based software tools for circuit board design and working for design agencies. I ended up selling Layout and fab work in a small prototype board shop using the Daisy/Cadnetix and P-CAD platforms in the front-end.
From there, I ended up moving into a higher-volume consumer products company at EchoStar Technologies, which designs set top boxes (STBs).
Matties: How does that design and fab experience translate into what you're doing now? Does it give you any insight into your role in manufacturing?
Beller: I can't even imagine how many times it has helped me out. Most manufacturing engineers that I had worked with prior would know what they wanted to happen on the manufacturing line, but didn't know what the PCB was capable of. They were relying upon the energy level or the motivation of the layout person, who in some cases was with a job shop with little or no motivation for further improving the product.
It is a big limitation when you don't have a PCB fabrication and design background and you're on the shop floor, because you don't know what the PCB is capable of or what you can do to the PCB to make it more successful as a substrate.
Matties: I would think the types of products you are currently putting PCBs into are all home-use products for the television, probably on the scale of millions.
Beller: That is correct. We bring our customer design and manufacturing solutions at the STB and application level, so that they can focus on the marketing side. STBs are our primary focus as well as support for mobile devices…linking them into consumers' home content.
Matties: Is all your circuit board design done inside your company or do you farm that out?
Beller: Currently, we have three design sites that are captive held offices. Two design centers in the U.S. and one in the UK. Separate of that is our Bangalore, India office which uses a third-party layout group. Behind those layout groups are about 50-60 hardware engineers. We also have industrial design, sheet metal and plastics design capability in-house, tying together the mechanical puzzle-pieces nicely.
Matties: When EchoStar's designers are working, what challenges do they face or what obstacles do they see?
Beller: The biggest is the challenge of taking 2x the amount of electrical bits and stuffing it into a 1.5x smaller box. Some hardware or management level people may not understand that you need to do more front-end work in the design to be successful—you need to have floor planning, and you need to have a good engineer and mechanical designer behind you that can make adjustments to the requirements of the product on-the-fly. Occasionally, we may even take the changes all the way back to the Industrial design if applicable.
We've developed several ways of estimating our density, estimating our pin count, net count, connection count, and using historical numbers to establish a methodology to estimate how much we can put in a given design based on the available space from our mechanical drawing. It's been one of the better layout practices we have developed.
Matties: So the way it works is engineers imagine a product, draw it up, and come back and say, "We need a board that fits into this," and your job is to get a board that fits.
Beller: That is correct. That's one of the first challenges that every layout guy would be nodding his head to right now—how to communicate back to the engineers exactly where you need more space or if your hands are too tied to do what they need in the layout.
Some of the other challenges are component selection, such as engineers wanting more real estate than their circuit can support or requires, and working with different engineers on the same design. Our layout designers are working with probably six or eight different design engineers (on larger boards), and they each have different approaches and sub-schedules to attain.
One way that we've answered this challenge is by using Mentor; we're using the team product, which is a design-sharing layout tool that allows us to put more than one designer on a given project, each of them working with different design engineers in parallel, allowing us shorter layout design cycles.
One designer always takes lead role in a design, responsible for schedule and integration, ECOs, etc. The entire layout team takes responsibility for their respective circuits. Another challenge is just having engineers that are, let's face it, different. Some engineers know exactly what they want, and some need to see the layout as you go along. You've got to be able to work with different personalities, and professional levels as well as different functional areas such as digital, power, RF, DDR, etc.
Matties: Being a captive facility, however, I would think that you guys have an advantage over a design shop because your teams can easily communicate, whereas if I'm a design service bureau I just get a spec and I have to make it fit.
Beller: We do have a benefit over a design bureau in that we do have the engineers there. If the layout person has an issue, he calls the engineer over. The engineer sits down with him and they solve the challenge together immediately. There is heavy ownership by both the engineer and the layout person and we find fewer mistakes are the result. We don't have the additional challenge of answering to different customer needs like a design bureau does.Page 1 of 3
---
Suggested Items
09/29/2023 | Siemens
Siemens Digital Industries Software announced new certifications and collaborations with longtime partner TSMC, resulting in the successful qualification of multiple industry-leading Siemens EDA product lines for the foundry's latest process technologies.
09/29/2023 | Cadence Design Systems, Inc.
Cadence Design Systems, Inc. announced the availability of new system prototyping flows based on the Cadence® Integrity™ 3D-IC Platform that support the 3Dblox 2.0 standard.
09/28/2023 | TSMC
TSMC announced the new 3Dblox 2.0 open standard and major achievements of its Open Innovation Platform (OIP) 3DFabric Alliance at the TSMC 2023 OIP Ecosystem Forum.
09/28/2023 | Keysight Technologies, Inc.
Keysight Technologies, Inc., Synopsys, Inc., and Ansys announced a new reference flow for the TSMC N4PRF, the world's leading semiconductor foundry's advanced 4 nanometer (nm) radio frequency (RF) FinFET process technology.
09/27/2023 | Cherie Litson, CID+, Litson1 Consulting
Rigid-flex circuits are unique structures; part rigid board and part flex, they're increasingly working their way into many of the electronic devices we use every day. There have been many advances in rigid-flex lately as more companies find themselves exploring this technology. So, before I started writing this article about rigid-flex design, I double-checked a few things. Fortunately, there is plenty of rigid-flex information available on a variety of great websites that we all know and trust.