Books

Featured Books

smt007 Magazine

Latest Issues

Current Issue

Chips Don't Float

In Europe and the U.S., legislation is under way to revitalize PCB fabrication and packaging. What is the status of this work, and how specifically does this change the industry landscape for EMS companies? What will help keep us afloat?

Flying High With Digital Twin

The opportunity to use manufacturing simulation as a test bed for job planning and process optimization brings continuous improvement into the modern age. This may be an all-or-nothing type of project, but it's worth the investment.

Artificial Intelligence

In this issue, we (and AI) explored how and when artificial intelligence plays a role in manufacturing today. Whether on the factory floor, or in the front office, AI applications are emerging and changing how we approach planning, processes and problem solving.

Columns

Latest Columns

||| MENU
Alpha Presents World's First Sintering Preforms at PCIM
June 9, 2015 | Alpha
Estimated reading time: 2 minutes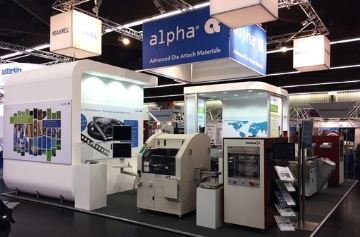 Alpha, the world leader in the production of electronic soldering materials, introduced its latest product offering for Die Attach applications, including a world first for Sintering at the PCIM show in Nuremberg, Germany, on the 19th-21st May.
Alpha's new ALPHA Argomax 9000 Preforms are a world first for the Power Semiconductor Industry. These innovative preforms deliver superior thermal conductivity, ultra high reliability and excellent electrical conductivity. They have shown excellent performance in large area attachment and can help to simplify the manufacturing process.
Alpha's Global Product Manager for Sintered Materials, Julien Joguet attended PCIM for Alpha, "This year we launched one of our most innovative products at PCIM, the ALPHA® Argomax® 9000 preforms. Up until now ALPHA® Argomax® has only been available in both paste and film formats, but now we are the first to introduce a sintering product in a preform format to widen our product portfolio and extend the superior capabilities of Argomax®."
Argomax® 9000 preforms can be used in a range of applications from power modules to Automotive applications, in areas in which thermal and electrical conductivity and joint strength is crucial. The preforms are available in tape and reel format and waffle pack for standard pick and place equipments.
In addition, Alpha showcased its broad range of products for Die Attach applications including the full Argomax® range and ALPHA® Atrox™D800HT Series Die Attach Paste which is specially designed for packages requiring rapid heat dissipation. The paste delivers high reliability and can be used for a wide range of die attach applications including Std IC, PMIC, Analog, RF and Power Discrete Packages.
Alpha was also joined by representatives for Besi and Boschman on the stand which allowed for practical demonstrations of Alpha products on equipment such as pick and place machines.
For more information on Alpha and our Die Attach Products please visit our site or contact Julien Joguet at jjoguet@alent.com.
About Alpha
Alpha, a business unit of Alent plc, is the global leader in the development, manufacturing and sales of innovative specialty materials used in a wide range of industry segments, including electronics assembly, power electronics, die attach, LED lighting, photovoltaics, semiconductor packaging, automotive and others.

With a unique global presence in over 30 locations throughout the Americas, Europe and Asia Pacific regions, Alpha supplies a full line of ALPHA® electronics assembly material products, including Solder Paste, Exactalloy® Solder Preforms, Cored Solder Wire, Wave Soldering Fluxes, Bar Solder Alloys, and Stencils.  It offers die attach product technologies to the power electronics segment in its Argomax®, Atrox™, Maxrel™, and Fortibond™ brands. For the LED segment, Alpha offers its Lumet™ products covering applications from die attach to systems assembly in the LED manufacturing process.
About Alpha

Alpha also offers product technologies for the Photovoltaic segment, including its unique pre-fluxed ALPHA® PV Ready Ribbon®, high performance standard ribbon, bus bar, solder wire and flux. Alpha's Advanced Materials unit is the leader in electronic polymers and solder materials for semiconductor packaging applications.  Since its founding in 1872, Alpha has been committed to developing and manufacturing the highest quality specialty materials.  For more information, visit www.alpha.alent.com.
---
Suggested Items
09/21/2023 | Thermaltronics USA, Inc.
Thermaltronics USA, Inc., a globally acclaimed manufacturer of Precision Soldering Robots and innovative Curie point soldering systems, is excited to announce its participation in the highly anticipated SMTA Guadalajara Expo & Tech Forum, scheduled to take place from October 25-26, 2023.
09/20/2023 | ULT AG
At this year's productronica, the world's leading trade show for electronics manufacturing, ULT will present a brand new extraction solution for solder fumes and vapor.
09/20/2023 | Hentec Industries/RPS Automation
Hentec Industries/RPS Automation, a leading manufacturer of selective soldering, component lead tinning and solderability test equipment, announces that it has added assembly and production staff members to its team to accommodate its recent increase in sales and order demand.
09/19/2023 | SMTA
SMTA is honored to announce Qais Qasaimeh, a graduate student at Auburn University, has been selected as the winner of the 2023 Charles Hutchins Educational Grant.
09/14/2023 | SHENMAO
SHENMAO America, Inc. is proud to introduce its latest innovation in response to the growing demand for ultra-thin packages in the electronics industry.