Books

Featured Books

smt007 Magazine

Latest Issues

Current Issue

Economic Headwinds

This issue takes stock of the current economic outlook and how companies are using current conditions to move themselves through technological evolutions, workforce shifts, and financial changes. Even with these headwinds, there's forward progress to be made.

Attracting New Talent

To get different results in staffing, you must change how you define, promote and recruit your job opportunities. How do you become magnetic to high-quality early-career candidates?

Test and Inspection

Test and inspection methods are undergoing rapid change. In this issue, we consider the influence of AOI, AI, and human eyes. How exactly are these pieces of the puzzle changing the role of test and inspection?

Columns

Latest Columns

||| MENU
American Standard Circuits' Unique Offerings Contribute to Long-term Success
June 11, 2015 | Barry Matties, I-Connect007
Estimated reading time: 5 minutes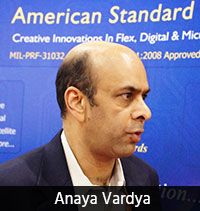 At the recent IMS RF and microwave show in Phoenix, Arizona, I had a chance to catch up with Anaya Vardya, CEO of American Standard Circuits, which has been in business for more than a quarter-century. In this interview, we discuss market trends, recent equipment investments and where their growth as a company will likely come from.
Barry Matties: Anaya, the IMS microwave show, as you said, is a large part of your business. Why don't you give me a little history about American Standard Circuits—where you guys started and how you got where you are.
Anaya Vardya: We've been in business for about 27 years now, as of this August. The shop started with four people, so it was a very small facility. We've now grown to more than 100 employees. We're about $17 million in revenue, so we've grown fairly significantly over the last 20-plus years. A good portion, between 60–65% of our business, is focused on the RF/microwave sector. We have a pretty large portion in automotive telematics. We also do a fair amount of business in communication and a lot in mil/aero.
One thing that is pretty unique about us is the fact that we're able to build a lot of different kinds of metal-backed PCBs for the RF/microwave space. We have a couple of patents in that area. In addition, we've got some very unique offerings in the metal-backed sector, including the fact that we can do some very quick turns on this kind of technology. We're probably one of the only shops that can turn metal-backed technology in five days or less.
Matties: So your patents have given you some competitive advantages.
Vardya: Right, our patents give us competitive advantages because we have the ability to actually bond circuit boards to metal with our proprietary materials. Some of the proprietary materials have advantages over the commercially available materials and are preferred by many of our customers.
Matties: With the RF market, the automotive sector has grown a lot for you then.
Vardya:  Yes, it has. In the last few years we've seen significant increase in the amount of electronics content in automobiles, with technologies like blind spot detection, automatic braking, and stop and go  in crowded areas. What you're seeing in a lot of these applications is RF/microwave–type circuits, and because of that you're seeing a lot more RF microwave boards in the automotive sector.
Matties: What sorts of process requirements do your customers have?
Vardya: Several things: many different kinds of materials; a lot of very thin boards; very tight registration requirements; and then very fine lines and fine circuits. What's really important in the RF/microwave space is the tight tolerance on requirements.
Matties: You mentioned military as well.
Vardya: We're participating in a large number of different sectors.  We've built boards that have ended up in IED collision avoidance devices worn on backs of marines. We've also done boards for satellites and the F-35 fighter jet program. We really have a very large variety of applications.
Matties: There's got to be a great sense of pride in your organization when you're building products for such important missions.
Vardya: Yes, there absolutely is.
Matties: All the manufacturing is done in your facility in West Chicago. Is that where you started?Page 1 of 2
---
Suggested Items
09/20/2023 | I-Connect007 Editorial Team
Panasonic's Darren Hitchcock spoke with the I-Connect007 Editorial Team on the complexities of moving toward ultra HDI manufacturing. As we learn in this conversation, the number of shifting constraints relative to traditional PCB fabrication is quite large and can sometimes conflict with each other.
09/19/2023 | Anaya Vardya -- Column: Standard of Excellence
In my last column, I discussed cutting-edge innovations in printed circuit board technology, focusing on innovative trends in ultra HDI, embedded passives and components, green PCBs, and advanced substrate materials. This month, I'm following up with the products these new PCB technologies are destined for. Why do we need all these new technologies?
09/18/2023 | ViTrox
ViTrox, which aims to be the world's most trusted technology company, is excited to announce that our trusted Sales Channel Partner (SCP) in Mexico, SMTo Engineering, S.A. de C.V., will be participating in SMTA Guadalajara Expo & Tech Forum. They will be exhibiting in Booth #911 from the 25th  to the 26th of October 2023,  at the Expo Guadalajara in Jalisco, Mexico.
09/18/2023 | Intel
Intel announced one of the industry's first glass substrates for next-generation advanced packaging, planned for the latter part of this decade.
09/18/2023 | Aidan Salvi -- Column: Facing the Future
I have been in and around circuit boards most of my life. I started 20 years ago in my family's PCB shop, leaving after a couple of years to start my own software company. About a year ago, I returned to the family business, and the first thing I noticed was that nothing had really changed. We were doing the same things in the same way as the day I left. After talking to several experts in the industry, I realized it was worse than that: The manufacturing of PCBs had not changed in 70 years.