Books

Featured Books

pcb007 Magazine

Latest Issues

Current Issue

Finding Ultra

New demands on PCB fabrication, namely advanced packaging, ultra high density interconnect (UHDI), and new specialty materials, are converging, changing the landscape of our business. Is it time to start paying close attention to this convergence?

Developing a Strategy

A solid strategy is a critical part of success. This month, we asked some of the top industry leaders and business strategy "gurus" to share their thoughts on developing strategies.

Winning With TQM

In this issue, we explore how TQM has entered the DNA of continuous improvement disciplines, and the role leadership transformation plays in this. If you've ever competed against a TQM company, you understand their winning advantage.

Columns

Latest Columns

||| MENU
Novel High-Performance Substrate for Stretchable Electronics
June 15, 2015 | S. Yoshioka, T. Sawada and T. Abe, Panasonic Corporation
Estimated reading time: 1 minute

Stretchable circuits are an evolving branch of electronics interconnection technology and the subject of growing interest to product developers seeking to provide novel wearable electronic solutions for consumer and medical markets. Such circuits are designed and manufactured using resilient materials which allow them to expand and contract with the movements of the user or to conform to nonplanar surfaces making possible a wide range of innovative and fanciful electronic interconnection devices. Obviously, the material used is a key element in making a stretchable circuit.
There are a range of different types of thermoplastic polymers available in film form that can be effectively stretched; however, once stretched beyond their elastic limit the material deforms to a new length greater than that which was designed.
There are as well elastomeric materials, such as urethanes, which have seen use in the manufacture of circuits which can be stretched and return to their original length. These materials tend to be opaque, which limits the scope of possibility for their use. A new transparent, high-performance thermal setting stretchable material could open doors to a range of new and innovative products.
New stretchable material characteristics
The new material is capable of stretching to 150% of the original length without hysteresis. (Figure 1 provides a comparison of stress-strain plots of the new material compared with thermoplastic PEN.)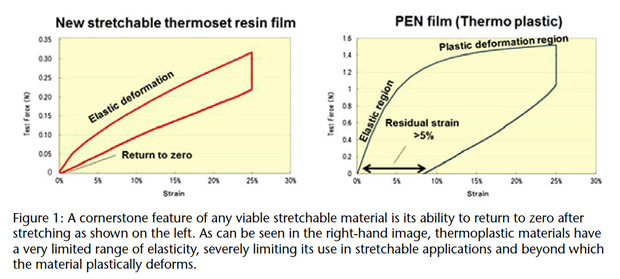 Another key attribute of the material is its ability to reliably return to the original length even when stretched numerous times, as will likely be required in numerous future applications. The new material excels in this regard.
The mechanical and thermal properties of the new material are superior in many important areas including total elongation and adhesion both to copper foil and FR-4 laminate. It is also unique in that is has no melt point making it amenable to soldering with higher temperature lead free solders.
Editor's Note: This article originally appeared in the June 2015 issue of The PCBMagazine.
---
Suggested Items
09/29/2023 | Indium Corporation
Indium Corporation Regional Product Manager Wisdom Qu will present at the SMTA China South Technical Conference, held in conjunction with NEPCON Asia, on October 11 in Shenzhen, China.
09/28/2023 | Nolan Johnson, I-Connect007
The practical question around CHIPS Act development and electronics assembly is, "Will this change how we do business?" Indium Corporation's Dr. Andy Mackie sat down with Nolan Johnson to share what he sees as emerging answers to that question from his perspective as an expert in electronics assembly and packaging, and as a participant in standards development through IPC, JEDEC, and SEMI.
09/27/2023 | Nihon Superior Co. Ltd.
Nihon Superior Co. Ltd. is pleased to announce that Keith Sweatman, the company's Senior Technical Advisor, will deliver a presentation titled "A Path to Ductile Low-Temperature Solders for Mass Production of Electronic Assemblies" at the upcoming SMTA International conference and exposition.
09/27/2023 | Hentec Industries/RPS Automation
Hentec Industries/RPS Automation, a leading manufacturer of selective soldering, lead tinning and solderability test equipment, is pleased to announce that Kyocera International has finalized the purchase of a Hentec/RPS Odyssey 1325 robotic hot solder dip component lead tinning machine. 
09/26/2023 | Conecsus Metals México
Conecsus Metals México, an innovative environmental technology and recycling company, will exhibit at the SMTA Foro Tecnico & Expo, Guadalajara, Jalisco, México, on Wednesday, October 25, 2023, beginning at 11:00 a.m.