Books

Featured Books

smt007 Magazine

Latest Issues

Current Issue

Economic Headwinds

This issue takes stock of the current economic outlook and how companies are using current conditions to move themselves through technological evolutions, workforce shifts, and financial changes. Even with these headwinds, there's forward progress to be made.

Attracting New Talent

To get different results in staffing, you must change how you define, promote and recruit your job opportunities. How do you become magnetic to high-quality early-career candidates?

Test and Inspection

Test and inspection methods are undergoing rapid change. In this issue, we consider the influence of AOI, AI, and human eyes. How exactly are these pieces of the puzzle changing the role of test and inspection?

Columns

Latest Columns

||| MENU
ALPHA SBX02 Lowers Assembly Costs by Eliminating Wave Soldering Process
June 16, 2015 | Alpha
Estimated reading time: 2 minutes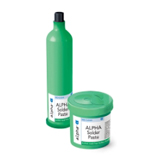 Alpha, the world leader in the production of electronic soldering materials, has developed an innovative low temperature alloy, ALPHA SBX02, which can simplify PCB assembly process by enabling wave soldering to be eliminated.
The ALPHA® SBX02 alloy has a melting point below 140°C and has been successfully used with peak reflow profiles between 155°C and 190°C. Using SBX02 in a low temperature reflow process has many advantages, crucially, the elimination of a process step. Through-hole components requiring low peak temperature can be soldered by Pin-in-Paste low temperature reflow, meaning that wave soldering is eliminated. This in turn leads to substantial process and energy savings. Not only is the process simplified, but the temperature of the oven is greatly reduced allowing greater cost savings.
"ALPHA® SBX02 soldering alloy used in our low temperature solder paste OM-535 can provide substantial cost savings and increased daily throughput leading to a lower total cost of ownership," comments Traian Cucu, Alpha's Global Product Manager for Solder Paste. "The alloy enables the elimination of an extra wave or selective wave soldering process when temperature sensitive through-hole components are used in assembly and overall can significantly reduce the cost of producing an electronic assembly."
In addition to its cost and energy saving capabilities in low temperature processes, ALPHA® SBX02 alloy has excellent mechanical strength, the ability to absorb impact energy and improved drop shock resistance over the SnBi0.4Ag alloy and also yields very low voiding BGA solder joints. These features make the alloy suitable for a number of applications including Automotive applications for 'In-Cabin' electronics.
About Alpha
Alpha, a business unit of Alent plc, is the global leader in the development, manufacturing and sales of innovative specialty materials used in a wide range of industry segments, including electronics assembly, power electronics, die attach, LED lighting, photovoltaics, semiconductor packaging, automotive and others.
With a unique global presence in over 30 locations throughout the Americas, Europe and Asia Pacific regions, Alpha supplies a full line of ALPHA® electronics assembly material products, including Solder Paste, Exactalloy® Solder Preforms, Cored Solder Wire, Wave Soldering Fluxes, Bar Solder Alloys, and Stencils.  It offers die attach product technologies to the power electronics segment in its Argomax®, Atrox™, Maxrel™, and Fortibond™ brands. For the LED segment, Alpha offers its Lumet™ products covering applications from die attach to systems assembly in the LED manufacturing process.
Alpha also offers product technologies for the Photovoltaic segment, including its unique pre-fluxed ALPHA® PV Ready Ribbon®, high performance standard ribbon, bus bar, solder wire and flux. Alpha's Advanced Materials unit is the leader in electronic polymers and solder materials for semiconductor packaging applications.  Since its founding in 1872, Alpha has been committed to developing and manufacturing the highest quality specialty materials.  For more information, visit www.alpha.alent.com.
---
Suggested Items
12/04/2023 | Transition Automation
Transition Automation, Inc. recently received a large order for Advanced Holder and Blade Assemblies compatible with DEK printers from Rotec BV in Belgium.
11/30/2023 | AIM
AIM Solder, a leading global manufacturer of solder assembly materials for the electronics industry, is pleased to announce its new NC259FPA Ultrafine No Clean Solder Paste, which it revealed recently during the Productronica Germany trade show.
11/27/2023 | Real Time with...productronica
Koh Young's Harald Eppinger talks about the company's technology for the semiconductor and advanced packaging market and how they address the challenges introduced by reflective components and micro solder deposits.
11/27/2023 | HyRel
HyRel Technologies, a global provider of quick turn semiconductor modification solutions, announces the achievement of International Traffic in Arms Regulations (ITAR) registration.
11/24/2023 | Mek (Marantz Electronics)
Mek (Marantz Electronics), a leader in Automated Optical Inspection (AOI) solutions, used last weeks' Productronica show in Munich to proudly introduce the SpectorBOX X series, a modular full 3D AOI system for THT solder joints and THT components.