Books

Featured Books

smt007 Magazine

Latest Issues

Current Issue

Economic Headwinds

This issue takes stock of the current economic outlook and how companies are using current conditions to move themselves through technological evolutions, workforce shifts, and financial changes. Even with these headwinds, there's forward progress to be made.

Attracting New Talent

To get different results in staffing, you must change how you define, promote and recruit your job opportunities. How do you become magnetic to high-quality early-career candidates?

Test and Inspection

Test and inspection methods are undergoing rapid change. In this issue, we consider the influence of AOI, AI, and human eyes. How exactly are these pieces of the puzzle changing the role of test and inspection?

Columns

Latest Columns

||| MENU
Nordson EFD Introduces New xQR41 MicroDot Needle Valve
June 22, 2015 | Business Wire
Estimated reading time: 3 minutes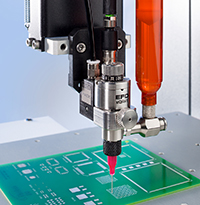 Nordson EFD, a Nordson company, the world's leading precision fluid dispensing systems manufacturer, introduces the xQR41 Series MicroDot needle valve. The valve features a 60% smaller form factor than standard valves, an exchangeable modular design for greater customization and process control, and a Quick Release (QR) clasp that allows easy removal of the fluid body to replace wetted parts in seconds. The new valve expands manufacturing opportunities for multiple applications and industries, especially those related to wireless devices, sensors, mobile phones, and other high-end electronics.
The xQR41 valve's small profile of 66 mm length x 23.7 mm diameter (2.60" x 0.93") enables multiple valves to be mounted closer together for greater output per batch, increasing production throughput. Ideal for automated assembly processes, the needle valve can dispense in tighter spaces and at more complex angles. Weighing only 141.4 g (5.0 oz), the xQR41 valve reduces the tooling payload. This not only means faster actuator arm movement and improved positioning stability, but also reduced tabletop automation (TTA) motor and belt wear. The xQR41's small form factor also results in a smaller wetted path, resulting in less retained fluid volume, which minimizes fluid waste. It can be fed from a variety of reservoirs, syringe barrels, external cartridges, or tanks.
The valve's unique QR clasp secures the fluid body to the air actuator and can be removed with a turn of a thumbscrew – no tools required. No longer is it necessary to remove the entire actuator or valve assembly from mounting fixtures. Full change-outs take seconds, not minutes. This is especially important in applications with fluids that have a curing time where the wetted part must be removed as quickly as possible and returned to operation.
The pneumatically-operated, adjustable valve applies precise micro-deposits as small as 150 µm (0.15 mm) (0.006") of low- to high-viscosity fluids onto a substrate. The xQR41's exchangeable modular design can be configured with stroke adjustable or non-adjustable cap, BackPack™ valve actuator, low-profile mounting block, and 90° air and fluid inlet fittings. The fluid body can be aligned and locked at 360° intervals to accommodate mounting, positioning, and fluid inlet alignment needs. It can be installed on many automation platforms.
"With rapid interchangeability, a smaller form factor, and infinite configurability, Nordson EFD's new xQR41 MicroDot needle valve not only offers new possibilities for fluid dispensing, but it also saves time and costs and increases productivity," said Claude Bergeron, product manager, Nordson EFD.
About Nordson EFD
Nordson EFD designs and manufactures precision fluid dispensing systems for bench top assembly processes and automated assembly lines. By enabling manufacturers to apply the same amount of adhesive, lubricant or other assembly fluid to every part, every time, EFD dispensing systems are helping companies in a wide variety of industries increase throughput, improve quality, and lower their production costs. Other fluid management capabilities include high-quality syringe barrels and cartridges for packaging one- and two-component materials, along with a wide variety of fittings, couplers and connectors for controlling fluid flow in medical, biopharmaceutical and industrial environments. The company is also a leading formulator of specialty solder pastes for dispensing and printing applications in the electronics industry.
RELATED VIDEO: 
For more information visit Nordson EFD on the web at nordsonefd.com.
View high resolution photo.  Download Datasheet.
About Nordson Corporation
Nordson engineers, manufactures and markets differentiated products and systems used for dispensing and processing adhesives, coatings, polymers, sealants and biomaterials; and for managing fluids, testing and inspecting for quality, treating surfaces and curing. These products are supported with extensive application expertise and direct global sales and service. We serve a wide variety of consumer non-durable, consumer durable and technology end markets including packaging, nonwovens, electronics, medical, appliances, energy, transportation, building and construction, and general product assembly and finishing. Founded in 1954 and headquartered in Westlake, Ohio, the company has operations and support offices in more than 30 countries. Visit Nordson on the web at www.nordson.com.
---
Suggested Items
12/08/2023 | Indium Corporation
Indium Corporation Senior Area Technical Manager for East China Leo Hu is scheduled to deliver a presentation on the application of new soldering thermal interface materials (TIMs) in advanced packaging at SiP China Conference 2023 on December 13 in Shanghai.
11/30/2023 | Chris Young, Young Engineering Services
There are many ways, dozens to be sure, and most likely many more, to streamline a PCB design. My goal here is to pick a single-digit number of rules to abide by, that can be reasonably adhered to, and provide some bang for the buck. These rules are meant to reduce design scope creep, avoid PCB respins, and improve production yields.
11/30/2023 | Hirose
Hirose has expanded its low-profile DF51K wire-to-board connector series to include a surface mount technology (SMT) version. Compatible with automated assembly processes, including pick-and-place machines, the DF51K SMT Series simplifies the assembly process and saves significant manufacturing time and cost. 
11/21/2023 | Pete Starkey, I-Connect007
Productronica 2023 played host to the IPC World Hand Soldering Competition, bringing talented regional solder champions from all over the globe to compete for the title of World Champion. Each competitor was given sixty minutes to assemble a complex printed circuit board with their performance judged in accordance with IPC-A-610 Class 3 criteria. Each competitor's efforts were rated on the merits of the results achieved, scored on the quality of the assembly process, the electrical functionality of the assembly and the speed at which the assembly was produced.
11/16/2023 | CIL
In early November 2023, CIL completed the installation of its first volume SMT PCBA assembly line at its BP2 Semiconductor packaging facility