Books

Featured Books

design007 Magazine

Latest Issues

Current Issue

Rigid-flex: Designing in 3D

In this month's issue, our expert contributors share their best tips, tricks and techniques for designing rigid-flex circuits. If you're a rigid board designer considering moving into the 3D world of rigid-flex, this issue is just what the doctor ordered!

Simulation, Analysis, and AI

Getting today's designs "right the first time" is critical, especially with costly advanced PCBs. Simulation and analysis software tools can help you in the fight to eliminate respins. They're not magical, but they can predict the future of your design.

Advanced, Complex & Emerging Designs

This month, our contributors focus on designing PCBs with advanced, complex and emerging technologies. We investigate design strategies for boards that are on the cutting edge of technology, or crazily complex, or so new that designers are still writing the rules as they go.

Columns

Latest Columns

||| MENU
Kelly Dack Discusses His Recent Move
June 25, 2015 | Dan Beaulieu, D.B. Management Group
Estimated reading time: 12 minutes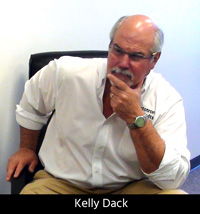 It's no secret that Prototron is one of the fabricators to watch in the US. I've known the Prototron staff for years, and worked with them for a number of years as well. So, when I heard they had hired Kelly Dack, a longtime PCB designer and guest editor for PCBDesign007, I wasted no time meeting with Kelly to talk about his new position, the future of PCB design, and the nascent interest millennials are showing in the PCB industry.
Dan Beaulieu: I'm talking with Prototron's newest employee and associate, Kelly Dack, a veteran PCB designer and I-Connect007 guest editor. Kelly, thanks for being with me today.
Kelly Dack: Thank you, Dan. It's wonderful to be here in the great Pacific Northwest.
Beaulieu: I love this area, too. I live in the great Atlantic Northeast, so I've come as far as I possibly can to be here, but I always enjoy it. I've been coming here 18 years, and I know Prototron pretty well as kind of a consultant. As a team member, I want to say welcome to the company. We're glad you're here.
Dack: Thank you very much.
Beaulieu: Tell me a little bit about your background, and where you've been and how you got here.
Dack: Thanks for the opportunity. First, I've been a PCB designer for over 30 years. I have a background in medical, aerospace, industrial computers and, for the last 14 years, the gaming industry. I worked for the world's largest slot machine maker, a very fun company, with lots of themes and great exposure to the world of LEDs and heat dissipation reflectivity, so that was very fun. I'm just elated to now be transitioning into the world of manufacturing.
As a designer, we like to think we're in touch with the manufacturer—that's part of our job. We like to think that we're the hub of the design and manufacturing process, so it's very important that a designer stay in touch with the PCB manufacturing processes. By default, we are once removed. We work with manufacturers, we deal with manufacturers, and we communicate with manufacturers, but from a distance. I've always recognized a need for designers to get in touch, literally, with their manufacturers, to be able to see the machinery, to see and touch and feel the processes so that they can create better designs.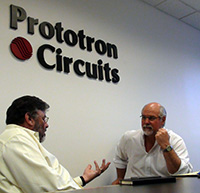 Beaulieu: I like that a lot, and I appreciate your openness on that. Quite frankly, I've always been on the board side. I got an opportunity, in a business sense, to manage five design centers for ASI, which was part of Cadence Design Systems. But by no means am I a technical person or a designer, but I did get to see inside the mindset a little bit. I've got to say, from my biased point of view, you're revered because of all the designers I managed, there were only a few who had been in a board shop, and we owned a board shop. I've always been an advocate of a 28-layer, blind and buried via board not being a commodity. It's not a card. It's not a device. It's a very complicated electronic component.
Dack: It's a component.
Beaulieu: This is why I enjoy you being here, coming over to the dark side as some of your brothers would say, to see how things are built because this is where it happens. To put in a little plug for Prototron, we say, "Your design is not complete until we build your board."
Dack: Absolutely. It's well said. To have an office that is steps away from the equipment, the manufacturing processes that are required to make a board, is sort of a dream come true for me.
Beaulieu: You don't hear that very often, "My job in the board shop is a dream come true," but it's great. I appreciate your sincerity.
Dack: It is a dream come true for me. Let me tell you why I say that. It's not just the machinery. It's the people. Every one of those machines and processes has people involved who are experts at what they do, and it's a luxury for a person with a design background to walk up and be able to ask that person, "What is involved in your job? How can a designer make it better? How can we specify things better on our documentation?"
Beaulieu: Make it better for your own company. Make it more producible economically, things like that.
Dack: It all works together.
Beaulieu: It all works together. You get insight into some of these boards that are 108 steps, 116 steps, 162 steps when you start having multiple laminations and layups and that kind of stuff, and it's a much greater understanding. Here's one of the things that I've found recently. With our Internet culture, as a person who sells boards, teaches people how to sell boards, tries to reach customers, and tries to beat salespeople on getting in and getting new customers, sales people are saying, "It's harder and harder and harder. I can't make appointments."
If you go into an inside sales room these days, all you hear is clicking. The sound used to hit me like stock exchange boiler rooms, and they're not that anymore. It's just clicking now. The problem with that is we've lost that communication in the sense of you just place an order and they build it. "Don't bother me with any questions. You don't need to know where it's going. Just build this product in a vacuum." I think we're going to have to reverse that.
I was part of the process that brought you here, and it was because of your background, because we felt it was time to span that gap. It was time that we had our own design G2 in the facility. We're not going to be doing design. We're not going to compete with those guys, but we want design knowledge, which leads me to the fact that you'll be doing some training for customers. Give us a thumbnail sketch of who you train, what your training is and how you're going to bring that talent to Prototron to help their customers.
Dack: First, let me thank you for the nod. That nod is very important because it means that Prototron is recognizing the importance of the design function. The designer culture, for decades, has felt a little bit unrecognized, and there have been many programs and personalities in the industry that have worked to heighten the level of awareness of the design function, and Prototron is really stepping up to recognize that. I appreciate that and I think designers around the world who read this this will appreciate it too.
I recently have affiliated with a great company called EPTAC Corporation, based in New Hampshire. It's one of the most widely recognized training corporations for IPC standards, materials, in the world. They're great people and facilitate the Certified Interconnect Designer Program (CID) for IPC, and I have just been certified this year to instruct in that area. EPTAC allows me to train licensed IPC materials. The training that we're talking about here is going to be training in the Prototron ways of design and manufacturing. I'm really looking forward to the opportunity to meet with designers in the area and introduce them as a liaison between manufacturing and design, bringing people together to facilitate communication. One of the ways we're stepping up to help the cause: We've just acquired 10,000 square feet of extra room. Our sales department is moving over there, and this includes a large training center. We've just acquired a large meeting desk. We're acquiring training and meeting presentation equipment. We're going to build this up so that this can become a center for learning the way a printed circuit board is made efficiently, economically, and successfully using Prototron.Page 1 of 2
---
Suggested Items
09/26/2023 | GlobalFoundries
GlobalFoundries (GF) announced it has applied for U.S. CHIPS and Science Act Funding, with two full applications submitted to the CHIPS Program Office of the U.S. Department of Commerce.
09/25/2023 | HyRel
HyRel Technologies, a global provider of quick turn semiconductor modification solutions, proudly announces that it earned the prestigious AS9100 certification.
09/18/2023 | RTX
RTX business Collins Aerospace has been selected by BAE Systems as the provider for Large Area Display technology to be integrated into the cockpits of future Eurofighter Typhoon aircraft.
09/18/2023 | IPC
IPC Day France: Aerospace Electronics is an aerospace-focused networking event featuring key industry experts from NASA and Airbus and will take place on October 2, 2023 . 
09/14/2023 | CONFIDEE
CONFIDEE, a leading PCB partner, proudly announces its recent achievement of AS9120 certification. This prestigious certification highlights the company's commitment to excellence, quality, and customer satisfaction, making it a preferred choice for all defence and aerospace needs.