Besi, Imec Present Narrow-Pitch Bonding of 3D ICs using Thermocompression
July 15, 2015 | Imec
Estimated reading time: 2 minutes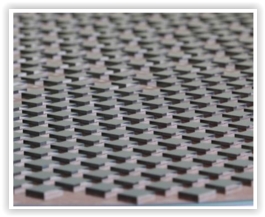 At SEMICON WEST 2015 (San Francisco), world-leading nano-electronics research center imec and Besi, a global equipment supplier for the semiconductor and electronics industries announced that they have jointly developed an automated thermocompression solution for narrow-pitch die-to-wafer bonding, a method by which singulated dies are stacked onto bottom dies which are still part of a fully intact 300mm wafer. The solution features high accuracy and high throughput, paving the way to a manufacturable 2.5D, 3D, and 2.5D/3D hybrid technology.
3D IC technology, stacking multiple dies into a single device, aims to increase the functionality and performance of next-generation integrated circuits while reducing footprint and power consumption. It is a key technology to enable the next generation of portable electronics, such as smartphones and tablets, which require smaller ICs that consume less power.
One of the challenges to making 3D IC manufacturing an industrial reality is the development of a high-throughput automated process flow for narrow-pitch, high-accuracy die-to-die and die-to-wafer bonding. Thermocompression bonding (TCB) is a widespread process used by the industry for highly accurate die-to-package bonding. The method released the stress in the laminate layer and avoided stress to build up between the two stacked layers. Yet, more traditional approaches to thermocompression bonding come with long cycle times (>1 minute per die), meaning significant improvements in throughput are required to enable this stacking approach on a 300mm wafer.
Imec and Besi have developed an automated TCB process on 300 mm wafers for Besi's new 8800 TC bonder tool. Imec and Besi demonstrated die-to-wafer bonding at high accuracy, sufficient for 50 µm pitch solder micro bump arrays and a throughput of >1000 UPH with a dual bond head configuration
"Collaborating with imec, leveraging their expertise on fine pitch bonding materials and processes, has enabled us to develop our 8800 TC bonder tool according to the needs of the semiconductor industry," said Hugo Pristauz at Besi. "This collaboration has helped us to offer our customers a viable and effective solution for 2.5D/3D IC manufacturing, especially for the new C2W applications."
About imec
Imec performs world-leading research in nanoelectronics. Imec leverages its scientific knowledge with the innovative power of its global partnerships in ICT, healthcare and energy. Imec delivers industry-relevant technology solutions. In a unique high-tech environment, its international top talent is committed to providing the building blocks for a better life in a sustainable society. Imec is headquartered in Leuven, Belgium, and has offices in the Netherlands, Taiwan, USA, China, India and Japan. Its staff of about 2,200 people includes almost 700 industrial residents and guest researchers. In 2014, imec's revenue (P&L) totaled 363 million euro. Further information on imec can be found at www.imec.be. Stay up to date about what's happening at imec with the monthly imec magazine, available for tablets and smartphones (as an app for iOS and Android), or via the website www.imec.be/imecmagazine
About Besi
Besi is a leading supplier of semiconductor assembly equipment for the global semiconductor and electronics industries. The Company develops leading edge assembly processes and equipment for leadframe, substrate and wafer level packaging applications in a wide range of end-user markets including electronics, computer, automotive, industrial, RFID, LED and solar energy. Customers are primarily leading semiconductor manufacturers, assembly subcontractors and electronics and industrial companies. Besi's ordinary shares are listed on NYSE Euronext Amsterdam (symbol: BESI) and OTCQX International (symbol: BESIY) and its headquarters are located in Duiven, the Netherlands. For more information, please visit our website at www.besi.com.
---
Suggested Items
09/29/2023 | Indium Corporation
Indium Corporation Regional Product Manager Wisdom Qu will present at the SMTA China South Technical Conference, held in conjunction with NEPCON Asia, on October 11 in Shenzhen, China.
09/28/2023 | Nolan Johnson, I-Connect007
The practical question around CHIPS Act development and electronics assembly is, "Will this change how we do business?" Indium Corporation's Dr. Andy Mackie sat down with Nolan Johnson to share what he sees as emerging answers to that question from his perspective as an expert in electronics assembly and packaging, and as a participant in standards development through IPC, JEDEC, and SEMI.
09/27/2023 | Nihon Superior Co. Ltd.
Nihon Superior Co. Ltd. is pleased to announce that Keith Sweatman, the company's Senior Technical Advisor, will deliver a presentation titled "A Path to Ductile Low-Temperature Solders for Mass Production of Electronic Assemblies" at the upcoming SMTA International conference and exposition.
09/27/2023 | Hentec Industries/RPS Automation
Hentec Industries/RPS Automation, a leading manufacturer of selective soldering, lead tinning and solderability test equipment, is pleased to announce that Kyocera International has finalized the purchase of a Hentec/RPS Odyssey 1325 robotic hot solder dip component lead tinning machine. 
09/26/2023 | Conecsus Metals México
Conecsus Metals México, an innovative environmental technology and recycling company, will exhibit at the SMTA Foro Tecnico & Expo, Guadalajara, Jalisco, México, on Wednesday, October 25, 2023, beginning at 11:00 a.m.