Books

Featured Books

smt007 Magazine

Latest Issues

Current Issue

Economic Headwinds

This issue takes stock of the current economic outlook and how companies are using current conditions to move themselves through technological evolutions, workforce shifts, and financial changes. Even with these headwinds, there's forward progress to be made.

Attracting New Talent

To get different results in staffing, you must change how you define, promote and recruit your job opportunities. How do you become magnetic to high-quality early-career candidates?

Test and Inspection

Test and inspection methods are undergoing rapid change. In this issue, we consider the influence of AOI, AI, and human eyes. How exactly are these pieces of the puzzle changing the role of test and inspection?

Columns

Latest Columns

||| MENU
Scienscope Hires General Manager for Sales in Latin America
July 24, 2015 | Scienscope International
Estimated reading time: 1 minute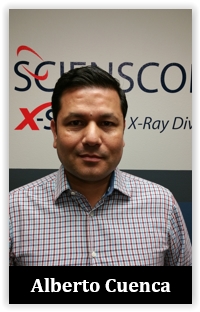 Scienscope International, a complete inspection solutions provider, announces the addition of Mr. Alberto Cuenca to its management team as General Manager for Latin American sales. Scienscope is a leader in X-ray inspection technology and offers a wide range of products for the electronics, industrial and medical industries.  Scienscope launched its X-ray technology in 2000 and has installed hundreds of systems around the globe.
Todd O'Neil, Business Development Manager at Scienscope, commented, "Alberto's network experience is sure to help us to continue our growth strategies in a very busy and growing Mexico territory.  Scienscope has been continually expanding its sales network and Mr. Cuenca is a key person to our future growth."
Mr. Cuenta has served the electronics manufacturing industry for nearly 20 years.  He is bilingual and experienced working in both the U.S. and Mexico and has built long lasting relationships with key accounts.  Cuenta is a skilled liaison between manufacturers, factory representatives, distributors' representatives and customers in demand creation and demand fulfillment of industrial, optics, measurement dimensional and electronics products while providing technical support.
For more information please email Scienscope at info@scienscope.com, call 1-800-216-1800 or visit our website at www.scienscope.com.
About Scienscope International
Scienscope was founded in 1994 to meet the growing need for reliable and affordable general-purpose optical and video inspection solutions for the electronics and PCB industries. The company began with basic stereo zoom microscopes used for SMT inspection and rework of circuit boards and electromechanical assemblies with a commitment to quality, value and support. Over the past 20 years, Scienscope has evolved to become a complete inspection solution provider, offering both offline and inline X-Ray systems, Video coordinate measurement systems, Video inspection systems, and microscopes to meet a wide variety of applications and manufacturing quality requirements.
---
Suggested Items
12/11/2023 | STI Electronics, Inc.
STI Electronics, Inc., a full-service organization providing training services, training materials, analytical/failure analysis, prototyping and electronics contract manufacturing, proudly announces the latest addition to its Training Team, Ms. Jenny Taymon.
12/08/2023 | TT Electronics
TT Electronics, a leading provider of global manufacturing solutions and engineered technologies, announced today that one of its Asia electronics manufacturing facilities has received approval from the Food and Drug Administration (FDA), through its premarket approval (PMA) supplement evaluation process, to manufacture Class IIa devices on behalf of global medical OEM customers.
12/07/2023 | VDL Groep
VDL Groep has strengthened its position in the high-quality electronics market. The industrial family business with its head office in Eindhoven has acquired Rena Electronica from Zundert.
12/05/2023 | HANZA
HANZA AB has signed an agreement to acquire all shares in Orbit One AB, a Swedish company that offers contract manufacturing of electronics and electromechanics. Orbit One has annual sales of approximately SEK 1.1 billion with an operating profit (EBITA) of approximately SEK 70 million.
12/05/2023 | IPC
Electronics industry sentiment improved during November with demand sentiment also taking a solid step up over the last 30 days per IPC's November 2023 Global Sentiment of the Electronics Supply Chain Report.