Books

Featured Books

design007 Magazine

Latest Issues

Current Issue

Rigid-flex: Designing in 3D

In this month's issue, our expert contributors share their best tips, tricks and techniques for designing rigid-flex circuits. If you're a rigid board designer considering moving into the 3D world of rigid-flex, this issue is just what the doctor ordered!

Simulation, Analysis, and AI

Getting today's designs "right the first time" is critical, especially with costly advanced PCBs. Simulation and analysis software tools can help you in the fight to eliminate respins. They're not magical, but they can predict the future of your design.

Advanced, Complex & Emerging Designs

This month, our contributors focus on designing PCBs with advanced, complex and emerging technologies. We investigate design strategies for boards that are on the cutting edge of technology, or crazily complex, or so new that designers are still writing the rules as they go.

Columns

Latest Columns

||| MENU
Kelly Dack and Mark Thompson Unite in the War on Failure
September 9, 2015 | Andy Shaughnessy, PCBDesign007
Estimated reading time: 2 minutes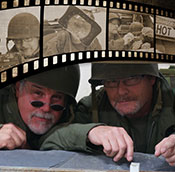 There's been a lot of talk about fighting the war on failure in the PCB industry. But what strategies should our generals follow to prosecute this war? What exactly constitutes a failure in the first place? Is this war even winnable? I recently spoke with longtime designer Kelly Dack and CAM support veteran Mark Thompson of Prototron Circuits about the best battle plans for beating failure, and why designers and manufacturers must team up against this common enemy.
Andy Shaughnessy:  Kelly, you recently said, "Failure wins when it leverages the guerrilla warfare tactic of divide and conquer to confuse and disorient the product development community. Designers and manufacturers must unite to fight this war."
Why don't you start off by saying what failure means to each of you at the design stage and at the board shop stage?
Kelly Dack:  Andy, failure is defined as not meeting the intended objective. But I think the concept is easily confused if coming from isolated design and manufacturing perspectives. Meeting the intended objective successfully can only come from allied efforts.  Designers need to describe or define objectives for their projects in terms of concise orders in order to make successful products, but this will only come about if the folks giving orders are also able to follow orders.
Mark Thompson: Absolutely, I agree with Kelly entirely. I'd say from the fabrication side, following orders is easy if the orders are given from time-proven, industry standard specification. We open the door for failure when we have to question orders. But we manufacturers have to occasionally, when the orders are outside of the guidelines of conventional process or machine capability. Designer and manufacturer communication and respect is key here, and I think this is why Kelly mentions that it is important that those giving orders must be willing to take them if the order would put the part at risk of failure.
Shaughnessy: Is failure always someone's fault or is it the fault of a bad process, or is it a combination of both?
Dack: I'm not comfortable pointing fingers at individuals. The causes for success and failure can be attributed to people, but it can also be caused by unforeseen conditions or even acts of God. A good strategy is to identify performance requirements and operating conditions. The "battle plan" needs to identify constraints: design constraints, manufacturing constraints, performance constraints, even cost constraints. Knowing the enemy and anticipating every possible way a design could possibly fail is crucial, but it can't happen in a vacuum.  It must occur through open communication with the allies – stakeholders of the product who are connected through the process steps.
Thompson: If you're asking if every failure is someone's fault, I would say yes, at the most base level. It will always turn out to be someone's fault either due to negligence or lack of vigilance. But, as Kelly said, there are extenuating circumstances. There can be dynamic situations where environmental, human or mechanical conditions create a failure in the field. Or it could be a poor design type of situation, where something wasn't properly considered in the original design phase.  It's a good time to draw in the metaphor of a combat unit here. No one person in a combat unit takes credit for the unit's success or failure.  They are a team!
To read this entire article, which appeared in the August 2015 issue of The PCB Design Magazine, click here.
---
Suggested Items
09/21/2023 | TrendForce
Fueled by an AI-driven inventory stocking frenzy across the supply chain, TrendForce reveals that Q2 revenue for the top 10 global IC design powerhouses soared to US $38.1 billion, marking a 12.5% quarterly increase.
09/21/2023 | Cadence Design Systems, Inc.
Cadence Design Systems, Inc. announced it has expanded its design IP portfolio on TSMC's 3nm (N3E) process—most notably with the addition of the flagship Cadence® 224G Long-Reach (224G-LR) SerDes PHY IP, which has achieved first-pass silicon success.
09/21/2023 | Matt Stevenson -- Column: Connect the Dots
PCB prototyping is a critical juncture during an electronic device's journey from concept to reality. Regardless of a project's complexity, the process of transforming a design into a working board is often enlightening in terms of how a design can be improved before a PCB is ready for full production.
09/20/2023 | Cadence Design Systems, Inc.
Cadence Design Systems, Inc. and CEVA, Inc. announced that they have entered into a definitive agreement for Cadence to acquire Intrinsix Corporation, a wholly owned subsidiary of CEVA and a provider of design engineering solutions focused on the U.S. aerospace and defense industry.
09/20/2023 | Andy Shaughnessy, Design007
Z-zero founder Bill Hargin has been studying stackup design techniques for years. He developed the company's PCB stackup planning software, and he wrote an I-Connect007 eBook, The Printed Circuit Designer's Guide to… Stackups: The Design within the Design. In this interview, Bill shares his thoughts on designing rigid-flex stackups, the challenges they bring, and what rigid board designers need to know about designing stackups in 3D. "Flexperts" Mark Finstad of Flexible Circuit Technologies and Nick Koop of TTM Technologies also offer insight into the many tradeoffs that rigid-flex designers face.