Books

Featured Books

pcb007 Magazine

Latest Issues

Current Issue

Finding Ultra

New demands on PCB fabrication, namely advanced packaging, ultra high density interconnect (UHDI), and new specialty materials, are converging, changing the landscape of our business. Is it time to start paying close attention to this convergence?

Developing a Strategy

A solid strategy is a critical part of success. This month, we asked some of the top industry leaders and business strategy "gurus" to share their thoughts on developing strategies.

Winning With TQM

In this issue, we explore how TQM has entered the DNA of continuous improvement disciplines, and the role leadership transformation plays in this. If you've ever competed against a TQM company, you understand their winning advantage.

Columns

Latest Columns

||| MENU
DuPont Microcircuit Materials Intros New Inks for Printed Electronics
September 22, 2015 | DuPont
Estimated reading time: 1 minute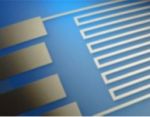 DuPont Microcircuit Materials (DuPont) is launching electronic inks that cure quickly at low temperatures, expanding the possibility of printing electronics onto an entirely new group of plastic films. The technology is expected to enable electronic components such as sensors, heaters and antennas to be printed on more versatile and less expensive substrates.
"This really opens new doors for application designers," said Kerry Adams, segment manager, DuPont Microcircuit Materials.  "As DuPont continues to expand its portfolio of advanced materials to meet the needs of the printed electronics market, we continue to look for ways to offer cost savings and the potential to put electronics into almost any device."
Historically, electronic inks have required curing temperatures between 100°C and 140°C restricting electronic substrates to those that can survive at high temperatures. The new DuPont PE827 and PE828 low-temperature inks cure at as low as 60°C, opening up the possibility for printed electronics designers to use less expensive plastic films.  By expanding substrate choices, the possibility for implementing printed electronics in new applications continues to grow. Potential applications could include printed antennas, sensor applications, heated surfaces and smart packaging applications.
Substrates that are now viable options for printed electronics include PVC, polystyrene, high-density polyethylene, and acrylic polymers, among others.
DuPont Microcircuit Materials (MCM) is a leading innovator and high-volume supplier of electronic inks and pastes that offers a broad range of printed electronic materials commercially available today. The growing portfolio of DuPont MCM electronic inks is used in many applications, including forming conductive traces, capacitor and resistor elements, and dielectric and encapsulating layers that are compatible with many substrate surfaces including polymer, glass and ceramic.
MCM has over 40 years of experience in the development, manufacture, sale and support of specialized thick film compositions for a variety of electronic applications in the consumer electronics, automotive, photovoltaic, biomedical, military and telecommunications markets.  For more information on DuPont Microcircuit Materials, visit http://mcm.dupont.com. 
About DuPont
DuPont has been bringing world-class science and engineering to the global marketplace in the form of innovative products, materials, and services since 1802.  The company believes that by collaborating with customers, governments, NGOs, and thought leaders we can help find solutions to such global challenges as providing enough healthy food for people everywhere, decreasing dependence on fossil fuels, and protecting life and the environment.
---
Suggested Items
09/25/2023 | Purdue University
Purdue University continues building momentum as America's leading university in semiconductors, with a broad range of updates this fall semester.
09/25/2023 | Alison James
"Electronics systems are at the heart of almost all modern technology. The performance and functionality of these systems have increased at breathtaking speed, chiefly as a result of advancements in semiconductor technology. Semiconductors do not function in isolation," writes Alison James, IPC senior director of government relations, in a 2023 report for the European Commission's Directorate General for Internal Market, Industry, Entrepreneurship. "These electronics systems feature prominently in key sectors like defence, aerospace, space, automotive, medical, and high-performance computing, but electronics are vital to every industry and are central to a variety of EU priorities, including the twin digital and green transitions and Europe's technological sovereignty."
09/25/2023 | APCT
APCT, a leading name in the PCB and electronics industry, is delighted to announce the appointment of Peter Austin as its President and CEO, effective September 1. Peter takes the reins from former CEO, Steve Robinson, who has retired after years of dedicated service to the company.
09/21/2023 | KIC
KIC, a renowned pioneer in thermal process and temperature measurement solutions for electronics manufacturing, is thrilled to announce its participation in the upcoming SMTA Guadalajara Expo & Tech Forum.
09/21/2023 | Dymax
Dymax, a leading manufacturer of light-curing materials and equipment, will exhibit in booth 1526 at SMTA International 2023 in Minneapolis, MN, from October 10-11.