Books

Featured Books

pcb007 Magazine

Latest Issues

Current Issue

The Registration Sweet Spot

Registration is underrated and underappreciated. The key is to ensure proper registration from layer to layer across the entire printed circuit board. It's a holistic process requiring anticipation, prediction, precise attention at each step, and detailed data tracking and monitoring.

High-reliability Fabrication

In this month's issue, our expert contributors discuss the latest in technologies, trends, complexities and resources regarding high-reliability fabrication.

Finding Ultra

New demands on PCB fabrication, namely advanced packaging, ultra high density interconnect (UHDI), and new specialty materials, are converging, changing the landscape of our business. Is it time to start paying close attention to this convergence?

Columns

Latest Columns

||| MENU
Inaugural Boards, Chips and Packaging IMPACT Conference Adds 15 Industry Experts to Presentation List
October 1, 2015 | Isola
Estimated reading time: 3 minutes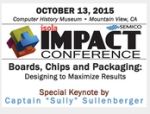 Isola Group, a market leader in copper-clad laminates and dielectric prepreg materials used to fabricate advanced multilayer printed circuit boards (PCBs) and Semico Research, a semiconductor marketing and consulting research company, announced today that the inaugural Board, Chips and Packaging: Designing to Maximize Results Conference is garnering significant interest from the embedded design community with the addition of 15 industry experts to the agenda. The one-day conference will be held October 13, 2015 at the Computer History Museum in Mountain View, California. The event was developed to support PCB, chip and packaging-design companies' focus on system-level integration across the entire hardware development process.
Captain Chesley B. "Sully" Sullenberger III will be one of the keynote speakers at the event. Captain Sullenberger, best known for serving as Captain during what has been called the "Miracle on the Hudson," is known for his expertise in safety and knowledge of improvements of high-performance systems to save lives, save money and bring value to communities.
Jim Feldhan, President of Semico Research noted, "We have been very pleased with the response we have received from the industry thus far. We have 15 industry experts speaking at the event. One of the most anticipated panel sessions will focus on designing and manufacturing products that will proactively address next-generation networking product needs. This is an excellent example of a technical topic that needs to be addressed at the system-level with input from both the hardware and software aspects of product development efforts."
Jeff McCreary, President and CEO of Isola stated, "This event is a platform in which the true system-level issues of the electronics industry can be addressed. At Isola, we embrace the rapid advancements in the embedded market with a strategy of continuing innovation to provide our customers with better performance, service and products. Ultimately, this allows Isola to partner with companies across the value chain to develop and commercialize innovative solutions."
Designing new or revising existing hardware is not an easy task. Hardware is not nearly as malleable as software; it is not possible to upgrade hardware via a new software download. Modifications to one part of a hardware design can affect other parts of the design in an unforeseen manner and changes to existing hardware designs are rarely, if ever, inexpensive. Boards, Chips and Packaging: Designing to Maximize Results will cover a variety of industry topics such as solutions to implement successful product launches; technical, personnel and engineering challenges faced by every very-high speed system design team; and material selection to avoid hardware failure.
Sponsors of the event include Isola Group, Mentor Graphics, Ansys, Samtec, Speeding Edge and Polar Instruments. Noted speakers include Michael J. Gay of Isola Group, Lee Ritchey of Speeding Edge, Scott McMorrow of Samtec, Daniel DeAraujo of Mentor Graphics, Robert L. Sankman of Intel, Margaret Schmitt of Ansys, Nathaniel Unger of Altera, Mike Noonen of Silicon Catalyst, Heidi Barnes of Keysight Technologies, Geoffrey Hazelett of Polar Instruments, Jason Marsh of Insulectro, Tom Whipple of Cadence, and Nathapong Suthiwongsunthorn of UTAC. Brian Fuller of ARM will moderate the morning panel.
For more information and to register for the event, please visit www.semico.com or contact Jim Feldhan or Joanne Itow from Semico Research at 602-997-0337.
About Isola
Isola Group, headquartered in Chandler, Arizona, is a global material sciences company focused on designing, developing, manufacturing, and marketing copper-clad laminates and dielectric prepregs used to fabricate advanced multi-layer printed circuit boards. The company's high-performance materials are used in sophisticated electronic applications in the communications infrastructure, computing/networking, military, medical, aerospace and automotive industries. For more information, visit our website at http://www.isola−group.com/.
About Semico
Semico Research Corp. is a semiconductor marketing & consulting research company located in Phoenix, Arizona. Semico was founded in 1994 by a group of semiconductor industry experts. We have improved the validity of semiconductor product forecasts via technology roadmaps in end-use markets. Semico offers custom consulting, portfolio packages, individual market research studies and premier industry conferences. 
---
Suggested Items
11/13/2023 | Global Newswire
The "Global Copper Clad Laminates Market (by Type, Application, Reinforcement Material, & Region): Insights and Forecast with Potential Impact of COVID-19 (2023-2028)" report has been added to ResearchAndMarkets.com's offering.
11/07/2023 | SCHMID Group
The SCHMID Group, a global solution provider for the high-tech electronics, photovoltaics, glass and energy systems industries, will be exhibiting at productronica in Munich from November 14 – 17, 2023.
11/01/2023 | Alex Stepinski, Stepinski Group
The topic of intrinsic copper structure has been largely neglected in discussions regarding the PCB fabrication quality control process. At face value, this seems especially strange considering that copper has been the primary conductor in all wiring boards and substrates since they were first invented. IPC and other standards almost exclusively address copper thickness with some mild attention being paid to surface structure for signal loss-mitigation/coarse properties. 
10/26/2023 | Andy Shaughnessy, Design007
At PCB West, I sat down for an interview with John Andresakis, the director of business development for Quantic Ohmega. I asked John to update us on the company's newest materials, trends in advanced materials, and the integration of Ticer Technologies, which Quantic acquired in 2021. As John explains, much of the excitement in materials focuses on laminates with lower and lower dielectric constants.
10/25/2023 | Preeya Kuray -- Column: Material Insight
Printed circuit board (PCB) reliability testing is generally performed by exposing the board to various mechanical, electrical, and/or thermal stimuli delineated by IPC standards, and then evaluating any resulting failure modes. Thermal shock testing is one type of reliability test that involves repeatedly exposing the PCB test board to a 288°C pot of molten solder for a specific time (typically 10 seconds) and measuring the number of cycles it takes for a board's copper layer to separate from the organic dielectric layer. If there is no delamination, fabricators can rest assured that the board will perform within expected temperature tolerances in the real world.