New Stanford Battery Shuts Down at High Temperatures and Restarts When it Cools
January 12, 2016 | Stanford University
Estimated reading time: 3 minutes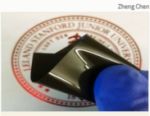 Stanford researchers have developed the first lithium-ion battery that shuts down before overheating, then restarts immediately when the temperature cools.
The new technology could prevent the kind of fires that have prompted recalls and bans on a wide range of battery-powered devices, from recliners and computers to navigation systems and hoverboards.
"People have tried different strategies to solve the problem of accidental fires in lithium-ion batteries," said Zhenan Bao, a professor of chemical engineering at Stanford. "We've designed the first battery that can be shut down and revived over repeated heating and cooling cycles without compromising performance."
A typical lithium-ion battery consists of two electrodes and a liquid or gel electrolyte that carries charged particles between them. Puncturing, shorting or overcharging the battery generates heat. If the temperature reaches about 300 degrees Fahrenheit (150 degrees Celsius), the electrolyte could catch fire and trigger an explosion.
Several techniques have been used to prevent battery fires, such as adding flame retardants to the electrolyte. In 2014, Stanford engineer Yi Cui created a "smart" battery that provides ample warning before it gets too hot.
"Unfortunately, these techniques are irreversible, so the battery is no longer functional after it overheats," said study co-author Cui, an associate professor of materials science and engineering and of photon science. "Clearly, in spite of the many efforts made thus far, battery safety remains an important concern and requires a new approach."
Nanospikes
To address the problem Cui, Bao and postdoctoral scholar Zheng Chen turned to nanotechnology. Bao recently invented a wearable sensor to monitor human body temperature. The sensor is made of a plastic material embedded with tiny particles of nickel with nanoscale spikes protruding from their surface.
For the battery experiment, the researchers coated the spiky nickel particles with graphene, an atom-thick layer of carbon, and embedded the particles in a thin film of elastic polyethylene.
Page 1 of 2
---
Suggested Items
11/20/2023 | PDR
PDR Rework, a leading manufacturer of BGA rework systems, is pleased to announce the release of its groundbreaking software, ThermoActive Suite v.8.
11/17/2023 | SHENMAO
SHENMAO Technology is proud to commemorate its 50th anniversary. Founded in 1973, SHENMAO has witnessed the evolution of Taiwan's electronics industry, playing a pivotal role in shaping the landscape of solder materials and setting new industry stanards.
11/15/2023 | BUSINESS WIRE
NextFlex, America's Flexible Hybrid Electronics (FHE) Manufacturing Innovation Institute, announced $6.49M in funding (including $3.29M in cost-share contribution from participants) for seven new projects as part of its Project Call 8.0 to further promote FHE development and adoption throughout the U.S. advanced manufacturing sector.
11/13/2023 | Nihon Superior Co. Ltd
Nihon Superior Co. Ltd., a supplier of advanced joining materials, proudly announces that their Senior Technical Advisor, Keith Sweatman, has been honored with a coveted SMTA International Best Paper Award. This prestigious award was presented during the SMTA International 2023 Recognition Dinner, where Keith Sweatman was acknowledged as one of the four speakers who presented papers at the 2022 conference that were judged by their peers as the best  in their respective categories.
11/10/2023 | KIC
KIC, a renowned pioneer in thermal process and temperature measurement solutions for electronics manufacturing, is thrilled to announce an unprecedented leap in reflow process inspection (RPI) technology. General Manager Miles Moreau will be presenting an exclusive lecture at productronica on Wednesday, November 15, 2023, at the productronica Forum, unveiling the remarkable "Real-time production reflow profile inspection, with new sensor technology for heat transfer detection."