Books

Featured Books

pcb007 Magazine

Latest Issues

Current Issue

The Registration Sweet Spot

Registration is underrated and underappreciated. The key is to ensure proper registration from layer to layer across the entire printed circuit board. It's a holistic process requiring anticipation, prediction, precise attention at each step, and detailed data tracking and monitoring.

High-reliability Fabrication

In this month's issue, our expert contributors discuss the latest in technologies, trends, complexities and resources regarding high-reliability fabrication.

Finding Ultra

New demands on PCB fabrication, namely advanced packaging, ultra high density interconnect (UHDI), and new specialty materials, are converging, changing the landscape of our business. Is it time to start paying close attention to this convergence?

Columns

Latest Columns

||| MENU
IEC: Celebrating 50 Years in Business
April 27, 2016 | Barry Matties, I-Connect007
Estimated reading time: 11 minutes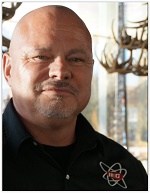 I caught up with Shawn Stone of IEC recently, to discuss plating, laminates, printed electronics and IEC's many strategic alliances, including their most recent agreement with ITEQ to distribute their copper-clad laminate line throughout North America. This alliance will give IEC, a company his father started more than 50 years ago, its first North American footprint.

Barry Matties: Shawn, lets provide a little background for our readers. I think IEC was started back in 1966, and it was your father who started it, right?
Shawn Stone: My father, Jim Stone, actually started in 1963, and then he incorporated the company in 1966. The first product line was Mica copper-clad laminate. Then Chemcut, and then the third product line that he picked up was Dynachem, which of course is Dow today. Chuck and I founded the U.S. company in 1998, and our first product line was Morton Electronic Materials.
Matties: In the 50 years of business, what's been the most surprising to you?
Stone: It's funny, but when I think back to when I started in '84, I worked in a circuit board shop and then I started working for IEC in '86; the trajectory of the business was like a rocket ship. We kind of kept pace with that, so now when I look back to the '80s and the '90s, it was almost easy in a way. There were different challenges, but nothing like the challenges that we've had in the last 12–15 years.
Matties: What are some of those challenges? What's the greatest challenge?
Stone: I think the morphing of the business when the majority of the business left to China. The actual circuit board manufacturing that left North America and went to Asia was the biggest impact. Then, of course, we had to readjust our business to reflect the new marketplace. That was a moving piece that was hard to understand at the time. I think I understand it now in hindsight, but I didn't really understand it all that well as it was happening.
Matties: That's a pretty common view, that the China migration was huge. Back in the '80s so many people were just making so much money and profit with 3000 shops in North America.
Stone: Those market conditions made a lot of us look smarter than we actually were. Up until about 2001 the industry was so robust, and the growth of our company was phenomenal.
Matties: What kind of growth are you seeing now?
Stone: We've seen some solid growth, but we've done it in a couple of different ways. One of the ways has been through acquisition, like when we bought Intermountain Circuit Supply in 2012. The other way is through distribution. Last year in 2015 we assumed the ITEQ copper-clad laminate line from a previous distributor. Those are a couple of ways that we've grown. My father did the heavy lifting in terms of getting the company going, and that to me is the hardest thing. To take the initial inertia that you have, and to take a company and grow it to the level that he grew it. We bought the company in '92, and we inherited a very solid foundation, if you will.
If we fast forward to now, presently the biggest thing for us was the acquisition of Intermountain Circuit Supply. That was certainly a big help. Being strong in our legacy territories has certainly helped us, and now moving forward with the ITEQ product line we actually, for the first time, have a North American footprint where we were granted exclusive rights to that product line for all of North America.
Matties: That's a pretty crowded and competitive space though, isn't it?
Stone: Yes, it is.
Matties: Because there is obviously well established competition and a lot of money in this market space. What's your strategy to carry that forward and to really capture market share?
Stone: We're trying to win one customer at a time, and our role in this is that it's incumbent upon us and our duty to help keep our customers in business, and it's a synergistic thing. We have to give them the best possible quality at the most competitive price with the technical service and support to back that up, along with efficient supply chain management. Historically, the technical service and support piece has been the strength of our company versus other distributors, and I can give you an example if we look at the job that we've done with PTH chemistry. We have over 30 electroless lines in North America, and we have people that work with us that came from Legacy Shipley.
Chuck's mantra is that service and technical support equal sales. It's not the other way around. Service and tech support first, and that will bring in the sales.
Page 1 of 3
---
Suggested Items
12/06/2023 | Indium Corporation
Indium Corporation is proud to announce the addition of Sales Engineer Meik Fratzel to its European team.
12/04/2023 | Transition Automation
Transition Automation, Inc. recently received a large order for Advanced Holder and Blade Assemblies compatible with DEK printers from Rotec BV in Belgium.
11/30/2023 | AIM
AIM Solder, a leading global manufacturer of solder assembly materials for the electronics industry, is pleased to announce its new NC259FPA Ultrafine No Clean Solder Paste, which it revealed recently during the Productronica Germany trade show.
11/27/2023 | Real Time with...productronica
Koh Young's Harald Eppinger talks about the company's technology for the semiconductor and advanced packaging market and how they address the challenges introduced by reflective components and micro solder deposits.
11/27/2023 | HyRel
HyRel Technologies, a global provider of quick turn semiconductor modification solutions, announces the achievement of International Traffic in Arms Regulations (ITAR) registration.