Books

Featured Books

pcb007 Magazine

Latest Issues

Current Issue

Finding Ultra

New demands on PCB fabrication, namely advanced packaging, ultra high density interconnect (UHDI), and new specialty materials, are converging, changing the landscape of our business. Is it time to start paying close attention to this convergence?

Developing a Strategy

A solid strategy is a critical part of success. This month, we asked some of the top industry leaders and business strategy "gurus" to share their thoughts on developing strategies.

Winning With TQM

In this issue, we explore how TQM has entered the DNA of continuous improvement disciplines, and the role leadership transformation plays in this. If you've ever competed against a TQM company, you understand their winning advantage.

Columns

Latest Columns

||| MENU
Taiyo Announces Director & COO Appointed to Position of President and Director of Taiyo America Inc.
June 6, 2016 | Taiyo America
Estimated reading time: Less than a minute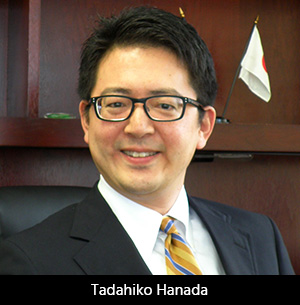 Taiyo America Inc.'s Director & COO Tadahiko Hanada has been promoted to the position of President and Director, effective June 6, 2016.
Hanada joined Taiyo Ink Mfg. Co. Ltd in January 2014 as general manager leading the IC Packaging Material business, then secured the title of Director & COO of Taiyo America Inc. in July of 2015.
Among many of his aspiring goals, Hanada states, "Taiyo America's proven achievements as the industry leader in solder mask and hole fill materials will be a launching pad into new areas and products such as white solder mask for LED applications, Inkjet solder resist, flexible solder resist and Direct Imaging. Taiyo's future focus is to grow with the Automotive, Lighting, Wearable, IoT, and Prototyping industries."
About Taiyo America Inc.
Established over 25 years ago, Taiyo America Inc. is a subsidiary of Taiyo Holdings Co. Ltd, the world's leading manufacturer of specialty inks and solder masks for printed circuit boards. Taiyo offers conductive inks for manufacturing printed electronics, lighting & displays, and other applications.
For more information, visit www.taiyo-america.com.
---
Suggested Items
09/28/2023 | Nolan Johnson, I-Connect007
The practical question around CHIPS Act development and electronics assembly is, "Will this change how we do business?" Indium Corporation's Dr. Andy Mackie sat down with Nolan Johnson to share what he sees as emerging answers to that question from his perspective as an expert in electronics assembly and packaging, and as a participant in standards development through IPC, JEDEC, and SEMI.
09/27/2023 | Nihon Superior Co. Ltd.
Nihon Superior Co. Ltd. is pleased to announce that Keith Sweatman, the company's Senior Technical Advisor, will deliver a presentation titled "A Path to Ductile Low-Temperature Solders for Mass Production of Electronic Assemblies" at the upcoming SMTA International conference and exposition.
09/27/2023 | Hentec Industries/RPS Automation
Hentec Industries/RPS Automation, a leading manufacturer of selective soldering, lead tinning and solderability test equipment, is pleased to announce that Kyocera International has finalized the purchase of a Hentec/RPS Odyssey 1325 robotic hot solder dip component lead tinning machine. 
09/26/2023 | Conecsus Metals México
Conecsus Metals México, an innovative environmental technology and recycling company, will exhibit at the SMTA Foro Tecnico & Expo, Guadalajara, Jalisco, México, on Wednesday, October 25, 2023, beginning at 11:00 a.m.
09/21/2023 | Thermaltronics USA, Inc.
Thermaltronics USA, Inc., a globally acclaimed manufacturer of Precision Soldering Robots and innovative Curie point soldering systems, is excited to announce its participation in the highly anticipated SMTA Guadalajara Expo & Tech Forum, scheduled to take place from October 25-26, 2023.