Books

Featured Books

pcb007 Magazine

Latest Issues

Current Issue

The Registration Sweet Spot

Registration is underrated and underappreciated. The key is to ensure proper registration from layer to layer across the entire printed circuit board. It's a holistic process requiring anticipation, prediction, precise attention at each step, and detailed data tracking and monitoring.

High-reliability Fabrication

In this month's issue, our expert contributors discuss the latest in technologies, trends, complexities and resources regarding high-reliability fabrication.

Finding Ultra

New demands on PCB fabrication, namely advanced packaging, ultra high density interconnect (UHDI), and new specialty materials, are converging, changing the landscape of our business. Is it time to start paying close attention to this convergence?

Columns

Latest Columns

||| MENU
Estimated reading time: 5 minutes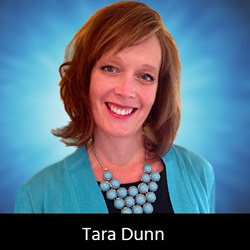 June 23, 2022
PCB Talk: Is DWM Just Another Buzzword?
Designing with manufacturing, rather than for manufacturing is much more than a buzz word. New materials and processes, and new and developing design rules make collaborating with your PCB fabricator a necessity more than ever before. I sat down with Meredith LaBeau, CTO of Calumet, to learn her thoughts about bringing a new technology to commercialization and the importance of PCB designers working closely with their preferred fabricators to be most successful when implementing designs with feature sizes previously not available.
Tara Dunn: Meredith, you and the Calumet team are leading the North American market in next-generation PCB fabrication technologies, enabling a much-needed capability for your customers, and I am excited to dig into that for our readers. First, please provide a little background on yourself and Calumet Electronics for those who are not yet familiar.
Meredith LaBeau: Thanks, Tara. Calumet Electronics is a domestic printed circuit board fabricator located in Upper Michigan. Started in 1968, Calumet Electronics has a long history of manufacturing PCBs, along with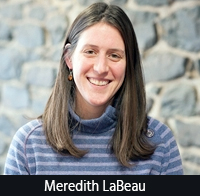 developing solutions that are needed by customers in defense, medical, aerospace, and industrial controls. In addition, for the past nine years, we have been on a journey to rapidly improve technology to provide a beacon of light for domestic advanced technology PCBs and advanced packaging.
This drive has led us to industrializing next-generation additive manufacturing: the Averatek Semi-Additive Process, or A-SAP™. With this technology and state of the art equipment, Calumet Electronics is now providing next-generation capability and capacity for tightly packed BGAs and other features on the most challenging circuit boards, realizing features below 25 microns. Calumet is an NADCAP, AS9100D, MIL PRF-55110, and IPC-1791 certified facility.
I have the distinct pleasure of representing Calumet Electronics as its chief technology officer, charged with strategically developing and advancing the most complicated and needed PCBs and ultra-high-density PCBs for the domestic market. The past nine years have been a rewarding experience, but one of the most significant technologies to allow breakthrough success is the use of the A-SAP processes.
Dunn: Calumet Electronics was the first licensee of Averatek's A-SAP process. You have navigated not just the learning curve for fabrication, but also the design learning curve, and how to best apply this technology. Because this technology is still new to many, can you talk about the process and its benefits for PCB designers?
LaBeau: It is always difficult to usher in new technologies within an industry which has struggled with offshoring, stunted innovation, and lack of adoption for new processes. With that said, industrializing Averatek's process has been a fulfilling experience that has opened many new doors of opportunities, ones we never knew were available. It's a semi-additive process for feature realization, allowing the United States to break through 60 microns. It allows for reaching down to limits of the photolithography equipment, around 12–15 microns currently, but testing at less than 10 microns. This technology allows for leapfrog opportunities to unite chips (semiconductors) with printed circuit boards, all here in North America.
For the designer, this is a true game changer. The designer can now use finer lines and spaces to effectively fan out traces from BGAs and other devices without adding more layers or introducing increasing complicated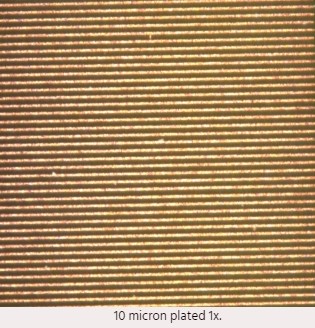 stacked or staggered microvia structures. Designing with finer lines may result in re-setting the manufacturing curve of complexity. Imagine reducing the number of sequential laminations, and not worrying about multiple stacked features; the opportunities are virtually endless.
Now we just need to adopt this new technology that has been industrialized and qualified.
Dunn: Meredith, where are you in the process development cycle? I know readers will be curious about reliability testing and data. Would you share your experience? 
LaBeau: We have finished all the process development over the past two years, moving the manufacturing readiness level from a five to nine (low-rate production). Through this development process, we have done significant testing for reliability including peel strengths, thermal stress and cycling with microvias, as well as staggered structures. Additionally, we have processed over 1,000 panels, tested with electrical continuity and microsection analysis.
Through the development phases of A-SAP, we have used the technology on all traditional and many non-traditional substrates with success, as well as fabricating all traditional PCB features with passing reliability.
The A-SAP process is a proven and tested additive fabrication method to achieve next generation technological advancements.
Dunn: Switching gears just a bit, you and I have spoken many times about the importance of designing with manufacturing rather than for manufacturing. In fact, this is a direct quote from a video we worked on together quite a while ago:
"The use of this innovative and transformative manufacturing method requires a new approach to design: with manufacturing instead of for manufacturing. Together, the designer and manufacturer can develop a collaborative approach, to "Drop the SWAP," while increasing the reliability and robustness of the PCB for next-generation electronics systems." 
I often hear you impress on people that collaboration is critical to utilize the full potential of the A-SAP technology. How do you facilitate this high-quality communication, and what is your advice for designers who want all the advantages of A-SAP capabilities?
LaBeau: When utilizing a transformative manufacturing process, one must fully understand its advantages as it applies to both design and the product requirements. With a market-changing technology, the manufacturer and designer must work in collaboration to gain all the benefits—while not increasing the cost.
The Averatek process allows a designer to simplify designs by using finer traces and spaces, greater line width control, and impedance control. If the designer understands this, you can re-set the technology curve: simplifying designs to make the process and end-product more reliable and robust, while reducing risks of lead time or yield delays.
The most important takeaway is this: collaboration between the designer and manufacturer is critical and must happen to fully utilize this technology and create the intended benefits. As we transition from a subtractive to a semi-additive approach, there are new rules that we must apply, at times understanding that not all IPC-6012 standards work for fine lines, especially wrap plating, plating thickness and others. When an innovative technology comes forth, we must design and test, then adapt new standards, which are currently in the works.
This design with manufacturing is key to the success and will open avenues to design and manufacture some of the most advanced technologies for all our customers.
Dunn: Not only has Calumet Electronics invested in Averatek's A-SAP process, but you have also been actively investing in equipment, new materials, and a facilities expansion. As the CTO, I am sure that keeps you extremely busy. What other technologies do you have in development that the electronics community will be excited about?
LaBeau: Calumet Electronics is driving to solve the next generation for unrivaled electronics systems, which includes utilizing Averatek's A-SAP, sintering technologies, and build-ups films. We are excited about the future, with a strong R&D and engineering team.
Dunn: Meredith, thanks for taking time for this short interview.
LaBeau: Thank you, Tara.
This column originally appeared in the June 2022 issue of Design007 Magazine.