Books

Featured Books

design007 Magazine

Latest Issues

Current Issue

Simplification

On the subject of simplification, our expert contributors explain how to design PCBs without making them complex and over-constrained—whatever the level of technology. In addition, we discuss the effect your decisions and tradeoffs have on design complexity.

The Standards of Design

Our expert contributors discuss how PCB designers can utilize standards to save time and money, not to mention frustration. We also spotlight the newly updated version of the IPC Checklist, a handy guide that illustrates which standards cover which topics, from front-end design through assembly.

Rigid-flex: Designing in 3D

In this month's issue, our expert contributors share their best tips, tricks and techniques for designing rigid-flex circuits. If you're a rigid board designer considering moving into the 3D world of rigid-flex, this issue is just what the doctor ordered!

Columns

Latest Columns

||| MENU
June 2023 Issue of Design007 Magazine Available Now
June 8, 2023 | I-Connect007 Editorial Team
Estimated reading time: Less than a minute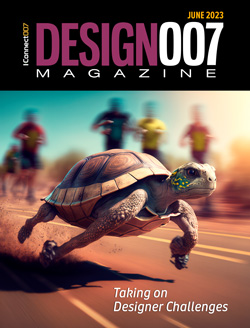 Top Design Challenges
In this month's Design007 Magazine, we share the top PCB design challenges from a variety of viewpoints—PCB designers, fabricators and assembly providers. The three challenges most often cited by contributors revolve around DFM, communication, and data—all of which are interrelated. We think you'll find this compilation of design challenges useful.
Wondering why there is a tortoise on the cover of this issue? Well, if you recall one of the most popular Aesop's Fables, The Tortoise and the Hare, the slow and steady reptile beat his much faster opponent by taking his time and persevering. Judging from what our expert contributors have to say in this issue, many PCB design problems could be precluded if designers simply took their time. (Yes, designers even called themselves out for this faux pas!)
---
Suggested Items
11/21/2023 | iNEMI
iNEMI Packaging Tech Topic Series Webinar, LSI/PKG/PCB Co-Design to Support 3D-IC/Chiplet Design will be held on November 28, 2023, by guest speaker Kazunari Koga, Zuken Inc.
11/16/2023 | Keysight Technologies, Inc.
Keysight Technologies, Inc. expanded the simulation capabilities in its Electronic Design Automation (EDA) software suite to include electro-thermal simulation for the Tower Semiconductor SiGe Power Amplifier (PA) process.
11/16/2023 | John Watson -- Column: Elementary, Mr. Watson
William of Ockham was a significant figure in medieval philosophy who lived from 1285 to 1347 and was an English Franciscan friar, philosopher, and theologian. William of Ockham is most famously known for formulating the principle of Occam's Razor, also known as the principle of parsimony. In simple terms, Occam's Razor is a problem-solving rule suggesting that when you have multiple possible explanations, the simplest one is usually the best. The most straightforward solution that fits all the facts without adding extra assumptions or complications.
11/15/2023 | Martyn Gaudion -- Column: The Pulse
Albert Einstein said, "Everything should be made as simple as possible, but not simpler." Whilst his words were aimed at those describing complex theory in the simplest way possible, but not so simplified that key information is lost—a process which the media is often criticised for as "dumbing down" information. However, from an engineering perspective, if a design can be engineered to perform the required application in a simpler or more economic way than previously then simplification is truly a valuable goal.
11/14/2023 | Cadence Design Systems, Inc.
Cadence Design Systems, Inc. announced a collaboration with Autodesk to provide solutions that accelerate intelligent system design leveraging Autodesk Fusion and Cadence® PCB solutions.