Books

Featured Books

design007 Magazine

Latest Issues

Current Issue

Simplification

On the subject of simplification, our expert contributors explain how to design PCBs without making them complex and over-constrained—whatever the level of technology. In addition, we discuss the effect your decisions and tradeoffs have on design complexity.

The Standards of Design

Our expert contributors discuss how PCB designers can utilize standards to save time and money, not to mention frustration. We also spotlight the newly updated version of the IPC Checklist, a handy guide that illustrates which standards cover which topics, from front-end design through assembly.

Rigid-flex: Designing in 3D

In this month's issue, our expert contributors share their best tips, tricks and techniques for designing rigid-flex circuits. If you're a rigid board designer considering moving into the 3D world of rigid-flex, this issue is just what the doctor ordered!

Columns

Latest Columns

||| MENU
American Standard Circuits Celebrates 35 Years in Business
August 24, 2023 | American Standard Circuits
Estimated reading time: 1 minute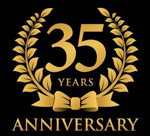 Anaya Vardya, President and CEO of American Standard Circuits, has announced that on August 25, 2023 American Standard Circuits celebrates 35 years of doing business.
Starting with a small facility in the Libertyville, Illinois area, ASC has grown to be one of the major leaders in the North American printed circuit board market. In 1994 the company moved to a larger facility in Franklin Park and then to their current facility in West Chicago in 2004.
During that time there have been several significant changes to the industry and the company.
Founder Gordhan Patel recalls, "When we started American Standard Circuits back in August 1988, we were very small company with one drilling machine, a few plastic tanks, and basic machines. There were almost 600 other shops in North America, no one had even heard of laser drills, laser direct imaging and there were little or no global solutions. We were building only simple single and double-sided boards. It took a while to get some traction but by the time we bought and moved into the facility in West Chicago, we were on our way."
Vardya came to the company shortly after moving to the new facility and took the reins to lead the company to where it is today. With the recent acquisition of Sunstone Circuits, American Standard Circuits is now a sixty-million-dollar company and one of the industry leaders when it comes to technology, flexibility, capability, and reliability, offering their customers a completely holistic solution from concept to reality.
Vardya commented, "Of all of the things I have done in my career my work with the team at American Standard Circuits is what I am proudest of. Together we have built a significant company that is making a real difference in the industry. Our growth and success during the past 35 years is a tribute to the vision of our chairman, Gordhan Patel, and all of the great people who have been part of and are still part of the American Standard Circuits team."
Educational titles from American Standard Circuits:
---
Suggested Items
11/28/2023 | IPC
Neil Shah, senior technical director at alliantgroup, a tax and business consultancy, will present a technical education workshop,
11/27/2023 | Dan Beaulieu -- Column: It's Only Common Sense
Being the best is never easy. When you study the life of elite athletes, for example, you will find a list of characteristics that typically puts plain old hard work at the top. These athletes work harder than anyone else. They're the first ones there in the morning and the last to leave at the end of the day. They literally live and breathe what they are doing. They don't allow themselves any breaks, excuses, or cop outs. They are, as we say, all in.
11/27/2023 | GOEPEL Electronics
The US branch of GÖPEL electronic is proud to announce the addition of David Kalaidjian as the new National Sales Development Manager.
11/27/2023 | Linköping University
Linköping university has been granted six million SEK from the Swedish Innovation Agency (Vinnova) for the research project Catena-D (Circular and resource-efficient value chain systemically enabled with AI and digital thread).
11/24/2023 | Messe München
Messe München's electronics network with the world's leading trade fairs electronica and productronica is expanding its partnership with SEMI, the global semiconductor industry association, in India.