Books

Featured Books

smt007 Magazine

Latest Issues

Current Issue

Attracting New Talent

To get different results in staffing, you must change how you define, promote and recruit your job opportunities. How do you become magnetic to high-quality early-career candidates?

Test and Inspection

Test and inspection methods are undergoing rapid change. In this issue, we consider the influence of AOI, AI, and human eyes. How exactly are these pieces of the puzzle changing the role of test and inspection?

Chips Don't Float

In Europe and the U.S., legislation is under way to revitalize PCB fabrication and packaging. What is the status of this work, and how specifically does this change the industry landscape for EMS companies? What will help keep us afloat?

Columns

Latest Columns

||| MENU
Estimated reading time: 3 minutes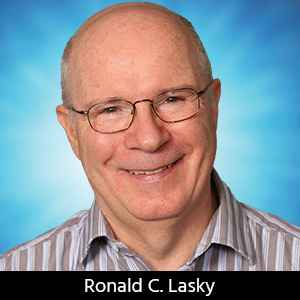 September 22, 2023
Maggie Benson's Journey: What Is the Profit Potential?
Editor's note: Indium Corporation's Ron Lasky continues this series of columns about Maggie Benson, a fictional character, to demonstrate continuous improvement and education in SMT assembly.
Paul LaCroix had worked hard on his profitability potential analysis of component placement machines (CPMs).
He was comparing CPMs from Excel and Pinnacle. The Excel machines only cost $599,000, whereas the Pinnacle machines were $999,000. Paul was able to talk to five assemblers that had used both brands of CPMs. The Excel customers were happy with the low sales price but were disappointed in the performance. The machines were slow in their assembly speeds and constantly needed repairs. In addition, the service teams were usually late and required more time than they estimated to repair the machines. As a result, the assembly lines were often down.
The assemblers that used Pinnacle CPMs told the opposite story. Although the original purchase price was much higher than the others, the machines assembled much faster. They seldom required maintenance and when they did, the service team was prompt and required less time than they predicted to make the repairs. These assemblers were curious about Paul's project as they had hoped to use the results in their explanation to their management as to why Pinnacles had the best bang for the buck.
Paul was quite good at math and was enjoying this project. He thought it might be best to perform a rough calculation to start. The Pinnacle's placement speed was 30% faster than the Excel's. From discussions he had with other assemblers, he estimated that with the Pinnacles, the line was down 3% of the time for repairs; for the Excels, the line was down 5% of the time. Paul estimated that this benefit added another 2% to the speed of the Pinnacles, making them 32% faster than the Excels. Dr. Maggie (he still didn't know if Maggie had a PhD, but he felt it was best to err on the high side) told him she expected that this type of line would make a profit of about $500,000 a year.
In his rough calculation, he estimated that since the Pinnacles were 32% faster, they would produce 32% more profit, all other things considered equal. Therefore, the Pinnacles should generate 32% of $500,000, which equaled $160,000 more profit than the Excels. If the equipment was to be amortized over five years, that would be $200,000 for the Pinnacles and $120,000 for the Excels—a difference of $80,000. So, the $160,000 more in profit outweighs the difference in amortized price.
Paul still felt he was missing something, so he decided to chat with Sue and Andy. They met for ice cream after work. Paul reviewed what he had done.
"I think I am missing something," Paul summarized to the couple.
"Why don't we develop a list of income and expenses and see what it says?" Andy suggested, and Sue said, "Maggie said a line like this one would generate about $500,000 in profit over a year. A typical board sells for $50. Most of Benson Electronic (BE) lines produce about 100,000 to 200,000 boards per year. Let's assume the Excel line produces 120,000 boards per year and the Pinnacle line does 32% more or 158,400."
"Sue and I have been performing some financial modeling of lines," Andy added, "and we know that labor costs about $850,000 per year, with rent and utilities about $100,000 per year."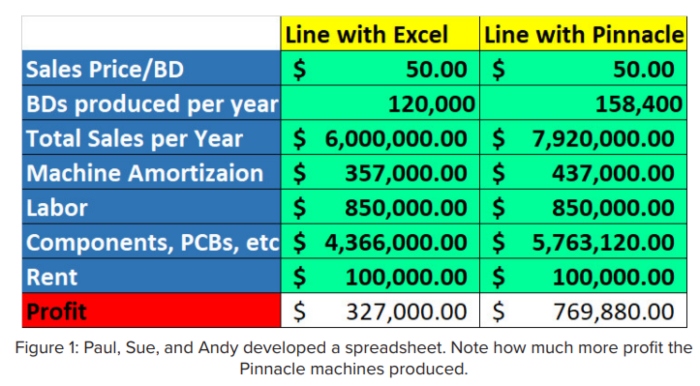 "Whoa, our spreadsheet shows the Pinnacle line generating $769,880 in profit, whereas the Excel line generates only $327,000," Paul said. "That can't be right." Sue and Andy chuckled in unison, and Andy said, "The spreadsheet is correct. Why don't you take some time and see if you can understand it?"
"We'll give you a hint," Sue said, teasing. "Look at the labor and the rent."
Paul looked at the spreadsheet and then it hit him: "The labor and rent are constant, even though the Pinnacle line produced more boards," he exclaimed.
Andy tried to draw out more of Paul's conclusions asking, "And what else?"
"The labor and rent cost per board is less on the Pinnacle line because it produces so many more boards," Paul said. "I'm surprised how much difference it makes in total profit—over $442,000!"
"So, 'profit potential' is much more important than 'cost of ownership,'" Paul opined.
A meeting is scheduled soon to explain the results that so favor Pinnacle CPMs. Will Paul be able to explain it? What will Hal Lindsay say? Stay tuned to find out.
This column originally appeared in the September 2023 issue of SMT007 Magazine.