Books

Featured Books

smt007 Magazine

Latest Issues

Current Issue

Chips Don't Float

In Europe and the U.S., legislation is under way to revitalize PCB fabrication and packaging. What is the status of this work, and how specifically does this change the industry landscape for EMS companies? What will help keep us afloat?

Flying High With Digital Twin

The opportunity to use manufacturing simulation as a test bed for job planning and process optimization brings continuous improvement into the modern age. This may be an all-or-nothing type of project, but it's worth the investment.

Artificial Intelligence

In this issue, we (and AI) explored how and when artificial intelligence plays a role in manufacturing today. Whether on the factory floor, or in the front office, AI applications are emerging and changing how we approach planning, processes and problem solving.

Columns

Latest Columns

||| MENU
StenTech Invests in State-of-the-Art Laser LPKF Technology for its Mexico Operations
September 12, 2023 | StenTech
Estimated reading time: 1 minute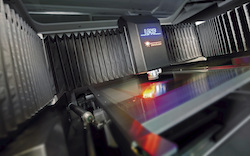 StenTech® Inc., the leading multinational SMT Printing Solutions company, is pleased to announce the installation of a brand-new, state-of-the-art laser system at its facility in Guadalajara, Mexico. This investment in the latest iteration of the StencilLaser G6080, manufactured by Germany-based LPKF Laser & Electronics, marks a significant milestone for the SMT industry in Mexico and underscores StenTech's commitment to its valued local customer base in Jalisco.
The StencilLaser G6080 is a flagship laser system, renowned for its best-in-class technology, serving the most demanding stencil users in the SMT industry. The system features a custom carbon fiber architecture, ensuring superior positioning accuracy and sidewall quality while maximizing productivity. Capable of cutting both stainless steel and nickel stencils with material thicknesses ranging from 20 um to 1 mm (0.8 to 40 mil), this cutting-edge laser technology empowers StenTech to deliver exceptional stencil solutions that meet the highest industry standards.
"We are excited to introduce the latest LPKF StencilLaser to our Mexico operations," said Brent Nolan, CEO of StenTech. "This cutting-edge laser system represents the newest and most advanced technology deployed in the country, reaffirming our dedication to providing our valued customers in Jalisco with the best solutions available in the market."
LPKF's North American President, Stephan Schmidt, expressed his enthusiasm for the global partnership with StenTech, stating, "We truly value the collaboration with StenTech and its commitment to elevating quality standards in the SMT industry. The StencilLaser G6080 is a testament to the continuous pursuit of excellence shared by both companies."
In addition to its latest investment in industry leading technology, StenTech's Guadalajara facility also offers an array of cutting-edge capabilities, including Advanced Nano Coating, tooling solutions, and unparalleled customer service. The combination of these advanced offerings positions StenTech as a trusted partner for the most demanding stencil projects, meeting the unique needs of its customers across various industries.
StenTech's continued commitment to deploying LPKF technology ensures that its customers benefit from the most innovative and reliable stencil solutions in the market. The investment in the StencilLaser G6080 further strengthens StenTech's position as the leader in the stencil industry, dedicated to delivering superior quality and customer satisfaction.
---
Suggested Items
09/28/2023 | KYZEN'
KYZEN, the global leader in innovative environmentally friendly cleaning chemistries, is proud to announce that it is sponsoring the Women's Leadership Program Connection Reception to be held at SMTA International.
09/28/2023 | TSMC
TSMC announced the new 3Dblox 2.0 open standard and major achievements of its Open Innovation Platform (OIP) 3DFabric Alliance at the TSMC 2023 OIP Ecosystem Forum.
09/28/2023 | SIA
The Semiconductor Industry Association (SIA) announced Geoff Martha, chairman and CEO of healthcare technology leader Medtronic, will be the keynote presenter at the 2023 SIA Awards Dinner on Thursday, Nov. 16 in San Jose, Calif.
09/28/2023 | GlobalFoundries
GlobalFoundries (GF) announced the official opening of a new hub facility in Penang, Malaysia.
09/27/2023 | HyRel
HyRel Technologies, a global provider of quick turn semiconductor modification solutions, is proud to announce that Brian Watson, the company's Founder and President, will be a featured presenter at SMTA International. The event is scheduled to take place on Tuesday, October 10.