Books

Featured Books

design007 Magazine

Latest Issues

Current Issue

Simplification

On the subject of simplification, our expert contributors explain how to design PCBs without making them complex and over-constrained—whatever the level of technology. In addition, we discuss the effect your decisions and tradeoffs have on design complexity.

The Standards of Design

Our expert contributors discuss how PCB designers can utilize standards to save time and money, not to mention frustration. We also spotlight the newly updated version of the IPC Checklist, a handy guide that illustrates which standards cover which topics, from front-end design through assembly.

Rigid-flex: Designing in 3D

In this month's issue, our expert contributors share their best tips, tricks and techniques for designing rigid-flex circuits. If you're a rigid board designer considering moving into the 3D world of rigid-flex, this issue is just what the doctor ordered!

Columns

Latest Columns

||| MENU
TRI to Unveil New High-Throughput AOI and AXI at productronica 2023
September 15, 2023 | TRI
Estimated reading time: 1 minute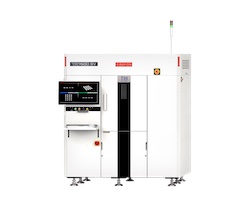 Test Research, Inc. (TRI), the leading test and inspection systems provider for the electronics manufacturing industry, will join productronica 2023, which will be held at Messe München Center from November 14 – 17, 2023. Visit booth No. A2-139 to experience TRI's newly released test and inspection solutions.
TRI will unveil the newly released Ultra-High-Speed 3D AOI, TR7700QH SII, capable of inspecting at speeds of up to 80 cm²/sec, maintaining uncompromised Gauge R&R. The TR7700QH SII is powered by TRI's Smart Programming, AI Algorithms, and Metrology measurement capabilities. Also exhibiting will be the newly released high throughput 3D AXI, TR7600 SV, which offers up to 20% performance improvement compared to the award-winning TR7600 series. Powered by AI Algorithms, the high-speed 3D AXI can precisely detect Void defects.
TRI will showcase the newly released high-speed multi-angle 3D AOI, TR7500QE Plus, equipped with four 20MP side cameras and 1 top high-resolution camera. TRI's lineup will include the enhanced 3D SPI TR7007DI Plus, the high-end 3D AXI TR7600F3D SII, and the Multi-core ICT with In-System LED Analysis function TR5001Q SII INLINE.
The AI solutions from TRI include the AI training tool, the AI Station, Verify Host, AI Smart Programming, and more. TRI Test and Inspection solutions comply with Industry 4.0 standards like the IPC-Hermes-9852, IPC-CFX, and IPC-DPMX.
TRI invites you to visit booth No. A2-139 at productronica 2023. Don't miss the opportunity to discuss with our experts how TRI solutions can enhance your production yield rate, reduce operational costs, and increase efficiency.
---
Suggested Items
11/29/2023 | TRI
Test Research, Inc. (TRI), the industry's leading provider of Test and Inspection systems for the electronics manufacturing industry, is pleased to announce the expansion of its Malaysian office, which opened in 2010.
11/29/2023 | Dana Korf -- Column: Dana on Data
November's issue of Design007 Magazine had an excellent theme that evolved around design simplification. There were exceptionally good articles about how to reduce over-constrained or needlessly complex designs. One significant time-consuming category is the creation of many design files and drawings which lead to lengthy creation and interpretation time along with the considerable time to resolve conflicting or erroneous information.
11/27/2023 | IPC
IPC welcomes the actions outlined today by the U.S. Government "to strengthen supply chains critical to America's economic and national security."
11/22/2023 | TTM Technologies, Inc.
TTM Technologies, Inc., a leading global manufacturer of technology solutions including mission systems, radio frequency (RF) components and RF microwave/microelectronic assemblies and printed circuit boards (PCBs) was honored with three awards at the IPC China Electronics Manufacturing Annual Conference held in Shanghai on October 27, 2023.
11/21/2023 | Pete Starkey, I-Connect007
Productronica 2023 played host to the IPC World Hand Soldering Competition, bringing talented regional solder champions from all over the globe to compete for the title of World Champion. Each competitor was given sixty minutes to assemble a complex printed circuit board with their performance judged in accordance with IPC-A-610 Class 3 criteria. Each competitor's efforts were rated on the merits of the results achieved, scored on the quality of the assembly process, the electrical functionality of the assembly and the speed at which the assembly was produced.