Books

Featured Books

smt007 Magazine

Latest Issues

Current Issue

Economic Headwinds

This issue takes stock of the current economic outlook and how companies are using current conditions to move themselves through technological evolutions, workforce shifts, and financial changes. Even with these headwinds, there's forward progress to be made.

Attracting New Talent

To get different results in staffing, you must change how you define, promote and recruit your job opportunities. How do you become magnetic to high-quality early-career candidates?

Test and Inspection

Test and inspection methods are undergoing rapid change. In this issue, we consider the influence of AOI, AI, and human eyes. How exactly are these pieces of the puzzle changing the role of test and inspection?

Columns

Latest Columns

||| MENU
Qualcomm Unveils 10G Fiber Gateway Platform for Ultimate Connected Home Performance
September 20, 2023 | Qualcomm Technologies, Inc.
Estimated reading time: 2 minutes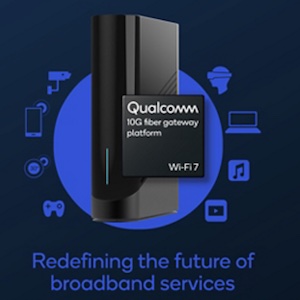 Qualcomm Technologies, Inc. is ushering in a new era of home connectivity, and new opportunities for service providers, with the introduction of the Qualcomm® 10G Fiber Gateway Platform and its signature feature, Qualcomm® Service Defined Wi-Fi technology.
The overwhelming majority of subscribers experience their broadband service through Wi-Fi. In today's broadband systems, the access network from the service provider to the home and Wi-Fi within the home are managed separately - with a quality of service which is nearly impossible to maintain across the entire network, given the diversity of devices, applications, connectivity technologies, and the near-constant change across all these elements.
The Qualcomm Service Defined Wi-Fi technology addresses this management challenge by offering a unified data flow management architecture, from cloud to device. It delivers orchestration, classification, scheduling, and insights that help ensure subscriber performance expectations for 10G Fiber are met – adapting to user activity whether they are gaming, streaming, video conferencing or sharing content.
"Qualcomm Technologies has positioned itself to lead a revolution in connectivity," said Rahul Patel, senior vice president and general manager, connectivity, broadband and networking. "By adding 10G Fiber to our technology portfolio, along with 5G and Wi-Fi 7, we now offer a compelling mix of solutions to help service providers drive revenue growth, service innovations, and deliver more immersive, and engaged subscriber experiences."
"Qualcomm's latest advancements in home gateways will help accelerate the ongoing transformation of home Wi-Fi networks," said Andrew Spivey, Senior Analyst at ABI Research. "Given the rapid deployment of fiber-optic cable, alongside the concurrent decline of legacy cable and DSL technologies, the new platform is timely, and combined with Qualcomm's Wi-Fi 7 technology will prove indispensable in delivering the advanced speeds modern homes require. We are also confident that Qualcomm's Service-Defined Wi-Fi Technology will help underpin the home networking revolution through the enablement of guaranteed Quality of Service (QoS) for consumers."
Qualcomm 10G Fiber Gateway Platform
The Qualcomm 10G Fiber Gateway Platform is architected to enable 10Gbps to and through the home. Its software-defined architecture combines 10G Passive Optical Network (PON) technology with multi-Gigabit Wi-Fi 7 connectivity to ensure high-speed connectivity and low-latency access can be delivered seamlessly through the home to end devices – such as phones, PCs, smart TVs, home cameras or appliances.
Featuring the Qualcomm Service Defined Wi-Fi technology, a groundbreaking cloud-to-device quality of service framework, the 10G Fiber Gateway Platform is designed to give providers unprecedented orchestration and insights to help improve their subscribers' quality of experience.
The Qualcomm Service Defined Wi-Fi technology's application-type orchestration is built to enable providers to create a new level of user experience based on reliable and fast end-to-end connectivity. Service providers will be able to offer differentiated services optimized for applications such as gaming, streaming, and employer-supported work-from-home optimized service.
The Qualcomm 10G Fiber Gateway Platform and Qualcomm Service Defined Wi-Fi technology are scheduled to be commercially available by summer 2024.
---
Suggested Items
12/04/2023 | EMA Design Automation
EMA Design Automation, the world's premier EDA VAR, is spinning off their IP, content, and services group as a new company named Accelerated Designs, LLC with a focus on CAD agnostic solutions.
12/01/2023 | Murata
Murata and IIJ have announced the launch of the Crossborder Co-DataBiz IoT data service platform, a collaborative service founded on the sensing and network technologies, data analytics, business model knowledge and know-how developed by the two organizations through the highly successful Traffic Counter data service.
11/20/2023 | Dan Beaulieu -- Column: It's Only Common Sense
No matter how you look at it, everything is about customer service—great customer service. If you think about your own experiences, you'll realize it's about how those you are dealing with or buying from— whether it's a car, your internet service provider, or your landscaper—it's all about how they make you feel. You can have the greatest product in the world, but if you don't deliver a great customer experience, it won't matter.
11/17/2023 | Flex
Flex announced it received Cisco's 2023 Electronic Manufacturing Services (EMS) Partner of the Year award. Cisco presented the distinguished award at its annual Supplier Appreciation Event (SAE), which celebrates the accomplishments and contributions of its supply chain partners.
11/15/2023 | ZDI
Zero Defects International [ZDI] has announced their participation as an exhibitor at the SMTA Silicon Valley Expo and Tech Forum. It will be held at Building 3 on the FLEX campus located at 727 Gibralter Drive, Milpitas, CA.  Expo time and date:  8:30 a.m., Thursday, December 7, 2023.