Books

Featured Books

design007 Magazine

Latest Issues

Current Issue

Simplification

On the subject of simplification, our expert contributors explain how to design PCBs without making them complex and over-constrained—whatever the level of technology. In addition, we discuss the effect your decisions and tradeoffs have on design complexity.

The Standards of Design

Our expert contributors discuss how PCB designers can utilize standards to save time and money, not to mention frustration. We also spotlight the newly updated version of the IPC Checklist, a handy guide that illustrates which standards cover which topics, from front-end design through assembly.

Rigid-flex: Designing in 3D

In this month's issue, our expert contributors share their best tips, tricks and techniques for designing rigid-flex circuits. If you're a rigid board designer considering moving into the 3D world of rigid-flex, this issue is just what the doctor ordered!

Columns

Latest Columns

||| MENU
I-Connect007 Editor's Choice: Five Must-Reads for the Week
September 22, 2023 | Nolan Johnson, I-Connect007
Estimated reading time: 3 minutes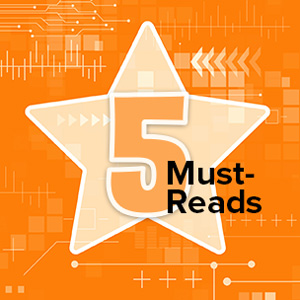 This week has been chock full of news about upcoming trade shows and conferences. Clearly, the season is upon us. This week, I-Connect007 reported on PCB West in Santa Clara (often referred to as the show which kicks off trade show season) and the topic of artificial intelligence was everywhere. By the looks of it, not just at the conference, either. For months now, the mainstream media has been gobbling up all sorts of news about generative AI engines, painting the picture that we'll all lose our jobs to these tools, while also reporting on situations where the results from AI have gotten progressively worse over time.
The reality is that GIGO ("garbage in, garbage out") is perhaps truer than ever before, thanks to AI. The more I investigate the application of artificial intelligence the less I worry about a cyborg takeover. In one of the panel discussions this week at PCB West, Kyle Miller, PhD, an AI expert at Zuken, made an observation, which I'm paraphrasing here:
"AI will always give you an accurate answer to your question as asked, but that answer may not be precise. If the answer is both accurate and precise, it will not be creative."
This comment from Miller bears some thought. The precision of the solution is dependent upon the quality of the data fed into the AI's neural network during teaching. In addition, because AI engines are good at finding multiple alternative solutions to a problem, AI's results may look like creativity, but no new information is ever added to the database. AI's ability to predict what comes next is what iterates and improves—provided the data during learning is accurate, that is.
Plenty to think about. Something tells me we'll be talking about AI for quite some time. All we have to do is look at this week's news. All my choices this week relate to AI applications in some way or another.
Of course, if trade show announcements are your thing, you'll find them all listed on the news feed at www.iconnect007.com. Subscribe to our content while you're there too.
Zuken Introduces AIPR for CR-8000: Empowering PCB Designers with Innovative AI-Powered Place and Route Technology
Published September 19
Zuken has developed what they call Autonomous Intelligent Place and Route, along with a "three phase" approach they've labeled: Basic Brain, Dynamic Brain, and Autonomous Brain. Zuken says the first of this functionality will be available in Q1 2024. Get the details here.
Cadence to Acquire Intrinsix Corporation from CEVA
Published September 20
CEVA is a provider of design engineering solutions with a focus on U.S. aerospace and defense. Cadence gains an engineering team skilled in advanced nodes, radio frequency, mixed-signal and security algorithms. Cadence notes that this acquisition will help enable customers to achieve design excellence.
Ultra Librarian to Dramatically Reduce CAD Model Build Times with New AI-Driven Part Creation Methodology
Published September 19
In the mid 2000s, it was estimated that about 40% of most designer's time was spent making the new parts symbols needed for their next design. This has been a part of the process desperate for automation since the dawn of the ECAD industry in the late 1970s. That's what makes this news from Ultra Librarian so interesting.
Asia/Pacific AI Spending Surge to Reach a Projected $78 Billion by 2027
Published September 19
Spending on AI will include "software, services, and hardware for AI-centic systems" according to International Data Coporation. The goal? To reimagine operations, improve customer experiences, and maintain a competitive edge." This detailed article is well worth a read.
Intel Unveils Industry-Leading Glass Substrates to Meet Demand for More Powerful Compute
Published September 18
"Intel announced one of the industry's first glass substrates for next-generation advanced packaging, planned for the latter part of this decade. This breakthrough achievement will enable the continued scaling of transistors in a package and advance Moore's Law to deliver data-centric applications." There's a lot more detail to absorb here and there will be more news over time. The age of glass may have finally arrived.
---
Suggested Items
11/17/2023 | Nolan Johnson, I-Connect007
On a global scale, productronica has been dominating the news this week, mostly with announcements and show preliminaries. It's been a long and full week for those who have exhibited and attended the trade show (despite the November rain), and I encourage you to review our productronica coverage from this week. In the coming days, we'll be showcasing more photos, videos, and interviews, so please stay tuned.
09/08/2023 | Nolan Johnson, I-Connect007
As I looked over the news and stories of the week, I noticed "firsts" from Insulectro and Lockheed Martin, plus a historic transition in leadership at Foxconn. There's also financial health from KLA, and upbeat market data from IPC. With the start of a new school year, and often a fiscal year, September brings a sense of newness and change for many of us.
06/30/2023 | Nolan Johnson, I-Connect007
It's a heady time here in the U.S. between the summer holidays of Memorial Day (last Monday in May) and Independence Day (July 4). This four-week period straddles the Northern solstice, boasts the longest days of the year in the Northern Hemisphere. This is the high season for outside activities, which may be pulling you away from the office. Am I right? Never fear, I-Connect007 is here to deliver the "must know" news stories.
06/02/2023 | Nolan Johnson, I-Connect007
This week has been both speedy and newsy. Of course, those two characteristics often seem to travel as a pair, don't they? A four-day week here in the United States, accompanied by a wave of high-impact news from a wide variety of sources, would suggest that readers could be expected to spread out all over the news map. Not so much, judging from readership numbers; folks all found their highest value in the same type of news coverage. This week's list of must-reads is dominated by market reports as a result of that focused readership. On our list, we have PCB fabrication and EMS book-to-bill reports, a 10-year market forecast report, and a supply chain sentiment report. In addition, readers flocked to the EWPTE show coverage. Finally, we saw significant reader interest in the most recent podcast on sustainability in our logistical operations.
05/05/2023 | Nolan Johnson, I-Connect007
This week, I'm identifying key news about EVs, orbital payloads, environmental sustainability, the state of the economy, and new executive leadership. I'd say it's a well-rounded selection of what's happening in the industry. I can't help but continue to be impressed by the pervasiveness of space commercialization. Satellites have a long history of being commissioned and operated by private business, but as commercial launch vehicles become more available, it seems that satellite launches are accelerating. Read on!