StenTech Discusses Revolution of Stencil Manufacturing with Laser Technology at SMTA Guadalajara
September 25, 2023 | StenTech
Estimated reading time: 1 minute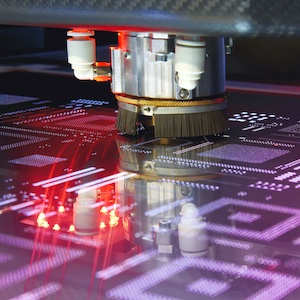 StenTech Inc., the leading multinational SMT Printing Solutions company, is pleased to announce plans to exhibit at the SMTA Guadalajara Expo, scheduled to take place Oct. 25-26, 2023 at the Expo Guadalajara in Guadalajara, Jalisco, Mexico. This year's exhibition promises to be a game-changer as StenTech unveils its latest capabilities, including a state-of-the-art laser system and award-winning Advanced Nano Coating in Booth 920.
StenTech has raised the bar in the stencil manufacturing industry by making a substantial investment in the newest iteration of the StencilLaser G6080 from LPKF Laser & Electronics. This cutting-edge laser system represents a significant milestone for the SMT industry in Mexico, showcasing StenTech's unwavering commitment to its esteemed local customer base in Jalisco.
The StencilLaser G6080 stands as a flagship laser system, renowned for its best-in-class technology, tailored to meet the exacting demands of even the most discerning stencil users in the SMT industry. Distinguished by its custom carbon fiber architecture, this state-of-the-art laser system ensures superior positioning accuracy and sidewall quality while maximizing productivity. Versatile and adaptable, it is capable of cutting stainless steel and nickel stencils with material thicknesses ranging from 20 um to 1 mm (0.8 to 40 mil). StenTech's investment in this advanced laser technology empowers the company to deliver stencil solutions that consistently meet the highest industry standards.
In addition to its latest investment in state-of-the-art laser technology, StenTech's Guadalajara facility also offers an array of cutting-edge capabilities, including Advanced Nano Coating, tooling solutions, and unparalleled customer service. The combination of these advanced offerings positions StenTech as a trusted partner for the most demanding stencil projects, meeting the unique needs of its customers across various industries.
The Advanced Nano Coating features an exceptional 1-3 um hardened nano coating expertly applied to the bottom side and inside the apertures of the stencil. This cutting-edge technology offers remarkable anti-adhesion properties, effectively repelling solder flux and ensuring superior paste transfer.
By harnessing the power of StenTech's Advanced Nano Coating, transfer efficiency can soar by up to 25 percent, resulting in a substantial reduction in bridging and paste-related defects. The "non-stick" characteristics of the coating also lead to reduced underside cleaning, contributing to improved yields and decreased expenses on rework and touch-up. Additionally, stencils coated with Advanced Nano are ready for use just 30 minutes after coating, elevating production efficiency and minimizing downtime.
---
Suggested Items
12/05/2023 | Amkor Technology
Amkor Technology, Inc., a leading provider of semiconductor packaging and test services, has announced its plan to build an advanced packaging and test facility in Peoria, Arizona.
12/04/2023 | Transition Automation
Transition Automation, Inc. recently received a large order for Advanced Holder and Blade Assemblies compatible with DEK printers from Rotec BV in Belgium.
11/28/2023 | Yamaha Robotics
Yamaha Robotics has revealed the YRM20DL dual-lane mounter for the first time in Europe at Productronica 2023, and also introduced new features of its powerful smart-factory software tools.
11/27/2023 | PRNewswire
Micross Components, a leading provider of high-reliability microelectronic products and services for aerospace, defense, space, medical, energy, and other high-reliability applications, is pleased to announce that it has received an award under the IBAS Cornerstone RESHAPE program with a ceiling value of up to $134.3 million, with $45.6 million obligated at the time of the award.
11/23/2023 | ViTrox
The award was announced during the award ceremony at Productronica in Munich, Germany, on November 14, 2023.