Books

Featured Books

smt007 Magazine

Latest Issues

Current Issue

Economic Headwinds

This issue takes stock of the current economic outlook and how companies are using current conditions to move themselves through technological evolutions, workforce shifts, and financial changes. Even with these headwinds, there's forward progress to be made.

Attracting New Talent

To get different results in staffing, you must change how you define, promote and recruit your job opportunities. How do you become magnetic to high-quality early-career candidates?

Test and Inspection

Test and inspection methods are undergoing rapid change. In this issue, we consider the influence of AOI, AI, and human eyes. How exactly are these pieces of the puzzle changing the role of test and inspection?

Columns

Latest Columns

||| MENU
Unlock the Future of Smart Manufacturing: Vitrox's A.I. Deployment in Verification Tools Technical Sharing Session at SMTA International Exposition 2023
September 26, 2023 | ViTrox
Estimated reading time: 1 minute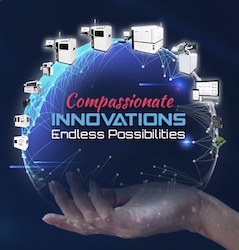 ViTrox, which aims to be the world's most trusted technology company, is thrilled to announce an upcoming technical sharing session led by our Product Marketing Manager, Ms. Tan Piet Gek. The event, scheduled for October 11, 2023, at 11:30 a.m. in Room 202 A/B, promises to shed light on the transformative potential of A.I. Deployment in Verification Tools for Inspection Equipment towards Smart Manufacturing.
Ms. Tan Piet Gek's presentation will provide valuable insights into the seamless integration of artificial intelligence into data verification tools, with a focus on streamlining inspection buy-off processes. Attendees can expect to gain a deep understanding of how this technology can lead to a significant reduction in human labor dependency, minimization of errors and inconsistencies, and substantial operational cost reductions — paving the way for the future of Smart Manufacturing.
This session is a must-attend for professionals seeking to harness the power of automation and artificial intelligence to stay ahead in the competitive manufacturing landscape. Ms. Tan Piet Gek will be also available at our booth (#1316) for discussions and questions after the sharing session, offering attendees a unique opportunity to explore our cutting-edge A.I. integrated solutions.
Another gentle reminder is that we cordially invite all Explorers of the SMTAi Passport Program to visit our booth, delve into our award-winning Advanced Robotic Vision (ARV) solutions, and engage with us! Don't miss out on this amazing opportunity to meet and connect with us at SMTAi 2023, Booth #1316.
---
Suggested Items
12/07/2023 | Real Time with...productronica
Ashley Steers, Electra Polymers, updates Pete Starkey on the company's future, including a new manufacturing facility dedicated to producing inkjet solder mask.
12/07/2023 | Real Time with...productronica
Pete Starkey Interviews Dr. Giovanni Obino From MKS Atotech. Real-time feedback and two points of view are just some of the features of Atotech's IIoT platform.
12/06/2023 | Real Time with...productronica
Randy Temple of Alltemated explains how his company's Place-n-bond™ underfilm is applied at pick and place. The product is made of thermoplastic which means it is 100% reworkable.
12/06/2023 | Real Time with...productronica
Michael Hanke shares key features of Rehm's latest energy-efficient reflow soldering equipment with Pete Starkey. They also discuss the company's complete line of integrated solutions.
12/06/2023 | Peters
As part of the Peters Coating Innovation Forum (PCIF), Peters presented the new MYC50 coating machine in the showroom.