Books

Featured Books

smt007 Magazine

Latest Issues

Current Issue

Economic Headwinds

This issue takes stock of the current economic outlook and how companies are using current conditions to move themselves through technological evolutions, workforce shifts, and financial changes. Even with these headwinds, there's forward progress to be made.

Attracting New Talent

To get different results in staffing, you must change how you define, promote and recruit your job opportunities. How do you become magnetic to high-quality early-career candidates?

Test and Inspection

Test and inspection methods are undergoing rapid change. In this issue, we consider the influence of AOI, AI, and human eyes. How exactly are these pieces of the puzzle changing the role of test and inspection?

Columns

Latest Columns

||| MENU
Global PC Monitor Market Sees 17.1% Decline in Q2 2023 Amidst Inventory Corrections with Prospects of a Holiday Quarter Rebound
September 26, 2023 | IDC
Estimated reading time: 1 minute
The global PC monitor market remained steadfast in its efforts to manage inventory levels amidst a significant drop in demand during the second quarter of 2023 (2Q23). According to the latest findings from the International Data Corporation (IDC) Worldwide Quarterly PC Monitor Tracker, the second quarter of 2023 saw a year-on-year decline in shipments of 17.1%. Although the market slightly exceeded expectations by reaching just over 29.9 million units, it still fell short of pre-COVID levels observed in the second quarter of 2019, signaling that recovery remains a work in progress following the surge in volume witnessed from 2020 to 2022.
Market Highlights
All regions experienced a contraction compared to the previous year, with North America and Western Europe displaying the most significant declines. While the global market's performance was better than forecast, ongoing challenges persist, leading IDC to adjust its market forecast. A further 10.3% decrease in shipments is anticipated for 2023 due to weak demand and prevailing macro-economic uncertainties.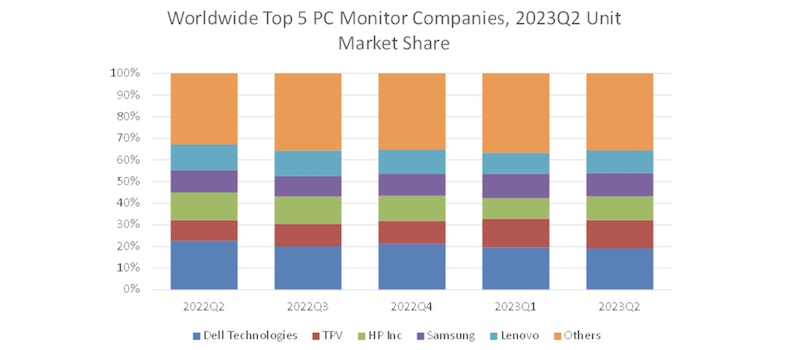 Recovery is anticipated in 2024 as consumer demand recovers and businesses migrate towards Windows 11 PCs, which is expected to stimulate office monitor purchases. However, this rebound will be gradual with volumes not expected to surpass 2019 levels until 2025. Beyond 2025, IDC predicts market stabilization, driven by a larger installed base resulting from the hybrid work model and continued growth in gaming monitors.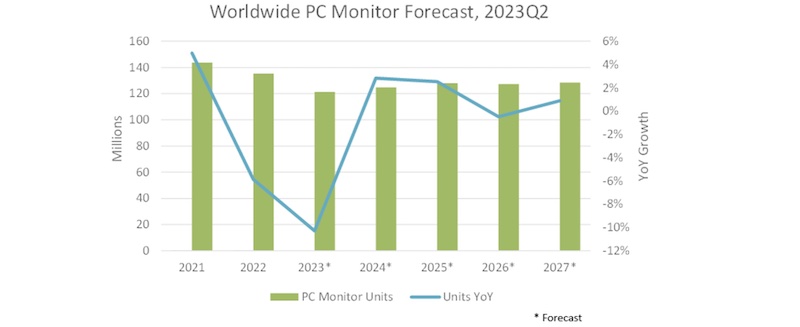 The pandemic years have also ushered in lasting changes in the monitor market landscape with a notable shift from a predominantly commercial-driven market to one increasingly influenced by consumers. Prior to the pandemic, businesses accounted for 61% of monitor sales in 2019. However, due to the rise of hybrid work models, declining office occupancy rates, and the growing popularity of gaming and larger displays, IDC now anticipates that commercial shares will maintain a slim majority of around 53% for the foreseeable future.
"In 2024, we will see the introduction of new monitor models that offer enhanced value propositions," said Jay Chou, research manager, Worldwide Client Devices Tracker at IDC. "Anticipate a wide conversion of existing models to faster 100 Hz panels, an increase in mini-LED monitors, and continued growth in the gaming segment. These developments should increase reasons for consumers and businesses to consider upgrading their displays, contributing to the continued evolution of the monitor market."
IDC's Worldwide Quarterly P C Monitor Tracker gathers detailed market data in over 90 countries. The research includes historical and forecast trend analysis among other data.
---
Suggested Items
10/31/2023 | BUSINESS WIRE
OSI Systems, Inc. announced that its Healthcare division, Spacelabs Healthcare®, has received an order valued at approximately $4 million to provide patient monitoring solutions and related accessories to a U.S. based hospital.
10/17/2023 | ECD
Since the launch of the first-ever touch control thermal profiler, M.O.L.E. EV6, ECD's new tool has enjoyed wide industry uptake and has recently integrated additional features like Bluetooth® wireless connectivity.
10/16/2023 | TrendForce
TrendForce reports that the ever-expanding dimensions of OLED products, combined with the ambitious plans of several top-tier brands, mean that 2023 could see OLED monitor shipments hitting a staggering 508,000 units—an astronomical YoY surge of 323%.
10/12/2023 | Viscom AG
With its inspection systems, Viscom offers electronics manufacturers worldwide comprehensive inspection coverage – from 3D SPI and 3D AOI to 3D AXI and 3D MXI. At SMTA Mexico, October 25–26, 2023 in Guadalajara, their networking will be a particular focus.
08/28/2023 | Business Wire
indie Semiconductor, an Autotech solutions innovator, has launched the world's first commercial fully integrated 240 GHz radar front-end (RFE) silicon transceiver.