Books

Featured Books

design007 Magazine

Latest Issues

Current Issue

Simplification

On the subject of simplification, our expert contributors explain how to design PCBs without making them complex and over-constrained—whatever the level of technology. In addition, we discuss the effect your decisions and tradeoffs have on design complexity.

The Standards of Design

Our expert contributors discuss how PCB designers can utilize standards to save time and money, not to mention frustration. We also spotlight the newly updated version of the IPC Checklist, a handy guide that illustrates which standards cover which topics, from front-end design through assembly.

Rigid-flex: Designing in 3D

In this month's issue, our expert contributors share their best tips, tricks and techniques for designing rigid-flex circuits. If you're a rigid board designer considering moving into the 3D world of rigid-flex, this issue is just what the doctor ordered!

Columns

Latest Columns

||| MENU
Book Excerpt: 'The Printed Circuit Designer's Guide to... Designing for Reality,' Introduction
October 3, 2023 | I-Connect007 Editorial Team
Estimated reading time: 2 minutes
Excerpt from: The Printed Circuit Designer's Guide to... Designing for Reality
Introduction
The printed circuit board industry is ever growing and changing. As a new generation of PCB designers spearheads innovation across a myriad of electronic device applications, individuals without those specialized skills are increasingly called upon to design boards in order to accelerate product development and drive down costs.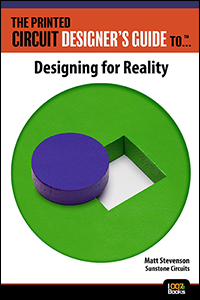 With more of us working to gain board layout experience on the job, Designing for Reality becomes a very pertinent discussion topic in the PCB industry. But what does that phrase even mean and why should we focus on such a topic? For those who may be new to PCB design or possess limited experience, it is crucial to recognize that creating a robust and manufacturable PCB design requires paying close attention to numerous details. There are a lot of unwritten rules, best practice techniques, and design requirements that vary by manufacturer. Learning and understanding these often-subtle factors will give designers a leg up creating realistic board designs and enable them to take their skills from novice up the ranks. The goal of a PCB designer is to create a design that is free from defects that can "kill" the board or make it difficult to manufacture.
Realistic PCB designs should prioritize manufacturability and reliability of the PCB as well as meet the other design requirements. In order to do so, one must account for the production variables associated with individual manufacturing partners.
Whenever I have the opportunity to talk to a PCB designer or students, I encourage them to tour a PCB manufacturing facility to get a better understanding of how the board manufacturing process works. It is mind blowing. There are many more processes and steps required than one would imagine.
I first toured a PCB shop just after college while interviewing for a position as a lab technician. I remember being in awe of all the processes required to turn a design into an actual PCB. In that 50,000 square foot facility, boards were being manufactured using what appeared to be newer, highly innovative machinery right next to older, seemingly outdated equipment.
My curiosity got the better of me that day. I simply had to learn more about these processes, and thus began my career in the PCB industry. For an open-minded designer, there is a lot of great information to be learned from a couple of hours on the shop floor in a PCB manufacturing facility.
We envision this book as a potential substitute for a shop tour and a reference for designers to help them understand the PCB manufacturing process as it relates to their design. Designing for manufacturability requires understanding the production process fundamentals and factors within the process that can lead to variations in manufacturability, reliability, and cost of the PCB. We understand that PCB designers want to create a design that is functional, robust, and fits the economic constraints of the product. Manufacturing partners want to help you do that, so they seek to understand the requirements of the design and build the board to be manufacturable, reliable, high yield, and profitable.
This book is built from the wisdom of 50 years of PCB manufacturing at Sunstone Circuits. I hope that we can use this opportunity to pass that wisdom on to those honing their skills in the craft.
Visit I-007eBooks to continue reading this book.
---
Suggested Items
12/05/2023 | Travis Kelly -- Column: American Made Advocacy
For this month's PCBAA Member Profile, the focus is on Hari Pillai, president, Technology Components, Sanmina. Hari says, "I think I've had a good dose of luck throughout my career. But beyond luck, I had a vision to become a general manager as far back as my undergraduate years. I made all my career decisions based on that. My evaluation criteria was always, "How does this opportunity get me closer to my goal?" Sometimes opportunities come from unexpected places."
12/06/2023 | Happy Holden -- Column: Happy's Tech Talk
Registration is one of the most important features for any PCB fabricator, but the capability for multilayers is a lot of work on the fabricator's part. CAM settings, multilayer lamination, X-ray analysis, AOI measurements, imaging capability, and drill accuracy all play an important part in this capability. Software and panel parametric coupons are important because they aid in registration performance.
11/30/2023 | Chris Young, Young Engineering Services
There are many ways, dozens to be sure, and most likely many more, to streamline a PCB design. My goal here is to pick a single-digit number of rules to abide by, that can be reasonably adhered to, and provide some bang for the buck. These rules are meant to reduce design scope creep, avoid PCB respins, and improve production yields.
11/29/2023 | Dana Korf -- Column: Dana on Data
November's issue of Design007 Magazine had an excellent theme that evolved around design simplification. There were exceptionally good articles about how to reduce over-constrained or needlessly complex designs. One significant time-consuming category is the creation of many design files and drawings which lead to lengthy creation and interpretation time along with the considerable time to resolve conflicting or erroneous information.
11/28/2023 | Preeya Kuray -- Column: Material Insight
On May 11, 2023, Reps. Blake Moore (R-UT) and Anna Eshoo (D-CA) introduced the Protecting Circuit Boards and Substrates (PCB) Act to Congress. In October, I had the great pleasure of discussing the bipartisan Protecting Circuit Boards and Substrates Act with Congressman Moore, who represents Utah's First Congressional District. He shared his thoughts on how supporting and investing in the domestic PCB industry can help bolster American security.