Books

Featured Books

pcb007 Magazine

Latest Issues

Current Issue

The Registration Sweet Spot

Registration is underrated and underappreciated. The key is to ensure proper registration from layer to layer across the entire printed circuit board. It's a holistic process requiring anticipation, prediction, precise attention at each step, and detailed data tracking and monitoring.

High-reliability Fabrication

In this month's issue, our expert contributors discuss the latest in technologies, trends, complexities and resources regarding high-reliability fabrication.

Finding Ultra

New demands on PCB fabrication, namely advanced packaging, ultra high density interconnect (UHDI), and new specialty materials, are converging, changing the landscape of our business. Is it time to start paying close attention to this convergence?

Columns

Latest Columns

||| MENU
I-Connect007 Editor's Choice: Five Must-Reads for the Week
November 17, 2023 | Nolan Johnson, I-Connect007
Estimated reading time: 3 minutes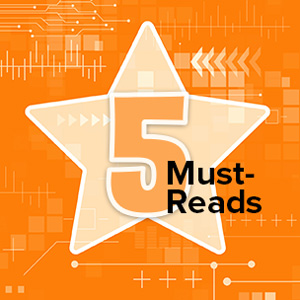 On a global scale, productronica has been dominating the news this week, mostly with announcements and show preliminaries. It's been a long and full week for those who have exhibited and attended the trade show (despite the November rain), and I encourage you to review our productronica coverage from this week. In the coming days, we'll be showcasing more photos, videos, and interviews, so please stay tuned.
What else happened this week? Plenty, and my must-reads for the week highlight some of the other news, most notably a very big announcement from IPC about a registered apprenticeship program that has recognition in all 50 states and partnership with several companies already.
There's other positive news for fabricators and suppliers, all giving it their all to look ahead despite a couple of challenging months. It's really where you choose to hang your hat, and Calumet's news is a prime example of that.
We've got a U.S. holiday on the horizon, so get the turkey out to thaw and go buy that pumpkin pie. Now, on to my highlights.
IPC Attains U.S. Dept. of Labor Approval of National Apprenticeships Standards, First-Ever in U.S. Electronics Manufacturing Industry
Published November 16
National Apprenticeship Week concludes today, and it's fitting that IPC would announce approval of their National Program Standards of Apprenticeship with a ceremony at the U.S. Department of Labor on Thursday. The announcement states, "National Program Standards of Apprenticeship are occupational training standards developed and sponsored by an employer, an industry organization, labor organization, educational institution, or consortium. IPC's apprenticeship standards cover two critically important occupations—electronics assemblers and printed circuit board fabricators—and provide valuable, hands-on experience with a defined pathway to secure, well-paying careers in electronics manufacturing." This is definitely something to keep an eye on because it's opening the door to a new, talented workforce.
DOD Awards $39.9 Million to Strengthen U.S. Supply Chains for PCBs
Published November 16
"The Biden Administration has prioritized the need to support and advance the domestic PCB and advanced packaging industrial base," said Dr. Laura Taylor-Kale, Assistant Secretary of Defense for Industrial Base Policy. "These technologies are critical for modern weapons systems and will contribute to maintaining our warfighting edge over potential adversaries." Calumet Electronics Corporation is the recipient of this specific award, one of 22 awards made by DOD. Learn more here.
Ucamco Launches Jayda: A Revolutionary Web-Based Quoting Tool with Dynamic Graphics
Published November 10
Ucamco reports that Jayda is "designed to meet the ever-growing demand for interactive web shop tools" for quoting, including dynamic graphics and AI technology. In addition to this news item, see our interview with Karel Tavernier in our coverage of productronica 2023 at realtimewith.com.
Shortage of Raw Materials Challenges CCL Market Amidst Strong Demand for Electronic Devices
Published November 13
With copper's critical role in electronics, supply and demand dynamics in the copper clad laminate supply chain can have a huge impact. This market research piece predicts that "the global copper-clad laminates (CCL) market is set to achieve a market value of US$15.96 billion by 2023, experiencing a steady Compound Annual Growth Rate (CAGR) of 5.84% during the forecasted period" and then goes into some more detail. Get the update here.
NextFlex Announces $6.5M Funding for Flexible Hybrid Electronics Innovations in Extreme Environments and Sustainability
Published November 16
Innovation continues in the flex space. For example, "NextFlex, America's Flexible Hybrid Electronics (FHE) Manufacturing Innovation Institute, announced $6.49M in funding (including $3.29M in cost-share contribution from participants) for seven new projects as part of its Project Call 8.0 to further promote FHE development and adoption throughout the U.S. advanced manufacturing sector." Learn more here.
---
Suggested Items
12/01/2023 | Nolan Johnson, I-Connect007
This week's news items taught me a few things I didn't know. For instance, there's news about the new equipment for THT work, governmental support for advanced packaging technologies, an upcoming webinar from iNEMI on counterfeits, an interview with U.S. Rep. Blake Moore, one of the sponsors of the bipartisan Protecting Circuit Boards and Substrates Act, and columnist Tim Haag, using Star Trek to illustrate why simplicity is, ahem, paramount.
11/14/2023 | Barry Matties, I-Connect007
The November rain didn't stop the long line of attendees waiting at the door for productronica 2023 to open Tuesday, November 14 in Munich, Germany. Exhibitors and attendees came from all over the world to be part of this biannual event, and the crowds were strong. The most recent productronica, held in 2021, drew over 19,000 visitors from 68 countries.
11/13/2023 | SEMI
SEMICON Europa 2023 opens tomorrow with industry experts from across the electronics design and manufacturing supply chain gathering to present insights into the latest developments and trends across key semiconductor industry growth segments including advanced packaging, materials, MedTech and mobility. Themed Shaping a Sustainable $1 Trillion Era, SEMICON Europa 2023 will also spotlight critical semiconductor industry issues such as sustainability, green manufacturing and workforce development.
11/10/2023 | Andy Shaughnessy, Design007 Magazine
This week's edition focuses almost entirely on young people. This in itself is quite a feat as not long ago, there were no young people coming into this industry. Now, we have a small but steady stream of young folks entering the industry, and we're focusing on providing them with the latest training and education. Our industry, for a variety of reasons, is now attractive to people born in this millennium. Didn't see that coming!
10/31/2023 | AIM Solder
AIM Solder, a leading global manufacturer of solder assembly materials for the electronics industry, is pleased to announce their participation in the upcoming Productronica 2023 Trade Fair taking place November 14-17 at Trade Fair Center Messe München, Germany.