Books

Featured Books

smt007 Magazine

Latest Issues

Current Issue

Economic Headwinds

This issue takes stock of the current economic outlook and how companies are using current conditions to move themselves through technological evolutions, workforce shifts, and financial changes. Even with these headwinds, there's forward progress to be made.

Attracting New Talent

To get different results in staffing, you must change how you define, promote and recruit your job opportunities. How do you become magnetic to high-quality early-career candidates?

Test and Inspection

Test and inspection methods are undergoing rapid change. In this issue, we consider the influence of AOI, AI, and human eyes. How exactly are these pieces of the puzzle changing the role of test and inspection?

Columns

Latest Columns

||| MENU
Video from productronica 2017: Nordson ASYMTEK Highlights Bulk Dispensing Technology
November 16, 2017 | I-Connect007
Estimated reading time: Less than a minute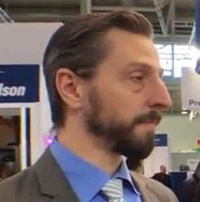 Nordson ASYMTEK is known for microdispensing. At this week's productronica, one of the highlights from the company is the new Helios SD960 bulk and two-component dispensing system. Almar Thewissen, program manager for Industrial Applications, EMEA, at Nordson, discusses its applications with I-Connect007 Technical Editor Pete Starkey.

Watch The Interview Here:
---
Suggested Items
11/27/2023 | PRNewswire
Since its isolation in 2004, graphene has received widespread attention as a 'wonder' material, with the reported potential to enable a whole host of next-generation technologies, some of which would not be out of place in the latest sci-fi blockbuster.
11/24/2023 | PRNewswire
Every decade, a new telecom generation emerges, with 5G currently being commercialized, offering faster data rates, low latency, and enhanced reliability. 6G is characterized by Tbps data rates, microsecond latency, and extensive network dependability.
11/13/2023 | MacDermid Alpha Electronics Solutions
MacDermid Alpha Electronics Solutions, a leader in integrated materials and technologies for the electronics industry, launches ALPHA® OM-362, its latest next-generation low-void solder paste.
11/09/2023 | TrendForce
TrendForce reports the global shipment of notebooks is expected to reach 167 million units in 2023—a YoY decrease of 10.2%. However, with inventory pressures easing, the notebook market is anticipated to return to a balanced supply and demand cycle in 2024.
11/02/2023 | Indium Corporation
Indium Corporation® is proud to showcase its proven advanced assembly materials for PCBA and power electronics, including those for the rapidly evolving electric vehicle manufacturing and e-Mobility market, at Productronica, November 14-17, in Munich, Germany.