Books

Featured Books

smt007 Magazine

Latest Issues

Current Issue

Chips Don't Float

In Europe and the U.S., legislation is under way to revitalize PCB fabrication and packaging. What is the status of this work, and how specifically does this change the industry landscape for EMS companies? What will help keep us afloat?

Flying High With Digital Twin

The opportunity to use manufacturing simulation as a test bed for job planning and process optimization brings continuous improvement into the modern age. This may be an all-or-nothing type of project, but it's worth the investment.

Artificial Intelligence

In this issue, we (and AI) explored how and when artificial intelligence plays a role in manufacturing today. Whether on the factory floor, or in the front office, AI applications are emerging and changing how we approach planning, processes and problem solving.

Columns

Latest Columns

||| MENU
Electronic Components Market Update
October 4, 2018 | Daniella Baldock, JJS Manufacturing
Estimated reading time: 3 minutes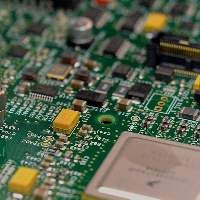 Welcome to our latest electronic component market review.
Unfortunately, we still don't see an end in sight and some lead-times are being quoted with 2019 and even 2020 delivery dates!
If you are working with an electronics manufacturing services (EMS) provider, it remains vital that you communicate and share forecast information with them. In addition, some of the advice we are receiving back from franchised distribution suggests original equipment manufacturers (OEMs) may want to start looking at the option of fitting, or designing in, smaller components to their printed circuit board assemblies (PCBAs).
Clearly, this isn't going to be a quick fix and there are cost, time and manufacturing challenges associated. However, as the design authority, this may be a direction OEMs now need to take to help 'future proof' their products. We wrote an article last month aimed at design and manufacturing engineers around this topic, which you might find of interest.
Here's an in-depth review of the electronic components marketplace as of October 2018.
Current Market Conditions
The MLCC market is still constrained with many manufacturers putting product on allocation and extending lead-times. As an example, Panasonic are quoting 99 weeks on out of stock chip capacitors and Kemet in excess of 52 weeks.
From August 23, 2018, the United States imposed yet another tariff on Chinese imports—this time, an additional 25% on $16 billion worth of goods imported into the USA.
Murata has issued product change notifications (PCNs) for a large proportion of legacy MLCCs, with last time buys from March 2019 onward.
Case sizes 0603, 0805 and 1206 are frequently now being referred to as 'legacy'.
Chip capacitor manufacturers are finding it hard to invest in what they deem to be legacy technology as they continue to struggle to keep up with demand and pressure from electric vehicle, smart phone and wireless technologies, which all utilize much smaller case sizes and newer technology.
Shortages of electronic components are still being quoted as extending well into 2019, and likely even 2020.
The memory market appears to be slowly stabilizing, with recovery expected. However, DRAM pricing is still forecast to increase.
50% (1.5 billion) of the global MLCC consumption can be attributed to smart phone technology.
Key Capacity and Lead-time Issues
Maxim is observing stable lead times for most product and quoting 8-10 weeks.
Infineon has lead-time and capacity issues on small signal diodes, power MOSFETs and rectifiers.
Nexperia is still struggling with allocation on some product lines, most notably, diodes and MOSFETs, in case sizes SOD323, SOT223, SOT23 and SOT232.
ON Semiconductor is battling to reduce lead times due to capacity constraints on some small-signal and rectifier products.
STMicro's power MOSFET lead times have reached more than 46 weeks.
Rohm is still battling with allocation issues, therefore, extended lead times continue.
Xilinx silicon is currently on a 10-week lead time.
Murata acquired new land to expand its MLCC production in April 2017. Construction starts October 2018, and the company expects capacity to be online by the end of 2019. This investment comes to a total of 40 billion yen.
To help overcome MLCC capacity issues, the advice from some manufacturers and franchised distribution is to consider different technology, relaxing tolerances, widening specifications, and only using AECQ200-qualified product when absolutely critical to the application and market sector.
Pricing Uncertainty
It is expected that Murata will increase pricing in the fourth quarter of 2018.
Yageo, TDK, AVX and Kemet have all issued price increases in recent months. Some of these increases are affecting new orders as well as back orders already in place with distributors.
MLCC pricing is still only valid for stock quoted that day and is subject to change. Instability of MLCC pricing is not easing and is still fluctuating. Parts that used to cost a fraction of a penny are now being quoted anywhere between 2p and 70p!
Manufacturer Mergers
It has been reported that ON Semiconductor sold its acquired TVS Fairchild portfolio to Taiwan Semiconductor for $7.1 million.
PCB Technology
Kingboard added between 5% and 10% cost to their portfolio in July 2018.
The average wage in China has increased by 3%, which could result in further increases in PCB production costs.
Chinese New Year falls on February 5, 2019. Forecasting and securing orders as early as possible in the build up to this event will help ensure continuity of supply during this period of celebrations for the Year of the Pig.
Copper pricing is still stable, although we did see a brief hike earlier this month, which has now started to fall.
The electronic market has generated 2.8% of global growth in the PCB market during 2018; a majority of this growth has been observed from China.
High-density interconnect (HDI) technology is growing rapidly during the demand for smaller PCBs, utilizing smaller components, that must be lighter and scaled down from typical PCB technology.
---
Suggested Items
09/20/2023 | I-Connect007 Editorial Team
Panasonic's Darren Hitchcock spoke with the I-Connect007 Editorial Team on the complexities of moving toward ultra HDI manufacturing. As we learn in this conversation, the number of shifting constraints relative to traditional PCB fabrication is quite large and can sometimes conflict with each other.
09/14/2023 | MKS' Atotech
MKS' Atotech, a leading surface finishing brand of MKS Instruments, will participate in the upcoming IPCA Expo at Bangalore International Exhibition Centre (BIEC) and showcase its latest PCB manufacturing solutions from September 13 – 15.
09/14/2023 | Vern Solberg -- Column: Designer's Notebook
Flexible circuit applications can be as basic as furnishing electrical interconnect between two conventional circuit board assemblies, or to prove a platform for placing and interconnecting electronic components. During the planning and pre-design phase of the flexible circuit, there will be several material and process related questions that need to be addressed. Most flexible circuit fabricators welcome the opportunity to discuss their customers' flexible circuit objectives prior to beginning the actual design process.
09/14/2023 | John Watson -- Column: Elementary, Mr. Watson
Electronics are continually evolving, driven by innovations in printed circuit board technology. Flexible PCBs have emerged as a revolutionary force, reshaping the PCB industry and influencing the design and functionality of countless electronic devices. Some believe that flexible PCBs are a relatively newer technology, but as we will see, that is not true. Since I'm an instructor, here's a short history lesson on how we got here and what we can expect.
09/11/2023 | PRNewswire
Can digital and/or high throughput manufacturing be applied to circuit boards? Can stretchable electronics be produced without sacrificing processing capabilities?